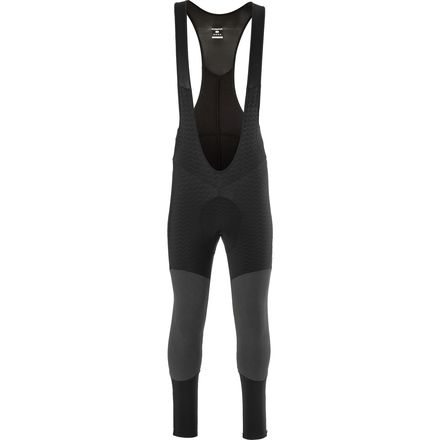 Master of winter.
Winter training can make or break a successful Spring campaign, and leave you steeped in jealousy for those residing in more temperate climates who just never seem to be off form. For those of us in colder climates, the key to staying fit and motivated through the grey is proper thermal gear like the Capo Men's Padrone SL Roubaix Bib Tights. Sitting atop Capo's line of cold-weather options, the Padrone utilizes a blend of Roubaix SL and Element 4 360-deg fabrics to create a warm and highly reflective addition to your winter cycling wardrobe.
Roubaix SL provides exceptional thermal warmth and the ideal amount of stretch to allow full freedom of movement without sacrificing necessary support. Across the knees and thighs, Capo adds a water-resistant and windproof Element 4 360-degree luminescent membrane. Element 4 360 does triple duty to keep you dry while blocking wind and providing a huge swath of reflectivity to boost your visibility to others on dreary, cloudy, low-light rides.
On top of these top-end fabrics, the Padrone SL bib tights' fit is nothing short of impeccable. Using a multi-panel, contoured design, the tights follow the shape of your body while following its movements in and out of the saddle. For the chamois, Capo opts for the Elastic Interface Technology (EIT) Anatomic CS insert. This chamois uses a variable density throughout to support the regions that need the most support without impacting the ones that don't so you can focus on your tempo intervals with confidence that you'll stay comfortable as the miles tick by.
An element-blocking winter cycling bib tight
Thermal Roubaix SL fabric keeps you warm
Weather-resistant membrane across knees and thighs
Reflective panels increase visibility
Easy removal with ankle zippers
Fabric patterned for comfort in the riding position