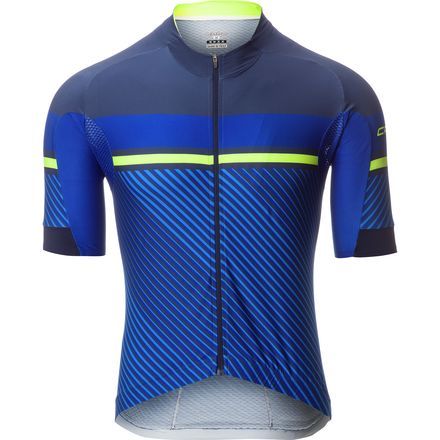 Colors

Detail Images
Progressive.
Capo introduces its new Nova Men's Jersey as "progressive." While the industry at large is replete with buzz-wordy language like "progressive" that doesn't actually mean anything, the Nova is a case where literalism shines through the marketing palaver. In this case, the progress is represented by unequal parts fit, material, and sleeves, with the sleeves enjoying the lion's share of the progress.
Is it a bit silly to focus on a jersey's sleeves? Maybe. But here at Competitive we like our shorts short [Not all of us. —Ed.] and our sleeves long, so the Nova's generously extended sleeves are right up our alley. The sleeves fall just under 7in beyond the underarm seam on a size medium, so they sit quite a bit closer to the elbow than the shoulder. The incorporation of a half Lycra band ensures this fit stays in place when you're in the saddle, but the unfinished inner cuff reduces constriction and the potential for irritation.
If this were any other brand, we'd argue that "progressive" also certainly applies to the Nova's 16 panel body. Other manufacturers use less complicated paneling schedules and rely on high-stretch materials in order to cover the gap, but not Capo. The Nova's excess of paneling means that the fit is actually tailored to an athletic cyclist's body, built to fit rather than built to stretch to fit. Those high-stretch jerseys tend to become transparent when you put them on, and the constant strain takes a toll on the material, shortening the jersey's lifespan. With the Nova, that's not an issue; every panel covers the spot it's supposed to, so Capo doesn't have to rely on stretchy materials to compensate for a poorly tailored jersey.
Of course, that's not to suggest that the jersey's materials don't stretch to accommodate life in the saddle. The front panel and shoulders are made from a soft, yielding warp knit material that ensures body-mapped fit while the rear panel combines UV protection and summer-worthy ventilation with a supportive platform for fully laden pockets. When the pockets are running empty, a silicone strip on the rear hem helps keep the jersey down during long hours spent in the drops.
A cycling jersey for the fashion-forward racer
16 panel construction ensures a sleek fit
Body fabrics blend stretch, ventilation, and support
Progressive sleeve length strike a peloton-approved profile
Lycra cuffs and a partial silicone hem maintain coverage
Standard complement of rear pockets for ride essentials
UV protection on rear panel helps thwart harmful rays
Designed in California; made in Italy