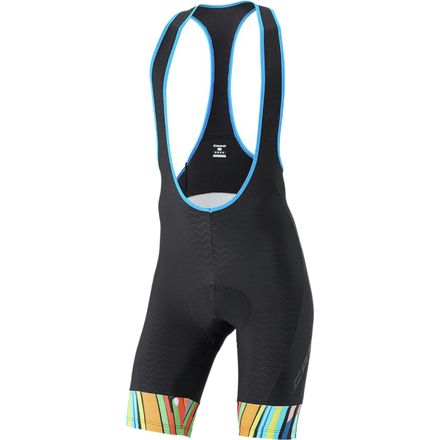 Colors
Speed and Comfort.
It's not always two wheels and bikes around here. We do have a penchant for auto racing and the similarities between an endurance race like Le Mans and the grand tours are strikingly similar. Both reward speed and the preparation by the athlete, team, and support staff as well as a good strategy if you plan to do well. Capo's Le Mans Roubaix Bib Short - Men's pays tribute to the granddaddy of endurance auto events and will have you experiencing total comfort as you race along from a slightly different driver's seat.
The Le Mans Roubaix Bibs are designed in California and made in Italy of Italian Super Roubaix SL microfiber. Capo reckons that if you pair these bibs with a set of leg warmers, you'll be set for the variable conditions experienced during the shoulder seasons.
The material features a hollow-core fabric for lightweight insulation and thermal regulation. Capo puts the ideal operating range at 40-60-degrees Fahrenheit and yes warmers and/or embrocation can certainly help if it's cooler than that. Medium-weight compression provides muscle support that helps in warding off fatigue. The 7cm compression bands further the support and help keep the cuffs in place. A stretchy microfiber mesh bib upper gently envelopes your torso keeping the core warm.
The real reason any of us wears cycling specific shorts is comfort between ourselves and the saddle and the D4 Evo chamois courtesy of EIT (Elastic Interface Technology) delivers. The chamois incorporates multiple densities of elastic foam wrapped in a soft, anti-odor microfiber. Its medium thickness finds the perfect balance between a minimal and often less than optimal comfort insert and the overstuffed versions that feel more like a diaper.
Cycling bib shorts for enthusiasts of auto and bike racing
Graphics pay homage to the premier endurance auto event
Italian Roubaix offers an excellent fit and insulation
Medium-gauge compression supports muscles for less fatigue
7cm wide leg bands hold comfortably without constriction
Italian chamois with a medium form factor for long-mile comfort
Reflective logos help keep you visible on low-light rides