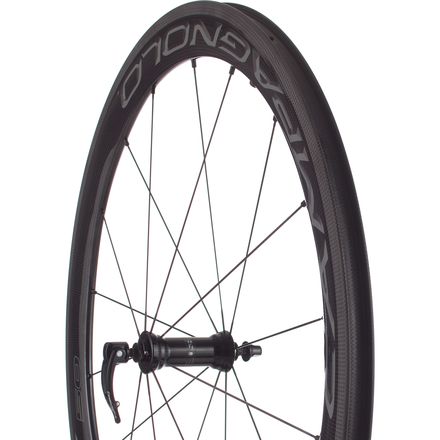 Colors

Detail Images
Great news for clincher fans.
Lovers of the clincher rim have reason to rejoice. The Campagnolo Bora one 50 Wheelset is finally available as a clincher. The Bora Wheel has quite possible led to more European podiums than any other wheelset. With the Bora One 50, Campagnolo brings this proven rim design into the self-sponsored racer's range by mating it to Ultra Smooth Bearing (USB) hubs instead of the Bora Ultra's Ceramic Ultimate Level Technology (CULT) hubs. While this does result in a pair of differences in the hubs, the Bora One 50 Wheelset is still the one that's reliable and fast enough that certain members of Europcar opted to ride it during a race as trying as Roubaix last year.
The first difference between the hubs is that the USB hub body is alloy instead of CULT's carbon, for a slight sacrifice in weight (50 grams, claimed) and stiffness. Second, USB includes the inimitable smoothness of ceramic bearings but without the benefit of CULT's Cronitect races. Despite this concession, the USB system is still a claimed 50% smoother than steel, which is the industry standard.
The rims laced to these hubs benefit from the new width of 24.2 millimeters, up from the previous 20 millimeters. This wider rim is general across the Bora line, and it brings improvements in handling and cornering, lower rolling resistance, and a smoother ride. It also nets better lateral stiffness and — in a counter-intuitive twist — actually improves aerodynamics. The width also saves weight by letting Campagnolo build a more structurally sound rim with less material, and it means you can mount bigger tires, up to 27 millimeters, for a tubular ride that's more plush and durable than ever.
Like its Ultra counterpart, the Bora One 50 also features Campy's new 3Diamant braking surface, which addresses some of the key braking issues we've had with carbon rims in the past. Campagnolo literally uses diamonds to hone the brake track to near perfection, removing a microscopic layer of imperfections and resin so that the pads connect straight to a strip of slightly textured carbon. This reduces the time it takes for the brake pads to grab the rim and it all but eliminates the usual breaking-in period for carbon brake strips, increasing stopping power by 40% in wet conditions and 20% when it's dry. It also removes any surface imperfections in the wheel for a pulse-free ride.
Campagnolo finishes off the Bora One 50s with a few more thoughtful details. The oversized rear flange nets additional stiffness for power transfer that takes advantage of the rims' aerodynamic profile and smooth bearings. The included quick releases have also been redesigned with an eye toward weight loss and aerodynamics. Returning features include the signature G3 spoke pattern, which absorbs road noise and improves power transfer, and rim balancing that offsets the nominal imbalance caused by the valve stem hole and associated hardware. Campy constructs and lays-up all of the carbon for the Boras in Vicenza, and every piece is X-rayed to scan for imperfections.
Unanswered Question
will these accept tubeless tires?
Jeffrey V.
Campy Bora One 50 Wheelset
Familiarity:

I've used it several times
I've had these wheels a little over a month now. I ride about 250 miles a week and have been using these wheels exclusively to get to know them and see how they feel. It's early and I'll follow up in a couple months. First impression - nice wheels - light - responsive - campy quality. On the con side they seem a little noisy. I don't believe it's the hubs because if you put them on the stand and spin them, they are quiet so I'm thinking that it's wind and road noise. Nevertheless they seem quite responsive and fast. I run a 25mm conti 4000 tire on the back and a 23 on the front. I ride a vintage Serotta with 2016 campy record and a 25 mm front tire is just too tight. So be aware if you plan to run on an older frame/fork. I've also notice that after about 500 miles the wheels are not perfectly true - not bad but just not what you would expect with campy. I had a set of early Zipp 303's and they were worse right out of the box and I sent them back to Zipp and they told me they were within specs. That's one reason I decided to try these campy's out.
David L.
Will the campy freehub work with a shimano cassette?
charlie
You can replace the freehub with a shimano compatible one to make it work
Robert Sonny M.