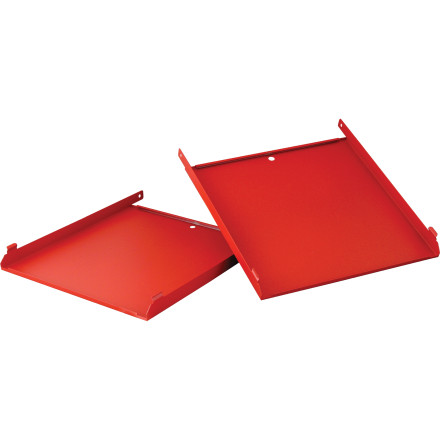 Colors
Organizational camp cook guru.
Camp Chef Folding Side Shelves conveniently hold cooking utensils, seasonings, and food while you cook with your compatible Camp Chef stove. These foldable shelves double as a lid for your camp stove, and they also provide protection from natural debris and mild precipitation.

The Folding Side Shelves are compatible with Camp Chef DB-60, Yukon, EX-60, SGP-60, and CT32LW (post-2010) stoves. If you're using an older EX-60 stove, check the model number on the front for compatibility. The older EX-60LW-2 model is compatible with these Folding Side Shelves; models ending without a 2 will not work.
Compatibility: DB-60, Yukon, EX-60, SPG-60, CT32LW (after 2010) stoves
Foldable side shelves double as stove lid
Two shelves included in box
Extra Space is Worth It
Familiarity:

I've put it through the wringer
For some reason, table space is always a huge commodity when you're camping. These give you defined cooking space for your camp chef stove. I will say, attaching them seemed confusing to me. Design-wise, it would seem like the edges would point downward, but they actually install facing up, creating a tray-like space. It makes more sense when you break it down and realize they fold inward perfectly with those little notch closures. You'll see when you get it, hopefully in less time than it took me.
Kari Kallin
Great Accessory
Familiarity:

I've put it through the wringer
These are a great add of if you already have a Camp Chef stove. They add some extra space to prep and set tools on. They are pretty stable and can hold come decent weight.
Chris Ringel