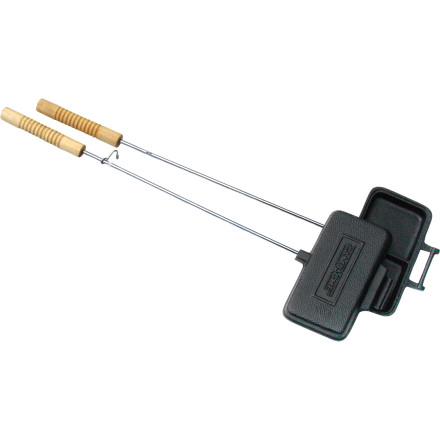 Colors
Camping doesn't have to mean stale bars and nuts.
If you get innovative enough, you can cook every meal in Camp Chef's handy little Dual Rectangle Cooking Iron. Simply put eggs, sandwiches, bacon, croissants, biscuits, or any other small meal into the 8x4.5 inch oven, hook together the lids, and hold it over a burner or hot coals for a warm meal in no time. The cast iron will spread heat evenly without being damaged by extreme temperatures. Take this hand-held oven with you on every family trip and never miss a delicious meal; the power of the kitchen is in your hands.
Cast iron mini oven
Two foot shaft
For burners or camp fires
Makes campfire cooking fun! Great for everything from calzones to cinammon rolls. Easy to clean with oil.
Lisa Edlund
The latch clicks in and out easily but the item is a little heavier than I expected. Seems like a durable product!
David Yath
Work great. Coat them with something to prevent sticking. Really heavy for such thin handles. If you are ever attacked by wild animals at your campsite you could always use it as a club!
Justin Antinarella