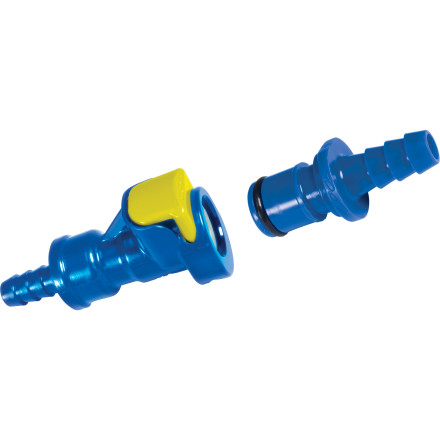 Colors
No need to buy a new reservoir to take advantage of new technology.
Retrofit your old reservoir with the CamelBak Quick Link Conversion Kit, so you can take advantage of the ultra-versatile Quick Link system. Once your installed the Conversion Kit—a female connector with auto-shutoff and a Quick Link male connector—you can quickly and easily customize your reservoir with any number of accessories, including CamelBak Antidote filters, insulated tubes, flow meters (all sold separately), or even a plain ol' fresh tube if you decide you'd rather not tackle the one that sat in the back of your truck for two months with energy drink festering in it.
Osprey Upgrade
Familiarity:

I've used it several times
Not much to add to the other reviews. It does the job. Wish Osprey had already incorporated the same or something similar.
Beatriz Freitas Rankin
Upgrading old pouch
Familiarity:

I've used it several times
Converted my old pouch with this new system. Install was quick and painless.
David Yath
Upgrade your hydration bladder
Familiarity:

I've put it through the wringer
If your current hydration bladder doesn't have an inline quick disconnect (looking at you, Osprey) it is beyond worth your time and money to add one of these lil' gems! Just cut your hose it the prefer spot ( I would recommend about the top of the bladder so that if there are any leaks at all it will not drain your whole bladder) and install. Adding the quick disconnect makes water filtration in the backcountry a breeze! My least favorite part of refilling my bladder while backpacking with a full pack is removing and putting the bladder back in my pack, with the quick-disconnect around the top of the bladder, I can quickly insall my Hiker Pro and refill without ever taking out my bladder. After several years of use, I have not had one issue or concern with leaks.

The other main benefit of this is not having to remove the pesky drinking tube from your pack or fumble with balancing your pack during refilling.
Kyle Smyth
Old bladder new again
Familiarity:

I've used it several times
Bought this to convert my old bladder to the newer system to use the thermal control kit. Install was stupid easy and does not leak a drop. Makes cleaning the hose simpler now as well.
Dusty B
Quick and Easy
Familiarity:

I've used it several times
I had an accident with one CamelBak bladders, pretty much messed up the hose that went into the bladder. This kit made it quick and easy to repair my clumsy mistake.
Luis
Easy retrofit
Familiarity:

I've used it several times
Same as all the other reviews - older bladder retrofitted with insulated tube. Took about 2 minutes and zero problems.
Douglas P.
Quick, easy, Versatile
Familiarity:

I've put it through the wringer
this is great my Osprey 3L hose was freezing up on me so i got this with the insulated hose and now I can swap between a summer and winter hose. I have upgraded two other hydration packs with them "just in case"
Seth Wilhelm
Does the job
Familiarity:

I've put it through the wringer
I got this kit to attach an older style bladder I bought to an insulated tube with an insulated bite valve cover. It does the job. I haven't had any problems with leaks or o-rings, just good flow.
Angela J
Great for other brand hydration systems
Familiarity:

I've put it through the wringer
I put one of these on my Osprey reservoir to make it compatible with Camelbak accessories and it works great. I can add the filter or an insulated hose easily or I can just take the hose off and plug in my water filter right to the hose and won't spill a drop.
Pat Gunning
If the male part is not plugged in, will...
If the male part is not plugged in, will the female end flow when you press the button? I am wondering if I could use the female end as an on/off spigot when the male end is not connected.
Danny Murphy
Nope, all parts must be together for water to pass through. The button on the female piece only holds the two together. The part allows water to pass through is a spring further in the part.
Wayne Christoffersen
This is something I wasn't intending to buy. I purchased the insulated tube kit from Backcountry, and it turned out that kit required the quick link kit. Luckily it's fairly inexpensive. I was a bit nervous about the quality when placing my order, but after assembling it.. I feel confident in the future with it. No instructions come with it, but it's pretty straight forward. I've included a photo to illustrate what you will need to do. Grab some reliable scissors and make a nice straight cut on your old tubing. I chose to go about 3 inches up in the event I screw up the cut, or if leaking happens in the future. After the cut is made, slide the pieces in place. Just be sure you put the correct pieces as I've shown, otherwise you'll likely have a bad time if you get a new tube, or anything that uses the Quick Link feature. Once you've shoved the pieces in place (with little effort required), you're good to go! It's on there nice and steady and some quick hard tugs didn't even cause the tubing to nudge.



If I run into issues down the road, I'll report back. But so far I'm pleased and impressed with it!
Jeremy Jensen
Is both the male and female quick link...
Is both the male and female quick link designed to fit 1/4" inner diameter tubing. It could just be the picture angle, but the female connection on the left looks much smaller.
Michael
Michael - yes they fit the same tubing. Looks like the image of the male end has been enlarged or something to show the detail.
Mark Parrett
Does the Camelbak Quick Link Reservoir...
Does the Camelbak Quick Link Reservoir Conversion Kit fit an Osprey bladder and tubing?
Jax
Guy Geva
Our rubber O-rings, or some other part of the interfacing surfaces, failed after 3-5 dozen connections
The rubber O-ring, or some other part of the interfacing surfaces, became increasingly resistant to fully engaging the two (m & F) connectors. After 2 months of daily disconnection/reconnection, connection has lately required careful navigation with partial depression of the release tab to allow entrance & sometimes they have failed to full engage, and they have become extremely difficult to disconnect.

Other than that, they worked great, initially.

This would be a good product if replacement O-rings were available.
LnEJames
Can you use this to say, put a quick link...
Can you use this to say, put a quick link on a msr hydromedary? http://www.backcountry.com/msr-hydromedary-hydration-bag
Tim Z.
It should work fine if the tubes are the same size. Even if they're not exactly the same they should be close enough to work.
Ryan Hamilton
Hydromedary tubing is 1/4" inside diameter, and it just so happens that the quick link is designed to work with just that size.
Phil Maher
This should have been part of the CamelBak a long time ago. Great move for converting the older CamelBak bladders. Quick Links are great.
Dale Potter
Is there any chance I could use this on...
Is there any chance I could use this on my Osprey reservoir? Does the tubing in both brands have the same inside diameter?
REJ
Hey,

It's hard to say for sure as those are specs that aren't ever really advertised but I highly doubt it would work.
Josh Chapman
What is the difference between the quick...
What is the difference between the quick link conversion kit and the quick link filter kit? I see the difference in the description but is there a size difference.

If I wanted to have the ability to attach my water filter directly and then switch to antidote insulated tube, would I need to buy both conversion kits or would just one suffice?
Travis E
This conversion kit is for making another camelbak compatible with the filter kit. The filter kit comes with attachments for just the filter and one camelbak reservoir. If you have many reservoirs, you need this kit for each to make them compatible as well.
Christopher Minguez