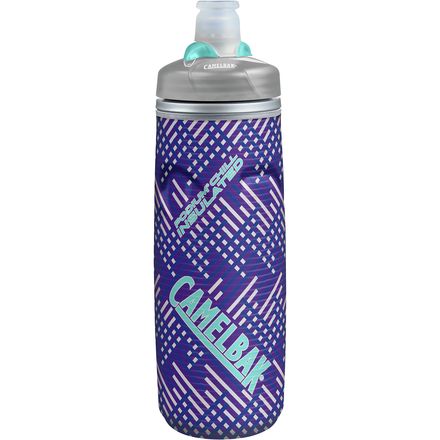 Colors
Because nobody wants to drink warm water during a hot summer run or ride.
Like most water bottles, the Camelbak 21oz Podium Chill Insulated Water Bottle keeps you hydrated on runs or bike rides. Unlike most bottles, this one keeps your water cold from the first hour to the last. Its BPA-free TruTaste polypropylene material is safer to drink out of than polycarbonate plastics and it won't distort your water's taste, and HydroGuard insulation keeps your beverage chilled twice as long as regular sports bottles. The Jet Valve cap is spill-proof and self-sealing so you can squeeze some deliciousness down your gullet quickly and get back to what you were doing.
BPA-free TruTaste polypropylene bottle
Jet Valve cap
HydroGuard insulation
Awesome Bottle
Familiarity:

I've used it several times
The only bottle I can trust to make sure it doesn't leak and to keep my drink cold on bike rides.
Bryce Galloway
solid buy
Familiarity:

I've used it several times
21oz (purple) podium is as good as it gets. True color, no plasticky taste, dependable valve. i especially love that it fits in my small bike frame. Solid buy if youre looking for a quality bottle.
valerie R.
Winter
Familiarity:

I've put it through the wringer
I'm one of those people who prefer neutral water temperatures for and bought these to use during the winter time when the cold air tends to cool water below what I consider drinkable. I've also used similar bottles for their intended use of keeping liquids cool in the heat and they're very reliable under both conditions.
Mark VV
Great bottle, very lightweight my wife loves it. She said it seems to keep her water a good temp, but won't be able to truly enjoy the insulation until the summer. But she said she enjoys the valve very useful.
jorge
21 Ounces of Awesome
Familiarity:

I've used it several times
I just returned to cycling after an 18-year hiatus. To say that cycling technology has changed in that time period would be an understatement. My wife threw out our massive vintage water bottle collection on our last move so I ordered a few new bottles. I couldn't believe when I received the Camelbak Podium Chill that I would never ever have to open another water bottle with my teeth. Thanks Mr. Technology! The 21 oz Podium Chill is my new "go to" water bottle. Perfect size for most rides. Keeps water much colder a lot longer than my vintage bottles. Fits absolutely snug in my old school bottle cages with no rattle. Did I mention that I don't have to use my teeth to open this bottle? Thanks Camelback for 21 ounces of awesome!
Doug-O
Great insulated bottle
Familiarity:

I've put it through the wringer
I love these Camelbak bottles. They are insulated yet still flexible so they're not stiff in your hand. They keep water nice and cool, even in the summer on road rides.
Eric White
Great for cold water while working out
Somehow everything tastes better out of this bottle. It keeps things perfectly cool and the bottle is very durable. It is very nice for sports like biking when you need your water easily accessible and want a squirt top. Love this bottle.
Emily L.
Solid sports bottle
Familiarity:

I've put it through the wringer
I'm not 100% sold on the insulating benefits of the bottle, but I don't use it outdoors often. Keeps my drink plenty cold at the gym. I prefer this type of nozzle, where you can have a controlled squeeze of water without getting splashed everywhere. Bought it for the nozzle alone. Any insulating benefits are a bonus for me.
Shari Layne
Can't Go Wrong
Familiarity:

I've put it through the wringer
This is my favorite squeeze water bottle available. I use it for mountain biking and hot yoga. My water stays cold and I love being able to lock the top for easy transport!
Teresa Nguyen
Keeps my water cold
Familiarity:

I've used it several times
This water bottle fits in both my road bike and mountain bike cage. It is lightweight and doesn't leak. I would recommend this item :) .
Katie Williams
Hard not to Love
Familiarity:

I've used it several times
Insulated for longer rides, keeps water in, squeeze top, cool colors, good size. Seats well in all 3 of the cages I've put it in, recommend if you're looking for a bike bottle
Taylor Journey
Keeps Your Water Chilled
Familiarity:

I've used it several times
This insulated bottle keeps your water cold longer, as an insulated bottle should. It comes in two sizes (the standard 21oz or the big 25oz) so you can choose the size that works best for you. I mostly use mine for biking and it's shape fits well in most bike cages. The Jet Valve is great because all you have to do is squeeze the bottle and a jet of water shoots out, but it doesn't leak. In my opinion it's definitely worth spending a little extra to get an insulated bottle like this one if you're going to be using it in warm weather.
Jeremy Collett
Good size for tight mtn bike frames
Familiarity:

I've put it through the wringer
Recently bought Trek Top Fuel. This size bottle and side load cage solves the limited space problem. Insulation helps keep liquids cooler a little longer.
patrick H.
Camel back... There isn't too much to say. I use this said for my gatorade, and I have a bigger one for the water.
Andres Soto
Great bottle
Familiarity:

I've used it once or twice and have initial impressions
I bought two, and they are great, excellent option if you are looking for a plastic bottle
Javier Meza
Awesome water bottle
Familiarity:

I've put it through the wringer
This water bottle fits my son great for school and sports. Love the nozzle where you can turn and it comes out, and seals great. This is our second one and the other has been through it all and still works great.
Amanda
The Best Insulated Bottle For Your Bike
Familiarity:

I've put it through the wringer
I love my hydroflask, but it is really heavy and cannot fit in my water bottle cage. I needed a lightweight alternative bottle and this bottle really does the trick! Keeps my ice whole on a multi hour ride and fits in my cage perfectly. 10/1o would recommend!
Samantha Fox
This bottle is great for MTB riding. It doesn't leak at all while it's in my bike's water bottle holder, even when the bike is laying on the ground. .
Len 440
Ur. Love this bottle.
Familiarity:

I've put it through the wringer
Not sure that it keeps things quite as cool and quite as insulated as I might like, but it has very quickly replaced ALL my other water bottles as my go to for everyday -- because it fits my cup holder in the center console in my car (all important) AND it is kinda the perfect volume -- not so big that it weighs you down, but big enough to get a decent quantity of liquid into you.

I use it for pre & post workout hydration, road riding, mountain biking, surf trips, and just getting around town.
#loveit
Lisa H