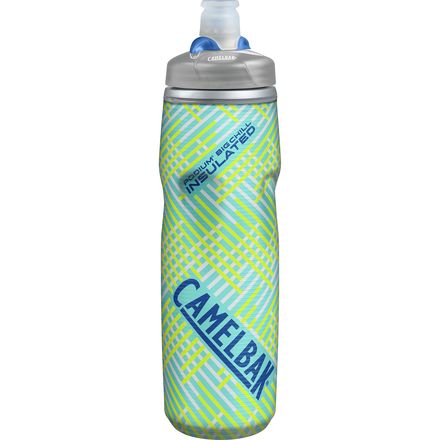 Colors
Taste the Chill on-the-go.
There's nothing like some freezing water to refresh yourself while you're running or biking under a hot sun, and the Camelbak Podium Big Chill Water Bottle makes sure your water stays cold for a long time. Its BPA-free TruTaste polypropylene material is safer to drink out of than polycarbonate plastics and it won't distort your water's taste, and HydroGuard insulation keeps your beverage chilled twice as long as regular sports bottles. The Jet Valve cap is spill-proof and self-sealing so you can squeeze some deliciousness down your gullet quickly and get back to what you were doing.
BPA-free TruTaste polypropylene bottle
Jet Valve cap
HydroGuard insulation
I use this water bottle for when I am riding my bike. It keeps the drink cold and doesn't leak. Great product for a great price.
Bryce Galloway
Great bottle
Familiarity:

I've put it through the wringer
Keeps drinks cool, not slippery, nice graphic and good valve.
Shelly
I love it, I use it for bike rides or when I run.

Patricia Arce
Keeps it cold and fits in the stroller
Familiarity:

I've put it through the wringer
I bought this bottle because it is the perfect shape for the drink holder in my stroller. I wasn't sure about the insulation claim, but after testing I can confirm that it keeps the liquids cold! I like the spout as well. You can squeeze it to dispense and rotate a lever to close so it won't leak if it is in a bag.
Brandon Madsen
Excellent Bottle
Familiarity:

I've put it through the wringer
On Hot summer days, it is really nice to have your water stay cool a bit longer. The Valve system on the Camelbak bottles means not having to open and close them with my teeth which is an added perk. The insulated bottles are not quite as easy to squeeze as the non insulated version but the added effort is worth the cooler water reward. I like to fill a bottle half way and freeze them the night before, this has worked to keep ice cold water flowing a couple hours into a ride in 90 degree temps.
Forrest
Tallboy
Familiarity:

I've put it through the wringer
Just like it's little brother, this is my favorite of squeeze bottles in the market. Love the insulation and the seal. Leaky bottles are the worst, and I've never had that problem with this line.

It's a water bottle, not rocket science. Pick the size that fits your cage and you won't be disappointed with this one.
Taylor Journey
works well in the summer and is a good size.
John Smith
Great Water Bottle
Familiarity:

I've put it through the wringer
Getting frustrated with my Hydro Flask leaking, I went in search of another water bottle. Several people recommended the CamelBak Podium Big Chill Water Bottle. It has lived up to their recommendations. It doesn't keep water as cold as the hydro flask nor can you put hot drinks in it, but it DOESN'T leak.
Mayla F.
The best
Familiarity:

I've put it through the wringer
This is the best cycling water bottle. First perfect in bottle cages. It doesn't keep water as cool as i would have hoped, but anything helps on a warm day.
Rory
good all-around water bottle
Familiarity:

I've put it through the wringer
This water bottle fits in car cup holders and bike bottle holder. It is leakproof (if you tighten the lid well) and spill proof. Keeps your water colder than a single wall bottle.
Jake Allison
Love the podium chill. I buy it over and over
Nellie Lingwall
Solid Water Bottle
Familiarity:

I've used it several times
My husband and I both love this water bottle. The pressure and flow are great, and it's never leaked. The insulation is just okay, and the water is never super cold. My husband can run with it easily, but my hands are too small to keep a good grip during more rigorous activities. It fits well in all of our cup holders, and it's easily thrown in all of our bags. Overall, it's a solid choice.
Alexis B
love these grips, no sweat, no build up
arturo garcia
The wife loves it
Familiarity:

I gave it as a gift but have feedback to share
This is a bottle that allows my wife to go on a bike ride without any potential leaks coming from it. She is able to enjoy the ride and know that the hydration she needs is ready to go whenever she needs it.
Eric Plath
I love that this bottle is easy to use while on the go without any risk of spills. It's also very easy to clean. It does keep the water nice and cool, but not for nearly as long as I hoped it would.
Valen Hunter
Best water bottle for any activity
Familiarity:

I've put it through the wringer
I love this water bottle, I take it almost everywhere. Its light and it keeps liquid cold for quite a while. I can always rely on having a cold drink of water no matter what I am doing and where I am at.
Brayden C.
No Leaking and Spills
Familiarity:

I've used it several times
Love the Jet Valve system, it's easy to get just the right amount of water without the spills. Great design, as others have mentioned, fits in hand and cage well. Best of all, the water tastes like water and not plastic!
John Judd
Great portable hydration device!
Familiarity:

I've used it several times
This bottle fit my water cage very well with no movement, but is still easy to pull out with one hand. The jet valve cap is a nice feature which I've used to make a quick sip easier unlike traditional push-in caps that you need to pull out with your teeth before you can take a sip. The insulation on the bottle was only so-so allowing the ice to melt in only an hour into a ride. I bought two and will buy them again.
Todd S.
Pretty Cool I Guess
Familiarity:

I've put it through the wringer
As far as the basic bottle function goes the Podium Chill ticks all the boxes. It is easy to clean, doesn't leak, and sits firmly in my bottle cages. When it comes to keeping the contents cool the Podium Chill does far better than standard bottle but still struggles on hot days. Starting with some ice in my bottles I've done several 2+hour rides in 75-80 degree Fahrenheit but the bottles can't seem to keep things cold much beyond hour 1.5. In all fairness my standard bottles would be warm/hot a the same time mark.

Overall it is good, not great.
Ryan Kiel
Good product
Familiarity:

I've used it several times
Great bottle, I use it for bike rides. The water stays cold for at least a couple of hours, nice design, I'm planning to buy one extra bottle
Andres Soto