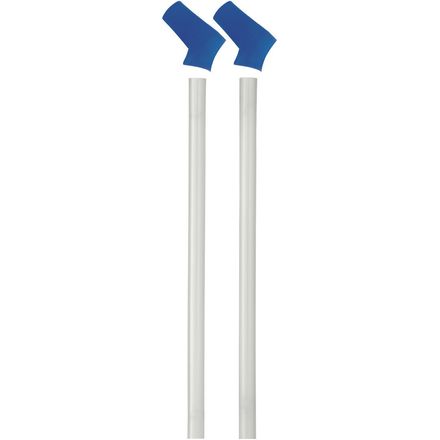 Colors
Save your stickers.
It'd be a shame to throw your CamelBak Eddy water bottle away once its valve and straw start tasting funky—besides, you have all your favorite stickers on that bottle. Save your favorite bottle (and stickers) with the Eddy Replacement Bite Valves and Straws. This pack comes with a pair of valves and straws so you can breathe new life into your trusty water bottle.
Two replacement bite valves and straws for CamelBak Eddy bottles
Big Bite valve self seals to prevent leaks while carrying
Valve and straws made from BPA-free materials
Fixed the problem just fine, however the straw is a bit too long for the older bottle. Had to cut it a few inches shorter. No big deal, but could be for some people.
Steph Petri
WOO!
Familiarity:

I've put it through the wringer
bought these to replace a broken/leaky straw on my water bottle, and I am stoked! my water bottle feels new again. No more leaks.
Tyson Purkey
Make your bottle new again
New nipple, new straw, same old water bottle. I hate to throw something away because I lost the small piece, but this fixed it for the water bottle.
Joe Bolton
Great fit and no more leaks
Familiarity:

I've put it through the wringer
My kids love to chew on the camelbak straws and thus most of our bottles leak like crazy. These replacements are perfect to renew our older bottles and return them to non-leaking status.
Dusty B
New straw, same bottle
Familiarity:

I've used it several times
I have a .75L Eddy bottle that I use as my gym bottle and at first I was first looking at just buying a new one being that I've had mine for a couple years and after many washes, the straw and bite valve were pretty much DONE-ZO. But glad i found these replacement straws and bite valves. The straw is about an inch too short for my size bottle so I did have to cut it. But bite valve works even better than the original. No spilling or leaking like it did before.
SUNPDX
Definitely worth it
Familiarity:

I've used it several times
Have been using and abusing my Eddy water bottle for a couple of years now and the mouth piece was showing signs of giving up on life. Was wondering if I wanted to just buy a whole new bottle when I happened upon these little guys. Cheaper than buying a new bottle and now my old Eddy with all the cool stickers is back in working action!
William Adjemian
I am happy to find these replacements to put to use a bottle sitting around for "spare parts" - these will get it up & in use again!
Janet Kaplar
I have a few camelbak better bottles (750...
I have a few camelbak better bottles (750 ml) with the old bite valve design. Both have been dropped and leak now. If I buy these replacements will they fit on the old bottles with the old designed valve system and stop leaking... even just sitting on a desk it fills up with water so when I pick it up it spills all over me.
Tracey H.
i would contact camelbak's customer service department and get them to replace it rather than buying replacement parts. i had a better bottle that did the same thing, and they sent me a free one. the problem was the replacement leaked too. i just decided that the "better bottle" is in fact the "worser bottle" and moved on.
jason spellman