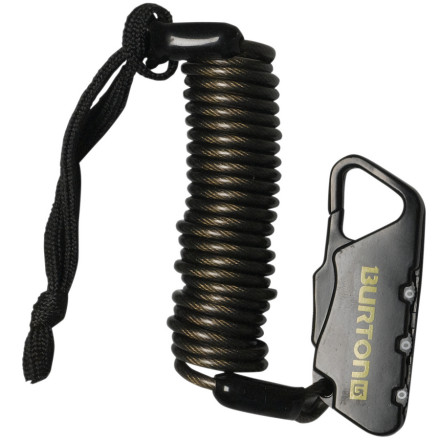 Colors
Chances are the person stealing your board doesn't care about how many lawns you mowed, how many tables you waited, or how many meals you skipped just so you could ride this winter. Don't get got—get the Burton Tether Lock.

Retractable coiled steel cord extends to wrap around board racks and other permanent anchors
Three-number combination lock saves your board from its funeral with the help of numerals
Fabric cord attaches to key loops inside your outerwear
"Straight up sucks."
Familiarity:

I've used it once or twice and have initial impressions
The lock did not survive more than three uses before it would not open. The combination is also very easy to re-set by accident. In the end, I had to smash it with a hammer. It broke very easily.

Avoid.
cantsee
Bought one. Tried it at home and was working fine. Get to slopes and it gets stuck. Had to break it off with a screwdriver
David A.
Just Not Worth It.
Familiarity:

I've used it several times
Bought one back in September, used it for about 3 weeks, then I started having issues with it. Seemed like it was getting jammed from the cold temps, and finally, one day it just stopped opening all together. I've sense purchased another one, but only because I had $15 in credit, but I haven't had the chance to use it yet. My guess is I get use out of it for about a month before I stop even trying to deal with it. I guess we'll see, but it's just a shame that Burton couldn't make an affordable lock that actually works in the weather that it's supposed to.
Jake Ryan
The very first time I tried to use this, it got stuck and wouldn't open. After fiddling around trying to get the combination to work, I just pulled it apart and broke it open. At least I was able to continue riding. Looks very cool but absolutely worthless.
Alexander B.
Broke, ripped it open in 10 seconds
Familiarity:

I've used it several times
Came back from lunch to find that it had frozen, causing a slight separation in the housing that threw off the tumblers. There was no way to figure out what the combination had become. I thought i was hosed until I ripped it open with my hands and and cheap multi-head hand screw driver in 10 seconds. I kept this in my backpack between runs so there's no excuse for it to fall apart so fast, also no excuse for it to be so flimsy.
Michael C.
Didn't open and broke easily
Familiarity:

I've used it once or twice and have initial impressions
I used it this past weekend... The first time it worked fine however when I stopped for lunch it would not open. I got one of the maintenance guys for help and in 30 seconds and a small pair of pliers, he had the lock broken in half with little effort. It wasn't even that cold, 28 or 29 out.
Andrew B.
just didn't open
Familiarity:

I've used it once or twice and have initial impressions
the first time I used it didn't open... just didn't open... I would suspect myself in forgetting the combination if there were none of similar complaints on the internet.

Thanks God, I was able to "unchain"my board.

and I cannot return it now since I had to left it on the resort (((((
Ignat Fialkovskiy
Freezes in the cold
Familiarity:

I've used it several times
First day I used this, it froze up after a few hours at -15c. I'd used it a couple of times no problem, then I went for lunch and it froze shut, luckily I had some pliers and I was able to open it. I will be returning this.
Richard Possin