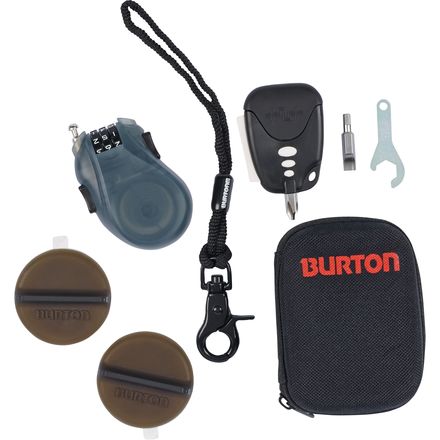 Colors
Get dialed in and hit the slopes.
You've got your board, boots, and bindings, but there's a few more things you'll want before hitting the slopes. Burton knows this better than most, which was the inspiration for the Starter Kit. The last thing you want is for your new snowboard to grow legs and walk away, and the pocket-sized retractable cable lock goes a long way toward ensuring that doesn't happen. The leash makes sure your board stays with you on the slopes, instead of turning into a dangerous projectile flying down the hill without you. The mini scraper stomp pads make skating off the top of the chairlift way easier. And to fight loose bolts and janky setups, the Zip Tool has everything you need to keep things tight, while being small enough to spend all season in your pocket.
Good tool pack
Familiarity:

I've used it several times
The package is ok. Tools ok, stomp pad pieces are great and the lock looks like it wouldn't take too much to break but it would slow down anyone looking to gaffle your board. Not bad but I would have liked to see better quality tools.
Jon Coltharp
a pack of tools share with friends
Familiarity:

I've used it several times
Actually I need the EST tools only... (coz the old bullet tool doesn't work on EST bindings)
But it's worth to get this pack if you mates needs the other parts~
In my case, I take the EST tools for coming trip only. The cable-lock and mini-scraper got share with my friends~
Dominik Mak