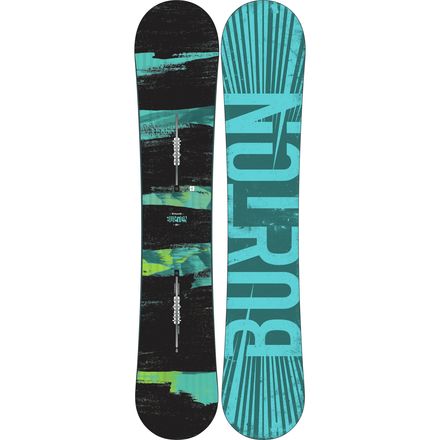 Leave the learning curve behind.
Move from bunny hill slopes to high-speed groomers with the confidence-inspiring flex and mellow feel of the Burton Ripcord Wide Snowboard. Its softer flex enables easier board manipulation, without excess stiffness or unruly aggression threatening to toss you on your backside. It's directional in shape with a set-back stance and larger nose, allowing for predictable straight-line tracking. Matching the shape, the board is stiffer at the tail and softer in the nose, providing stability for initiating turns and learning to carve at speed.
The board's profile is what Burton calls "Flat Top," meaning it's predominately flat, with early-rise tip and tail for catch-free turns. Flat profiles are extremely stable and predictable, allowing you to harness speed into control without it being catchy like a fully cambered board. The early-rise nose and tail rise subtly off the snow, preventing them from hooking up on hardpack snow. Also, the early-rise nose creates better float, should you find yourself in a bit of fresh powder. Another beginner-friendly feature is the Easy Bevel edges, which uplift from the snow to reduce the likelihood of catching an edge.
Progression-friendly, soft-flexing all-mountain board
Flat profile enables catch-free turns and playful flex
Tip-to-tail wood core provides consistent flex at low weight
Directional shape with slight taper allows for surfy control
Biax wrap enhances torsional flex for linking turns
Extruded base can take a beating all season long