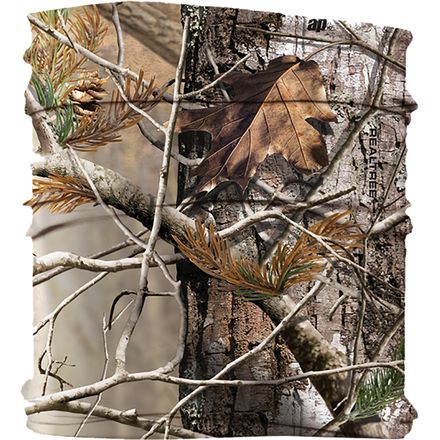 Give Fido some stylish protection.
Not only will you love the Buff Dog Buff for its sweet style, but Fido will also love it for how comfortable and protective it is for the outdoors. Microfiber makes up this buff for moisture management, speedy drying, thermal protection, and wind resistance to keep your pooch's neck completely cozy. Polygiene odor control makes sure this buff doesn't smell like Champ does after an epic mud wrestling session with his own tail, and a seamless construction brings the comfort so he doesn't scratch it off. Each buff has a reflective pattern to help you find him when he disappears into the night.
Microfiber material
Polygiene odor control
Seamless construction
Reflective pattern
eh
Familiarity:

I've used it several times

Fit:

Runs small
It looked like a collar on my dog, he didn't seemed bothered by it but it just didn't seem to fit him, it was got within an hour at the dog park too.
Valor McNeely
I love it
Familiarity:

I've put it through the wringer
My dog loves the Dog Buff.
Marc DiVall
Great Idea
Familiarity:

I've used it once or twice and have initial impressions

Fit:

True to size
We bought these for both our dogs with the thought they'd wear them at our cabin to ensure they weren't mistaken as wild animals. Now that we have them they'll be wearing them out all the time! They look cool and the dogs don't seem to notice them.
Brandon H.
Perfect
Familiarity:

I've used it several times

Fit:

True to size
My sister loves her dog way to much and would never let him wear something that isn't perfect. She lets him wear this so it must be great.
Camden P.
Pretty Cool
Familiarity:

I've used it several times

Fit:

True to size

Size Bought:

S/M
I love the pink one I got for my dog, especially the reflective strips since we play a lot when the sun is down. I ordered the S/M and size fits perfectly for my GSP (45 lbs). I just wish the buff was longer so I could fold it in half for added warmth and still have plenty of coverage.
Matt F
Do people super glue this to their dogs?
Familiarity:

I've used it once or twice and have initial impressions
Bought blaze orange hoping my brown dog would be more visible/ look less deer-like during hunting season. Tried this around his neck and it lasted maybe 5 minutes. Tops. It was off his neck as soon as he could figure it out.
Emily L.
As much as I love my dog, I knew she had to have a buff of her own. The colors are great, but I really wish it was a little longer! She's a newfoundland, basically a little black bear, and the material kind of got lost around her mane... You can't really see it at all since it's so short and rolls up on itself. I should have known since she's got so much fur, but I was really hopeful! Ended up getting one for our friend's puppy who isn't quite as big (yet) and it worked great for him. Super cute little accent for your furry friend, just beware it may be lost on them if they're super furry!
Kayla Weiser
I purchased this buff in blue for my daughter's dog. It is adorable! I love the little bones in the design and the reflective bits!
Jessica F.
The fit wasn't right
Familiarity:

I've put it through the wringer

Fit:

Runs small
I think that this is a great product overall, the issue that I had was that my puppy was in between the medium and the large size. So if you can find the right size by all means get one
Eric Nelson
I just ordered the dog buff. I have not received it yet. My dog had some growths removed from the top of her head. Her head was shaved and she has stitches. I put my half buff on her, to cover her head, to protect her from the sun. We are just going out to go to the bathroom, but I want her to be as safe as possible. It would have been useful to know the dimensions of the Buff instead of s/m and m/l. She isn't that happy with a "babushka" on her head. She would rather have it as a neck piece. But my aim is her long term happiness by keeping the sun off her head until she heals and her hair grows back.
laura G.
Stylish and useful.
Familiarity:

I've used it several times

Fit:

True to size
This buff looks great and fits around my 70lb bulldog's fat neck. It also provides some decent reflection when I am walking him at night. I can tell my dog feels fancy when he's wearing it.
Bill Ison
dogs in buffs
Familiarity:

I've used it several times

Fit:

True to size
our dog looks so adorable in this buff. it is the upgraded version of the traditional bandana. We put it on her for any outing- a hike, camping, snowshoeing, or even just a walk around the neighborhood. It is great a night because the added reflective strip allows for a little more visibility.
Aliza Mills
walk in style.
Familiarity:

I've used it several times

Fit:

True to size
I purchased the tiedye buff for my sisters dog.



-It's so adorable and stylish.

-I bought the S/M for a boston terrier but it seems to still be a tad big. Not by much.

-With that being said I think if it was tighter it would be warmer but it isn't all that thick. So if your looking for warmth I would probably get something else.

-My sister loves that it has the reflective strip on it. Its easier for your dog to be seen at night.

-She also still put the collar on the dog with the buff.

-Great gift for a pet.
Aleshia DiBella
Because why not...
Familiarity:

I've put it through the wringer
I'm a big fan of the people buff to protect that small area on the back of my neck from the south Florida sun.



This dog version has a lot its own uses. I have used it wrapped around his collar to keep the noise from his tags down; pulled up over his ears to keep junk and ticks out (he has open mostly upright ears); soaked in cool water or ice cubes, if available, wrapped inside on hot days (this works great on the people buff too); and the reflectiveness is great, or you can get the orange to really prevent hunters from thinking your hiking buddy is game.



Overall it's really useful, durable so far, really easy to keep clean, and too light to not want to carry it out. You'd be surprised at how useful a simple tube of fabric can be. Note in case anybody is wondering, it's really thin fabric, something like a really comfortable yoga tshirt but synthetic fast drying material, so it probably does nothing for warmth.
five.fifteen plus