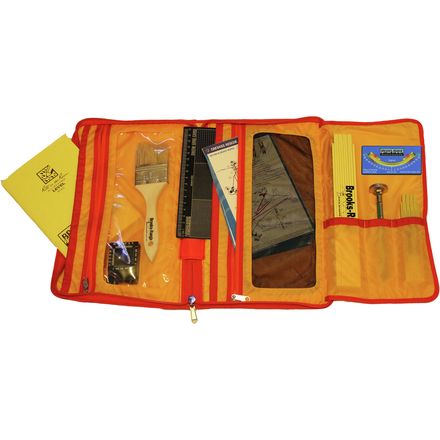 Colors
Geek out and stay on top.
You know how to dig a snow pit, examine its layers, and see how they stack up. Now it's time to get into the nitty-gritty details and geek out with the Brooks Range Pro Snow Study Kit. Measure the incline, watch the temps change, get a close-up view of snow crystals to see how round or grippy they are, and level up your knowledge with long-term study. It's not just safe—it's science.
A professional level snow study kit for backcountry touring
Included field book allows you to write in cold and wet conditions
Ski guide cards cover safe travel, planning, and rescue techniques
Slope meter accurately measures the angle of any slope
Two-inch snow brush allows for clean pit profiles
Folding magnifier gives a close-up view of snow crystals
Folding ruler, crystal card, grids, and carrying case included
Nice pouch, shame about the contents
Familiarity:

I've used it several times
I purchased for a professional avalanche safety course. The loupe is useless, it just fogs up. The thermometers are analog and not accurate enough for critical work - is the snowpack over or under the 1 degree per 10cm gradient? Can't tell, therefore useless. The rest of the kit is ok and the pouch is good, but the two most critical elements are useless. Better to put together your own kit using quality parts - which is now what I'm doing.
Richard H.