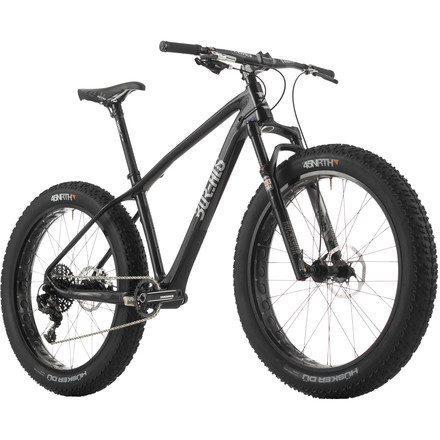 Colors

Detail Images
Ready for everywhere.
Seen here with X01 livery and 45NRTH Husker Du tires, the Borealis Echo starts to look less like "just a fat bike" and a lot more like a mountain bike. SRAM's unflappable one-by drivetrain, hydraulic disc brakes, and a real-deal suspension fork from RockShox round out the Echo's already-capable carbon fiber frame. Borealis believes that fat bikes are meant to be ridden anywhere and everywhere, and when we see them built like this, we're inclined to agree. It's nearly as efficient as your favorite hardtail, but with heaps more traction and confidence over rough trails and chunky downhills. At the heart of the Echo is the 197mm rear spacing and 135mm front spacing that allow for super-strong, dishless wheels.
Full carbon fiber frame and fork with three water bottle mounts
RockShox Bluto suspension fork
Surly rims laced to Borealis hubs and wrapped in 45NRTH's Husker Du tires
Borealis Echo
Familiarity:

I've put it through the wringer
These carbon frames are very poor quality. After a couple hundred miles on mostly flat sand and gravel, the BB began creaking and whining like a $100 Target bike. Had 3 experiences mechanics work on it and each one said it's the frame. The carbon simply cannot cope with the torsional strain caused by the wide heavy wheels. To make matters worse, the customer service is non existent and insulting to anyone with minimal intelligence. They refuse to admit or take any responsibility for the product because I 'didn't buy it directly from them'....I've had over 8 carbon bikes and 25 total bikes in my life, even the worst one did not make 10% of the noise this poorly constructed frame makes. I'd give it a zero if I could.
yourDisplayName
Take a 20% OFF Coupon code from www.outdoorback.tk
Unanswered Question
I am trying to determine size. I'm 5'9" 30" inseam, normal proportions. Usually ride a medium mtb, 54cm road bike. Size chart suggests I might be small or med. Any recs from riders out there?

Anyone know if I purchase, if the bike can be exchanged with Backcountry for different size?

Anonymous
Most nimble bike i ever rode
Familiarity:

I've put it through the wringer
That's saying a lot as before the titanium 29er I now ride (infrequently) I rode a scalpel as my main trail bike. My plan was to upgrade my 2008 pugsley wheels, but after checking out their product I bought an xo crestone. Snow was slow to come to colorado this year as such new bike and all I decided to ride my local trails on the borealis. i pay a penalty climbing in spite of how light the 120tpi husker dus are and the HED rims, but coming down over all kinds of crazy terrain I absolutely love the nimble handling of the Borealis crestone. i bought it hoping for snow. now I don't care.
William H.
I dare anyone who has ridden one of these to give it less than 5 stars. If you have fun riding a mountain bike, you will have an absolute blast riding a lightweight carbon fat bike. I have mine built up with Hed Big Deal wheels, Next SL cranks, a dropper post and Vanhelga tires. With a large frame the build comes in at under 25 pounds. I have a Santa Cruz Tallboy and my Echo climbs significantly easier than it. The wide footprint gives you more power to the ground and the tall tire pretty much morphs the 26" wheel into close to a 29er. I use the Echo on long steep gravel roads in Utah as well as smooth single track like the Bobsled.
Pete OBrien
i recently had the opportunity of riding this bike in Moab and had an absolute blast! Ive been on fatbikes in the past and found them to be heavy and sluggish-but not this bike. The bike comes in around 29.5 lbs and was extremely agile on the trail and the more traditional mtn bike geometry made the bike feel very balanced and at times I forgot i was on a fatbike. The frame is just stiff enough to allow impressive handling in spite of the big tires. The nicest feature of the bike is the Rockshox Bluto fork. its lightweight, simple to use and really expands the abilities of the bike allowing you to take it places you have only dreamed about on a fatbike. It actually feels like it has 5-6 inches of travel allowing you to maneuver over the trickest terrain with ease. Probably the coolest feature of the bike is its ability to run a 29+ wheelset (available through Borealis). it makes the bike very versatile allowing you to swap out the wheels for a skinnier version for the hot,dry summer months and swap back to the fat wheels for the mud and snow season. It like having 2 bikes! so to sum it up this bike is an absolute blast to ride and highly recommended. It sure kept a smile on my face :)

If you have any questions about the bike feel free to contact me direct. My email address is wbranham@competitivecyclist.com or 801-736-6396 x 4074.
I can order the 29+ wheels as well and we can also get this build in the GX1 version for $3199.00. Hit me up for details.

Wesley B.
Just in: Fatness Rules!
Familiarity:

I've used it once or twice and have initial impressions
Wow, that was New and unexpected. Just slayed a night ride on our demo rig, umm wow. I am blessed to be able to try and ride the best of the best. I currently rock a Pivot Mach 6 27.5 and am pretty enthusiastic about it. However this brought back that first feeling of aww I had when I first started working in shops. It was New, different , and inspiring. Who needs suspension , it takes a lot of maintenance. This feels like that, has better traction, is laterally responsive for the climbs, and you just point and shoot and it delivers.



Crazy fun, totally want one, with some minor additions. A dropper post is a must, and it would be nice having larger rotors, 180 would do the trick. As mentioned already it is worth getting the 29+ wheels for faster rides. But the enjoyment of the super cushy big fat tires is just rad, so depends on your riding style.



Feel free to contact me directly should you want to make any of these changes and get one on order! 801.736.6396 x 4769 Or gmcbride@backcountry.com



See ya out there!
Gavin McBride
Oh the fun!
Familiarity:

I've used it several times
like written in the past, just puts a smile on your face. Got the Echo XO1 and could not be happier. It floats through deep sand quite easily. Take note not to run your tires too low or you will pinch flat, ask me how I found out deep in the woods w/o a tube, I know better than this but was a good workout getting out of the woods while pushing the bike. Highly recommend buying this bike, it does not replace my tallboy but is a very close second. Compared; Tallboy = Porsche 911, Borealis Echo = Porsche Panamera. Going riding, see you out there
David M.
like mtb'ing with really fat tires.
Familiarity:

I've used it several times
The title pretty much sums it up, and says a lot about the ride - nothing awkward, weird or niche about it - the Echo rides like a normal mountain bike on the dirt, steers like your other mountain bike, feels just as fast, jumps, skids, corners, everything is intuitive. The frame could easily be a pro level race hardtail frame.



At first I was going to go for the rigid model, but having the Bluto RS fork opened the bike up to, yes, once again, normal mountain biking options - ei:no snow. In fact I've not even ridden the bike on snow (yet). That opportunity will soon arrive and its then that I'm sure the laughs and giggles will really begin. We know it'll be a rad snow machine, but what surprised me the most was how fun it was to ride on dusty and rocky trails.



Build quality is 5 star. Triple bottle mounts (two in the inner triangle, one below the downtube), a downtube rubber shield protects the bike from summer rock strikes (nice touch!) and I fit the bike exactly like I do all of my other bikes...no funky fat bike specific geometry that makes you question your reach or saddle position.



This won't be a bike I put away when the snow melts.
jason sager