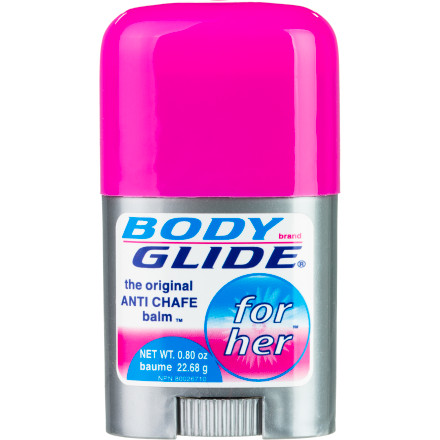 Colors

Detail Images
Chafe free, all day.
Women swim, ride, and run as hard as men, even if we do have curves. But those curves can lead to chafing: sports bras, waistbands, underarms — any place that isn't covered with skin-tight fabric is fair game for rubbing and skin damage. Bodyglide Her Skin Formula is an anti-chafe formula specifically for active women.
Developed using only natural, plant-based ingredients, Bodyglide Her Skin is a lightweight formula that creates a natural barrier to keep your skin moisturized. At the same time, your skin is allowed to breathe and perspiration escapes to keep you dry. It stays where you need it and doesn't end up feeling cold or slimy. Additionally, the glide comes in a portable stick form so you can throw it in your bag and take it with you. It's perfect for bra straps on a humid day, inner thighs in shorts skirts, or between your toes.
Bodyglide's Her Skin Formula comes in a .8 ounce size.