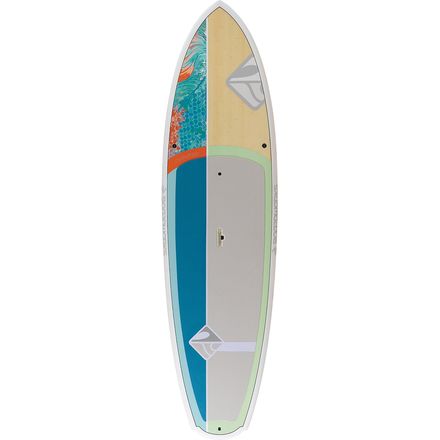 Versatility for ocean bays and serene lakes.
Designed to be lightweight and lovely-looking, the Boardworks Women's Sirena Stand-Up Paddle is a stable and easy-to-ride SUP for female paddlers of all abilities. It features reduced length and thickness when compared to similar men's boards to make it easier to carry, load, and paddle.
EPX-V construction makes the board light, yet tough, and a bamboo veneer adds a beautiful touch. The honey fomb deck pad helps you keep your footing, whether you're practicing yoga poses on flatwater or surfing waves on the open sea. The 2+1 fin setup allows you to customize the configuration to suit whatever type of paddling you want to do, and LiftSUP handles help you comfortably carry your board from the car to the shore.
Easy-to-ride SUP for female paddlers of all abilities
Reduced length and thickness, compared to men's boards
EXP-V construction makes it lightweight and durable
Bamboo veneer adds beautiful aesthetic and strength
Honey foam deck pad for non-slip traction and comfort
LiftSUP retractable handle makes it easy to carry
2 + 1 fin set-up for versatility (fins included)