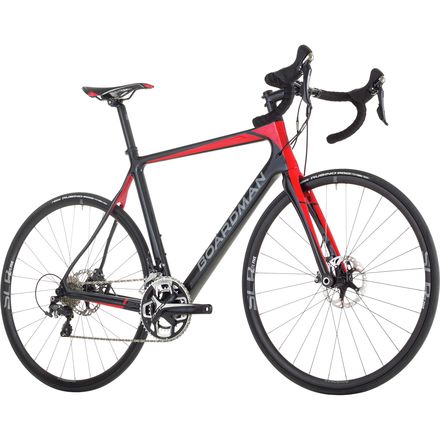 Boardman Bikes SLR Endurance Disc 9.0 Ultegra Complete Road Bike - 2016
View Larger Image
Colors

Detail Images
Better.
For better or worse, it looks like disc brakes are here to stay. If your experience with disc brakes on road bikes is anything like ours has been on Boardman's SLR Endurance Disc 9.0 Ultegra Complete Road Bike, then you probably also think of the industry's new standard for stopping as "better." That's because the SLR Endurance combines Shimano's Ultegra shifting, the standard SLR's race-worthy carbon layup, and the more upright and stable geometry of the recently retired SLS model — all of which means it also happens to be the ideal canvas on which to paint disc brakes' qualities.
The new SLR Endurance frame at the bike's heart is actually a re-branded version of Boardman's SLS frame. For us, this act of renaming serves to highlight the fact that the SLS was never just a weekend noodle. Instead, it's a proper race frame that allows for in-saddle posture less extreme than a track bike. It's eagerness for speed is evident in the fact that it uses the same T1000 and T700 carbon featured in the standard SLR race frame, which balances considerations of stiffness, price, and the ability to erase road noise, chip-seal chatter, pave, and even feedback from gravel roads for a ride that's not just limited to well-groomed roads.
The SLR Endurance Disc's post-tarmac pedigree also owes a debt to the frame's geometry, which mirrors the outgoing SLS. Compared to the standard SLR, the endurance model has a shorter head tube and longer chainstays (by about 20 and 5mm, respectively), which net a longer, more stable wheelbase across less than ideal surfaces. It's also got a higher stack and shorter reach, dimensions that benefit the recreational cyclist or the racer who recognizes the value of a comfortable ride position in races longer than 50 minutes.
The new aesthetic treatment is another shakeup for 2016, presenting a marked departure from the staid, monochromatic offerings of previous generations. There's no doubt that some might associate Boardman's simple, former palette — predominantly composed of black, yellow, and silver — with the phlegmatic stoicism that Brits celebrate as a national treasure; however, more than a few of us in the former colonies around the world might simply refer to it as, well, boring. Silver and black still abound, of course (this is cycling, after all), but the line is also replete with instances of saturated flamboyance like the vivid red detailing of the 9.0 Ultegra Disc build's frameset.
Ticks all the boxes, excellent value!
Familiarity:

I've used it several times
Boardman has done it again. They've packed an incredible amount of features into an amazingly smooth bike and offered it at a killer value.

The new Endurance line comes with front and rear thru axles for stiffness and this model is spec'd right with Ultegra components.

The geometry and carbon layup are on the "endurance" side of things, so a bit more upright and made to smooth out the road, but this is no pansy bike, it's high performance through and through. You just don't need to be bent over like a tiny little pro rider to enjoy it.

I own a Boardman currently and love the quality and spec. You can't go wrong at this price point.

Hit me up directly with any questions. btowery@backcountry.com
Ben Towery
Unanswered Question
How is the tire clearance on this bike? Now that it is disc I would hope it could clear 30mm tires on old 19-21mm rim width and 28mm tires on the new 23-25mm profiles.
inv106014323-0