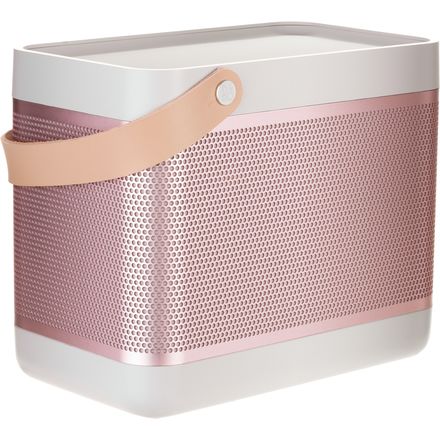 Colors
Precisely engineered for your listening pleasure.
Balancing powerful sound with precision engineering, the B&O Play Beolit 15 Portable Bluetooth Speaker combines upscale build quality with high-fidelity listening. Elevating its build quality, the Beolit 15 features an anodized aluminum grill with precision cut-outs that project immersive sound while protecting the speaker from small drops and accidental bumps. There's a premium, full-grain leather strap for a solid in-hand feel that develops a rich patina with age.
Projecting music in 360-degree directions, the Beolit 15 Speaker fills your favorite room with rich, indulgent sound, also working great along backyard decks and small outdoor spaces. Bluetooth 4.0 wirelessly pairs with your favorite portable devices, ranging from smartphones to tablets. For older devices lacking Bluetooth compatibility, the 3.5-millimeter line-in gives you the ability to use your media player from the past. B&O Play even has a free app for iOS and Android devices (even works with Apple's watchOS), giving you the ability to wirelessly control the speaker without using the speaker's tactile controls.
Smarter than standard speakers, the Beolit 15 features an Adaptive Power Management system that monitors and anticipates the outgoing audio signal, subsequently adapting the power output. This allows the battery to last up to 24-hours at normal listening levels, also conserving power at lower volumes for greater longevity. The lithium-ion battery charges up with an included cable that neatly houses within a latching door along the speaker's backside. Additionally, there's a USB-output (500-mA) that charges smartphones and portable media devices.
Upscale Bluetooth speaker with powerful sound
Anodized aluminum grill with precision cut-outs
Full-grain leather strap develops a rich patina
Speaker projects rich, omni-directional sound
Bluetooth 4.0 streaming with portable devices
Rechargeable battery lasts up to 24-hours
Works with B&O Play app for wireless control
USB-out (500mA) for charging media devices