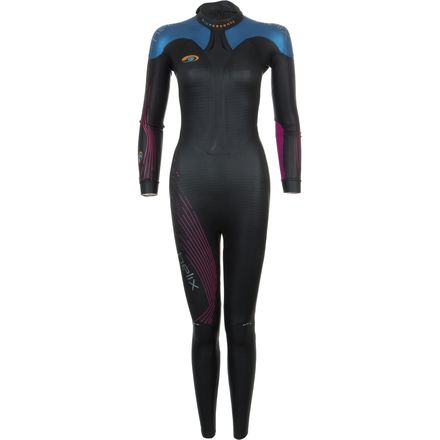 Colors

Detail Images
Twenty years in the making.
Channeling two decades of experience designing the world's best wetsuits for serious triathletes and Olympians, the Blueseventy Women's Helix Full Wetsuit takes obsessive performance to new heights, delivering outstanding buoyancy, unparalleled upper-body flexibility, and fluid stroke movements. That being said, it's best suited for expert triathletes looking to maximize their speed in the water. In fact, with the exception of the ultra-thin Honeycomb Aqua Feel forearm panels that increase arm awareness and positioning, the Helix doesn't focus on enhancing preprioception. Instead, it primarily targets boosting buoyancy and flexibility, which are the most important features in maximizing speed and subsequently shaving time off your swim stage.
Designed around a 5-5-4 buoyancy pattern, the Helix raises your hips in the water, courtesy of its torso and VO2 Chest panels with 5-millimeter Yamamoto neoprene. This allows you to swim in a "downhill" manner, propelling yourself forward and out of the water. The chest's split construction and anatomical design maximize stretch during respiration. Thinner neoprene along the arms and lower legs gives you the full range of motion needed for powerful strokes and forward propulsion. Throw in Blueseventy's signature Torsional Stretch Technology (distinctive blue panels) to eliminate seams and free up the deltoid muscles for extra mobility throughout your stroke.
Quick transitions are essential to efficiently moving through to the bike stage. Realizing this, the Helix features Quick Exit legs with 2-millimeter lower leg panels for efficient removal, as well as flared ankles to keep your feet from catching. Furthermore, there's a reverse zipper design that's fast to remove and extremely comfortable to wear, without the bulky zipper head plaguing you behind the neck.
5-5-4 buoyancy pattern (chest-torso- arms/lower legs)
Torso and VO2 Chest panels with 5-millimeter Yamamoto neoprene
Torsional Stretch Technology along deltoids (distinctive blue panels)
Ultrathin arm panels: 1-millimeter Yamamoto 40 cell neoprene
Quick Exit Legs: 2-millimeter lower leg panels
Aquaseal cuffs with 4-way stretch
Reverse Zipper entry/exit
Love the Mobility in the Shoulder's!
Absolutely love my Helix! I know you should never do this but I never got a chance to test it out before my triathlon race, so the first time I ever wore it was on the starting line at Wildflower 70.3. I had one of by BEST swims, felt GREAT! I love how my shoulders didn't get sore, I feel the difference from my old wet suit (not blueseventy) and it was a night n day difference! LOVE THE HELIX!!
Jillian
Height:
5'2"
Weight:
118lbs
Best wetsuit ever!
Familiarity:

I've put it through the wringer

Fit:

True to size
I have not been able to find a full sleeve wetsuit that I was comfortable swimming in as my shoulders would fatigue so quickly. I was then turned on to the helix and I absolutely love it!! It is so flexible in the shoulder area that I can swim without my usual shoulder fatigue! Looks great and performs fantastic!
Maggie F.
Love the Helix!
Familiarity:

I've put it through the wringer

Fit:

True to size

Size Bought:

SM

This is the most comfortable wetsuit I have tried since starting to do triathlons. I used to get anxious swimming in a wetsuit bc I felt strangled, but not with the helix! Also, the shoulder flexibility / range of movement it provides is second to none ... and don't forget about feeling buoyant, it is superb in that way as well.
Lesley
Height:
5'7"
Weight:
125lbs
Better than the best
Familiarity:

I've put it through the wringer

Fit:

True to size

Size Bought:

WS
I thought I had been rocking a high-end wetsuit, but after it incurred some premature stretching and tearing, I switched to the Blueseventy Helix. The improvements were off-the-hook! The comfort, fit, lightweight design, and lack of chafe points were immediately evident. More important than comfort, though, is performance, right? I simply feel more confident; as appo see to competing high-end wetsuits, the Helix has three-times as many strategically placed materials of various buoyancy. From the innovative paper-thin forearms to the buoyant neoprene at the core, I sense I have an edge where I need it the most. I'll never wear anything but Blueseventy.
Amy VT
Height:
5'7"
Weight:
115lbs
Best in Class!!
Familiarity:

I've used it several times

Fit:

True to size
The Helix is THE gold standard for wetsuits. It's a huge confidence boost to know when I'm on that starting line that I have the fastest wetsuit available. What has really surprised me about the Helix is how light it feels when I'm wearing it. A lot of wetsuits feel bulky and/or feel like they inhibit the movement of my arms and shoulder, but the Helix feels like an extension of me. Plus, an excellent fit/construction around the neck means no race hickeys! I HIGHLY recommend this wetsuit!
Julie
I can't flip turn in the lake but love a rope swing approach. I have competed in many triathlons and multiple Ironmans. I still have my first wetsuit and my second wetsuit .. Yes, and a third (but it's for surfing) And then I bought a Blue Seventy Helix and stopped buying wetsuits!!!! I love the mobility of this suit. I love how you can feel the water when you pull.. A lot of thought went into these sleeves. I love the craftsmanship and attention to detail in the entire suit. Sometimes I will still do an open water practice swim in one of my crappy suits .. Because when I put on my Helix .. It's like zipping up in your race wheels. Can't go wrong, find your size and get yourself one!!
Robin A.
Best Wetsuit out there!!!
Familiarity:

I've put it through the wringer

Fit:

True to size
I've been wearing the Helix for the past three triathlon seasons. It is comfortable, non-restrictive in the shoulders, and FAST!!! I love the sleeves! They are thin and flexible making it possible to move smoothly, but still thick enough to provide for warmth, even in our early season, Northeast chilly swims! I highly recommend this suit to everyone!
Diane Jackson
Best wetsuit money can buy!!
Familiarity:

I've put it through the wringer

Fit:

True to size

Size Bought:

WM
This wetsuit is well worth the $! I have worn it a lot this year and it is still like new. There is buoyancy where needed. The sleeves are my favorite: they are thinner and more pliable than other suits but thick enough to swim in Alcatraz. I recommend this suit to everyone I know.
Claudia Smith
Height:
5'7"
Weight:
137lbs
Great wetsuit
Familiarity:

I've put it through the wringer

Fit:

True to size
Coming from a swimming background means a certain amount of discomfort with full-sleeve wetsuits --until I tried the Helix. The arms are thin, the shoulders are incredibly flexible, and the rest of the suit is well-balanced and doesn't throw off my natural stroke at all. It's a great-fitting wetsuit, perfect for so many water temperature and conditions. Buy with confidence.
Karin L.
Top end performance
Familiarity:

I've used it several times

Fit:

True to size
If you're concerned about being comfortable, the Helix is the best on the market. All seams are well tapered to avoid discomfort and chaffing. Zero chest constriction (that people often complain about with wetsuits) and no problem feeling any strain in my shoulders. Also, the suit helped me to keep my body position and correct form in the water. Overall, I give this wetsuit two thumbs up. The quality and craftsmanship can't be beat.
Denise H.
Best. Wetsuit. Ever.
Familiarity:

I've put it through the wringer

Fit:

True to size
I have tried many brands of wetsuits and am always uncomfortable and feel so slow. I actually am always hoping for a non wetsuit swim. Until now! The helix fits perfectly, keeps me warm and afloat. I've had my best swims this year in this suit. Everyone should have one!
kristin
Blueseventy Helix wetsuit
Familiarity:

I've put it through the wringer

Fit:

True to size

Size Bought:

ML
I don't how Blueseventy does it but every year their wetsuits keeps getting better and better. This Helix wetsuit was perfect and my favorite. Very comfortable around the neck. Loved the flexibility around the shoulders. Knees for running out of the water bend. Easy to take off. Reverse zipper. Perfect.
Catherine Demet
Height:
5'11"
Best wetsuit out there
Familiarity:

I've put it through the wringer

Fit:

True to size

Size Bought:

WS
The Helix is unparalleled in quality and performance. I've been a faithful Blueseventy user for 3 triathlon seasons now and can't say enough great things about this product! The suit is durable and fits beautifully for adequate range of motion where swimmers need it most.
Erin Green
Height:
5'3"
Weight:
118lbs
Unanswered Question
What is the difference between this Helix and the other one you have on sale? The specs looks the same. Is this one the 2015-16 version? I'm particularly interested in ensuring that the sleeves style/technology are the same. Thanks
deborah