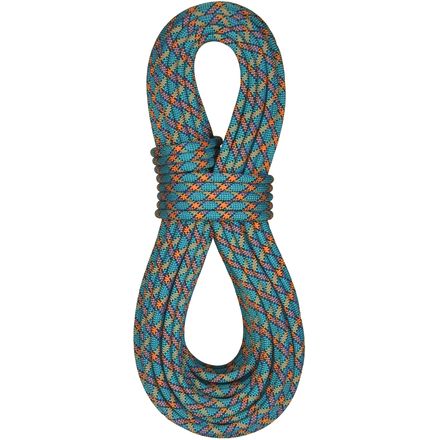 Colors
Reliable strength with enviable light weight.
You value the sturdiness and trustworthiness of the classic 10mm+ rope, but are looking to cut down on your pack weight without sacrificing quality. Look no further than the Bluewater Eliminator 10.2mm rope. Thanks to an eight-fall rating, you can stay serious about safety while departing with the unnecessary bulk of gym-sized ropes.
⬆️ This is a given with a rope (hopefully). The rope is a great intro rope (I have 70m) that can be used across several situations from setting up long top ropes, to cragging, or even multi pitch climbing. Only downside (might be user error) is that the rope has always been twisted up. This can get annoying with doing some cragging and trying to flip the rope or lowering.
Sebastien L.
Eliminate your Fears
Familiarity:

I've put it through the wringer
It had easy times in the first few months in Texas but since we've moved back to the Boulder area it's getting put to use. From Rewritten in Eldo twice, Calypso, the Bastille Crack, a few sport routes on North Table Mountain in Golden and Boulder Canyon. Top rope solos on Flagstaff Mountain and rapping off the Third Flatiron. I've also received compliments on the look and color of the rope. Love it, thank you Bluewater and Backcountry!
Kaz Hatfield
Workhorse.
Familiarity:

I've put it through the wringer
Burly, durable, strong, and dependent. I've had this rope for about a year and use it almost every weekend at the least. I've loved it. Top notch product.
Andrew M.
Great Rope, Great Company
Familiarity:

I've used it several times
I have been out to a few rock faces and used this guy about 4 or 5 times now. Good diameter, skinny and smooth enough to go through your carabiners with ease, yet just thick enough to make untieing your knots less of a pain. Plus it has some seriously soft catches on your falls. Yesterday I went out and had a couple rough falls with this rope in some bad spots with some jagged ledges. Unfortunately it put some pretty bad cuts into it, so I shot Bluewater an email last night, and they are sending a new rope out today. Some awesome customer service from Bluewater and I will definitely be buying from them again.
Rylee F.
Eliminate Your Worries
Familiarity:

I've put it through the wringer
I got a 70 meter at the beginning of our early spring in Utah and have been abusing it as often as possible. This guy has been to Red Rock, Moab, St George and spends a considerable amount of time in the Cottonwoods at home. It loves rough rock thanks to a super tough sheath, it's lightweight for a 10.2 so dragging it up multiple pitches is not a worry and it has a nice soft catch when you take that big fall. I'm stoked on this rope.
Geoff Conner
Would this rope serve well as a rappelling...
Would this rope serve well as a rappelling rope?
Tim Ries
Hey Tim,



If you are strictly rappelling, you may be better off purchasing a purely-static rope.



However if you want a climbing rope that you can also rappel on, then yes. this will work. 10.2 is a common size and is compatible with many belay/rappel devices.



Hope this helps.
Ben Rabinowitz
I love this rope because it even feels more durable than my other ropes. I use it primarily for sport and toprope and it has outperformed my sterling marathon and is cheaper too. Another great feature of this rope is that it is made in the USA! The green rope looks amazing.
Thomas B.
Been climbing on this rope for a couple weeks and I really love it. It handles so smooth, easy to clip and I know it will last me a long time. Bluewater all the way!!
Matt
Is it for gym climbing or for real rocks
Is it for gym climbing or for real rocks
kyle
It is a pure and real rocks climbing rope
Guy Geva
Guy is correct that the rope is for the real rocks but it would be just as useful and well suited for gym climbing as well.
Artur D.
Why BlueWater Ropes is a RAD COMPANY!!!
Cedar Wright
outdoor adventure photographer James Q Martin shares why he uses Blue Water ropes
Kim Havell
Best rope for beginner. It has a nice feel to it, flows throw the belay device nicely. Great al around rope.
Brian
Best rope for beginner. It has a nice feel to it, flows throw the belay device nicely. Great al around rope.
Brian
One of the most trustworthy ropes I have ever used. Survive blood-curdling epics around the globe with this one.
renan ozturk
BEST, MOST DURABLE, SOFTEST CATCH!
Bluewater has been ahead of the game for a long time, and you will not find a more durable, and smoother handling rope than the Eliminator. Also this is one of the softest catches on the market with a great fall rating. Bluewater sets the bar for quality control, and every inch of every rope they produce is HAND INSPECTED. And, best of all, Bluewater is the only FAMILY OWNED, AMERICAN MADE rope company on the market, so you can feel good about where your money is going. Not only is this the best rope in the world, it's made by good people here at home.
Cedar Wright
This is a great all around rope. I have used Blue Water ropes for years and really trust them. This is my top roping rope. But have also used it for lead climbing with my 9.4 on big walls. Seems to be standing up very well and shows little signs of age.
Jeff Sacks