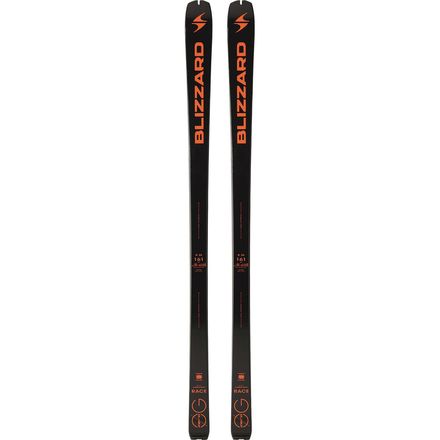 Colors
Light as an arrow, fast as a bullet.
The Zero G Race Ski is Blizzard's first attempt at designing a plank specifically for randonnee racers, and we'll be a monkey's uncle—or maybe a slow backcountry skier would be a better metaphor in this instance—if we didn't think Blizzard absolutely nailed it. It boasts a staggering weight of one single pound; yep, you read that right: one pound (and eight ounces if you want to be picky about it). If you aren't salivating yet, then you must not care about grams.
Blizzard built the Zero G Race out of a full, poppy, poplar wood and ultralight isocore foam for an optimal uphill performance. As for the downhill, Blizzard integrated its brand-new, top-of-the-line Carbon Drive stringers to allow an unprecedented downhill performance. That doesn't mean you'll float down deep powder or cruise couloirs with ease—due to its skinny 65mm waist—but you will get that pesky downhill part out of the way so you can get another lap in before all those slow backcountry skiers get a chance to summit your skintrack.
Blizzard ultralight touring ski for randonnee racing
Skinny 65mm waist for agile maneuverability
Full wood core keeps the weight down to a pound per ski
Carbon Drive delivers unprecedented performance
Sandwich construction for enhanced durability