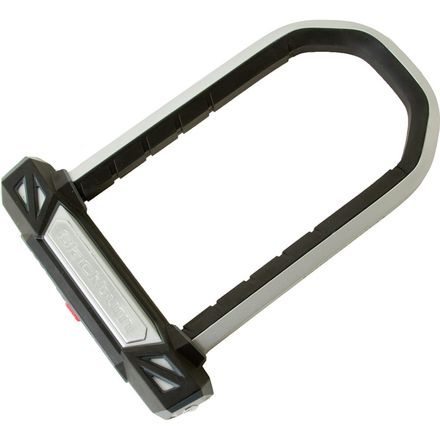 Colors

Detail Images
It's what NASA uses to lock up the Rover on the moon
Place your bike in solitary with the Blackburn San Quentin Bike U-Lock. The 18mm cut-resistant alloy steel shackle with anti-scratch liner will spoil any theft-attempt without scratching up your beautiful ride. The bump-proof, pick-proof dual-bolt locking mechanism will stand up to Hollywood's most clever jewel thief, and the $4,000 theft replacement guarantee has you covered in the event of the unthinkable.
burly
Familiarity:

I've used it several times
I snagged the Blackburn San Quentin U lock for my commuter bike, and its holding up great. It's definitely heavy, and feels super durable, so far my bike has been safe, but really it's ideal to never have to totally test that. It's big, burly, and heavy enough that I'll trust it with my steed though.
Martina
It weighs as much as your road bike
This thing is heavy! That's a good thing for locks but if you already carry a 19 inch Dell laptop in your backpack this lock won't do you any favors.
Eric Schulthess
Bike is going nowhere!
Familiarity:

I've used it several times
Purchased this lock based on other reviews. This is the most solid bike lock I have used....hands down! The $4k theft replacement is indicative of the protection assurance . Size is standard for other U-Locks I have owned. Despite the heftiness of the lock, it is quite easy to lock/unlock. Rubber bumper lining minimizes the potential for scratching the bike frame. I can't imagine ever needing to purchase another lock again.
Erin Timmins
This thing is heavy but that means it's built to withstand theft. I feel good about locking my bike up with this since I think it would be quite a large amount of effort to get through it to my bike. The insurance policy gives great piece of mind
Adam
Heavy, Beefy
Familiarity:

I've used it several times
This lock is definitely on the heavy side, but would you really rather have a lightweight lock to safely secure your bike? I, like a couple others, had a hard time fitting it on my frame with the mount, so I either throw it in a backpack or lock it around the triangle by the front wheel. The lock engages and disengages smoothly and I'm certainly satisfied with my purchase.
Dan Brown
Solid! Solid!
Familiarity:

I've used it several times
I've been using this for a few weeks now and I always feel good leaving my new cross bike outside the bar, grocery store, coffee shop, you name it. Pretty beefy as far as locks come when i saw it compared to my friends, in combination with a cable lock I have no qualms, and I'm pretty bike-anoid myself. The frame mount went on to my frame no problem as well, I just don't have room in my inner triangle for the lock with bottle cages.
Evan Gerry
I have only had this lock for a week and used it pretty much every day so far. I love that it lock comes with a 4,000 theft replacement guarantee, which is really the main reason I purchased it. It is a bit on the heavy side which is my only real complaint. the scratch resistant material is one of the few that actually holds true. I have used it both on a carbon frame and an aluminum neither having marks on them afterwords. Even if it has been a little tight squeeze. Overall so far I am pretty satisfied with the lock.
Rita Palmer
Unanswered Question
How Heavy is the Blakburn San Quentin...
How Heavy is the Blakburn San Quentin U-Lock?
E Mathers