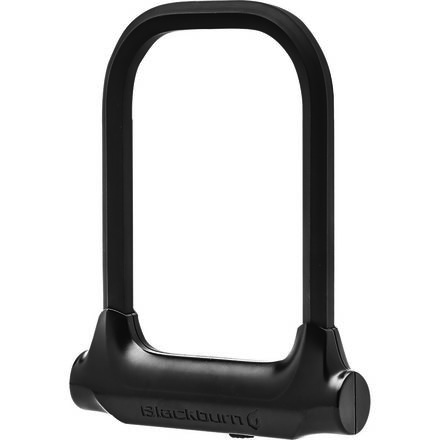 Colors
Protect your ride.
Foil would-be bike thieves with the easy to use and hard to defeat Blackburn Local U-Lock. Unlike standard, round-shackled U-locks, this one features a hexagonal hardened steel shackle that can't twist in the locking mechanism, which increases the already considerable amount of time it would take to chop the lock off your bike. A silicone sheath protects your bike from scratches and further deters thieves with increased cutting time, which increases the chances that they'll pass up your bike for one with a less intimidating lock.
Each Blackburn Local U-Lock comes packaged with three keys.
Cheap piece of mind
Familiarity:

I've put it through the wringer
I was worried about my bike getting stolen all the time. Since I bought this lock I don't worry near as much. It's very very sturdy. You would need a hack saw and about 30 minutes of hacking to get through this thing or some type of grinder. Makes me feel very confident my bike will be there when I return. I highly recommend this lock.
D Trent Childs
Unanswered Question
Does this come with a bike attachment so you don't have to carry it?
Rachel
This lock works great for if you're commuting around town. Very sturdy and having locks cut in the past, I can sleep a lot better at night knowing I have a legit lock. The size works well with any type of bike you have.
Mark Walter
This lock is just what I needed. Easy to use and is strong enough to lock up a few bikes.
Katie Williams
Lose your keys a lot?
Familiarity:

I've used it several times
SAME! This bad boy comes with three total keys so you can lose at least two of them before you head to the Lowes to get a new key made. I also like that it comes with an easy-to-install mounting bracket for your seat tube to look extra clean when in transit.
Ian Saukerson
nice lock
Familiarity:

I've put it through the wringer
This is an easy to use lock. It was a little bigger than I thought but it works great for my little bike. Its easy to take on and off. Pretty lightweight for a bike lock.
Andi McBryde
This lock does a great job locking up my bike and has room for a friends' as well. It stays out of the way when on my frame and does exactly what you would expect it to. You forget you have it until you need it which may be its greatest quality.
Evan L
super strong for not being that heavy
This lock is super strong and dependable, there is not a lot to add that has not already been said.
If I had to point out any downside it would be that the "open middle space" for lack of a better term, on the 162 is a little small. I'd say that it is about the size of a VHS tape. This does not really pose an issue most of the time, but it can be a little too small/tight when trying to lock up to a crowded bike rack outside of the bar. In those cases I wish I had gotten the larger one.
Kyle Bunker
No stolen bikes with this lock, it really does the trick! I use this lock all the time and recommend it to anyone with a coil lock. The key hole is hidden which is a nice, tricky touch. Easy to use! Just don't loose the key!
Joelle Raynes
No Stealin'!
Familiarity:

I've used it several times
I have had my bike stolen countless times. I've tried coil and u-lock but those just don't seem to keep the thieves away. This lock (thank goodness) has finally done the trick. Its extremely solid and the hidden key hole is a nice touch! I really like this lock and will use for every bike parking to come!
Samantha Fox
Easy to use!
Familiarity:

I've put it through the wringer
Great U-lock for the price! I'll have to agree with the comment from Rich below, whereas you don't struggle at all getting the key in the lock compared to some others out there. Works great and has a solid design!
Nolan Paini
Good so far!
Familiarity:

I've used it several times
So far so good! Maybe it's just because it's new, but opening the lock with the key is much easier than previous locks i've owned. With some, it's a struggle to get the key in and the flat part is a pain to get off the U. this one works flawlessly.
Rich F
Easy to use, feels tough, and is compact. I like the key lock, as long as I can keep track of the key.
Spencer Marr