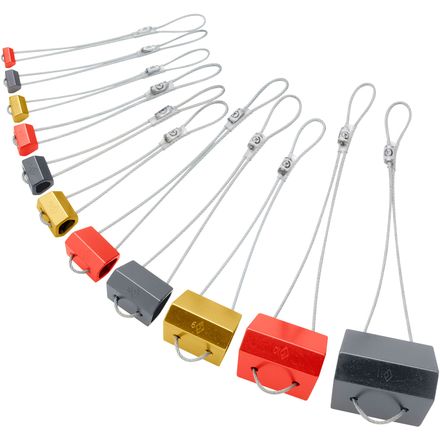 Colors

Community Images
Light, cheap, and durable—a climber's three favorite words.
Black Diamond Wired Hexentrics offer cheap, lightweight protection for trad climbing. Each Hex offers four different placement options, so they'll fit a variety of cracks and can be worked into places where other forms of protection just don't cut it. Hexes are popular with alpine climbers because of their lightweight durability (alpine gear gets hammered) and as a low cost alternative to leaving behind an $80 cam when you're retreating off your latest epic.
Great for easy alpine routes
Familiarity:

I've put it through the wringer
I bring a set of sizes 8,9, and 10 on every easy alpine route i've done and often prefer them over my cams in this situation. They're just so much more secure in discontinuous, ledgy terrain- areas where cams would usually walk out of their placement. So without a doubt, if these are on sale, get the three sizes I listed above.
John Guy
I have #6-9 and 11. Would love to have the next larger sizes. They work great on my local crags. Always feel solid. If you like stopper nuts I think you'll like these.
Dan Lexie
not as good as they look
Familiarity:

I've put it through the wringer
bought the set of 10. barely use them. really unconfortable to carry in long routes, and you dont use them as much as you think. i cant remember a time where i wish i had them on me and didn?t.

if i could do it all over again i would buy a set of stoppers.
Patricio Berra
I haven't used any other brand of hexes (that might change in the near future) but I like these a lot for use in anchor-building (both multi-pitch and top-rope), or as a lighter-weight wide piece when I need more cams than I have available. I also almost always have an 8 or 9 on me in case I have to bail on it.
John Matusiewicz
Looking at buying the two biggest sizes...
Looking at buying the two biggest sizes to add to my trad rack... If I already have a set of stoppers and cams would this be a good idea?
Hayden Beck
Hexes are light weight, cheap, and bomber when placed right, but I would honestly rather throw in a cam instead. However, I'm lazy, and cams are just easier and faster to place. Getting skilled at placing hexes is an awesome and useful skill, I say go for it.
Thomas Ogasawara
I only own two hexes, they are the 10 and 11. Worth while addition to any rack, and you cannot beat the price. I would rather have 3-4 of these over a cam if I had to choose between the two. I have actually used them quite often and own stoppers, master cams, and c4 cams. They do tend to be quite noisy if racked close to each other!! (cowbell anyone?)
Mark D.
Obviously great gear! I consider these a standard part of my trad rack.
Brennan Crellin
Solid anchor. Strong cable. Also works well as a sap.
MCSWIGS
Can the wires on these hexes be clipped...
Can the wires on these hexes be clipped and replaced with cord? If so are there any suggestions for what cord to use?
Corey M.
Best Answer
Absolutely. Sterling Power Cord or Blue Water Titan Cord. If 6mm will fit use the Power Cord. If not use the 5.5mm Titan Cord. Tie the cord with a TRIPLE fisherman's knot!

http://www.sterlingrope.com/products/299074
http://www.bluewaterropes.com/
Brandon Smith
Anyone know what the diameter for the holes...
Anyone know what the diameter for the holes are in MM?
Kevin Brooks Henry
Best Answer
It depends on the size of the hex. The larger ones have a hole about 5-5.5mm with a 3-3.5mm cable
Mato
some of my favorite pro, having 3 ways of placing just one small [sideways], medium [other sideways] , huge [lengthwise] is awesome for me. having a full set of these can cover so many cracks plus they get GIANT. the largest size gets up to a fist crack easy, while the smallest overlaps with a set of smaller stoppers very nicely, if your as much of a passive pro freak as me. and i haven't had any problems with them walking out which kills the whole curve hex argument for me, a yank or two and watch them twist and set. and Mike Merrill's review helped me out with the sizes. heres the other ones not on his list
11.4/19 mm, 0.45/0.75 in (size 1)
14.2/20.8 mm, 0.55/0.82 in (size 2)
16.8/24.4 mm, 0.66/0.96 in (size 3)
65/89.2 mm, 2.56/3.51 in (size 11)
thanks Mike! helped me pick the right ones
sam addington
I bought these when putting together a starter rack on the advice of a guide for climbing a particular area of Northern California. When the set came in, I was surprised at how big these suckers were. I knew they had the potential to replace a larger (up to 3" w/#10) cams, but the size and strength of these peices really made me believe it. The wires make them a little stiff to place in every situation, but when you can make them work you know you've got a solid peice of pro. The #10 is my go to peice for a bomber anchor when I can fit it in the system. For beginning climbers, check the tech specs (sizes) on http://www.blackdiamondequipment.com/en-us/shop/climb/protection/wired-hexentricr-nut-set-no-4-10 so you know what sizes to get for your particular rack configuration. I didn't see the sizes listed on BC.com so here they are for reference:
Dimensions :
20.6/27.9 mm, 0.81/1.10 in (size 4)
23.9/33 mm, 0.94/1.30 in (size 5)
27.2/39.1 mm, 1.07/1.54 in (size 6)
33/45.7 mm, 1.30/1.80 in (size 7)
39.1/54.1 mm, 1.54/2.13 in (size 8)
47/63.7 mm, 1.85/2.51 in (size 9)
55.6/75.2 mm, 2.19/2.96 in (size 10)
Mike Merrill
Would rather fall on this!
They take some getting used to but when you get them in right they are bomber and I'd MUCH rather fall on one of these than on a cam. We spent an afternoon doing single pitch routes at the crags using nothing but hexes one day. When its all you've got, you find a way to make it work.
Julia S.
As far as hexes go these are just adequate. The wire limites effective placement and the straigh sides prevent solid placement. If this is all you got, then the will work fine, but I would reach for a WC or Metolius curved hex first.
Matthew Cox