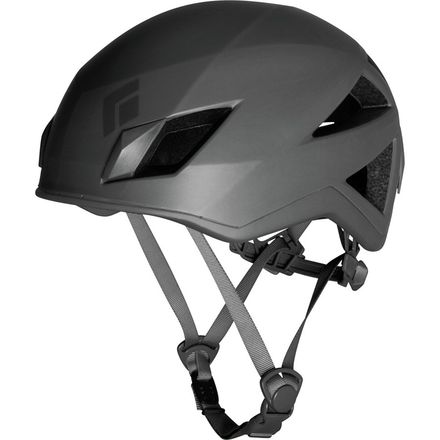 Colors
Remind rocks that they are for climbing, not hitting your head.
Your head is your most valuable climbing asset, which makes a good helmet key. The Black Diamond Vector Helmet keeps all your marbles where they belong: in your noggin and focused on climbing. A vented polycarbonate shell encases co-molded EPS foam for a versatile design that allows airflow without compromising protection. The Vector's ratcheting adjuster means you get the most ideal fit without fiddling around, and secure headlamp clips keep your light source from taking off for an adventure of its own.
For my Climbing Hubby
Familiarity:

I've used it several times
He loves it and looks great! Blue color is good in the heat.
Samantha Fox
So comfortable I sleep in it
Familiarity:

I've used it several times
Fits great and you won't look like a goober...
Kent P.
Bigger profile but good overall
Familiarity:

I've used it several times
This was my first helmet and I mainly used for rock climbing. I didn't notice the bigger profile it has over my half-dome helmet, which really became an issue when I started ice climbing because my jacket hoods do not fit over it very well at all. If you just want it for non-winter season climbing, it isn't bad, as long as you don't mind it looking huge on your head (especially with taller lengthy builds). For winter though, I would suggest a smaller profile helmet that you can easily slide your hood over.
Sam Houg
Great fit and a great feel!
Familiarity:

I've used it several times
Super light weight and strong! Fits my big head really well. Nice and snug so there is no jostling as you make the next hard move on the wall and the adjustable fitting system is great as well. You can barely tell its there!
The front comes nice and far down the forehead to protect you from any falling rocks you may encounter as the belayer and the ventilation is superb. No more sweaty head ahahah. Protect your noggin with this great helmet!
JT Nebeker
solid helmet
Familiarity:

I've used it once or twice and have initial impressions
Its light, comfy, and breathes well. Perfect for those long trad routes
Blake Martin
Great for thick skulls & big heads
Familiarity:

I've used it several times
I'm a big dude, and I've got a big head to match. I was using the BD Half Dome for a long time, but after a full day of scrambling or couloir travel, the band would get uncomfortable and I'd wind up with a headache - on bigger heads, the Half Dome system doesn't quite sit where I'd like it to.



With a trip to Rainier coming up, I knew I'd be wearing the helmet longer than I had in the past, so I needed something that would be light weight and comfortable all day long. Enter my Gearhead, Zach, and his recommendation that I try the Vector.



After wearing the Half Dome for so long, the system on the Vector took a second to adjust correctly. But once you figure it out, it's like this helmet isn't even there. I wore it for over 14 hours on Rainier, and not once were there pressure points or squeezing, nor did it get sweaty, or itchy.



In fact, here's a side benefit of this helmet - the vent holes allow you to scratch most of your head without taking it off. Isn't that the dream?



This is the perfect helmet for the cranially endowed.
Luc
Love the fit!
Familiarity:

I've put it through the wringer
Great fit and the EPS foam is always reliable in taking care of your noggin. I've only climbed with this and I barely notice it, I can see myself taking it out on some mountaineering trips and loving the weight. I usually have a hard time with helmets and have a larger head. This one fit my head perfect with no pressure points. I have more of a wider head than most people. The M/L fit great, I run at a 59cm head circumference. If you have questions, feel free to reach out.
Warren Young
Excellent climbing helmet
I use this helmet all the time for climbing. I used to use the black diamond half dome and use this now. Light, well vented, not much more i can ask for.
tommy chheng
Solid Brain bucket
Familiarity:

I've used it several times
I've only used this helmet a few times but so far I'm loving it. It's lightweight, has lots of vents to keep your head cool, and most importantly is highly protective. Another notable feature on this helmet is it's easy adjustment system that allows it to have a snug fit whether you're wearing a hat or hood under it or just rocking it over your hair. Bottom line, protecting your head is cool, and so is this helmet.
Jeremy Collett
So light, I forget I'm wearing it. It breathes super well and feels solid. It's the most comfortable and secure helmet I've tried and a vast improvement over my previous one.
Dustin Kramer
Awesome helmet!
Familiarity:

I've put it through the wringer
My main focus of this helmet purchase was for rock climbing. It definitely has worked out well for that. It is super light, the main reason I purchased it, as well as very comfortable. Besides climbing, I have loved it for mountaineering. Is is easily adjustable to fit a small hat underneath which has worked great on various summits.



The only very minor complaint would be the durability. The outside material is similar to a bike helmet. Meaning one good impact and the helmet would be toast. I'm very cautious on where I set the helmet down or how I set it down, no tossing to the ground. If you're looking for a helmet you can throw around then I would not choose this one. You're buying this helmet for the weight for the most part.



I have a semi large head, and the large fits me perfectly. With room for a small hat underneath if need be too!



Let me know if you need some help comparing helmets, or climbing Little T in WA (photo).
Zach Higgins
comfortable enough to wear
Familiarity:

I've put it through the wringer
Fits snug, with lots of airflow so you keep it on your head even on those hot summer days. Mine has lots of dings and marks from minor hits or knocking while on my pack for the approach, but overall has held up pretty well.
Matt Myers
Not impressed with durability
Familiarity:

I've put it through the wringer
I had my BD Vector helmet for a little over a year and the thing is completely trashed. I try not to beat it up excessively, but it still has upwards of 10 cracks in the foam. My other helmets, including lightweight foam helmets have held up far better than the BD, and I'm not the only climber I know who's had durability issues with their helmets.

I'll give BD some credit, it's a comfy and light helmet that doesn't look utterly ridiculous, but don't expect to get more than a season or two out of it if you actually use it.
MegaStoke
Guy with Hot Head Approves
Super comfortable & lightweight helmet, there's really not much more you can ask for. My mop-like hair often causes some overheating with most helmets, but I have experienced no such issues with the Vector. Would definitely recommend.
Morgan Eliasen
great helmet
Familiarity:

I've used it several times
I agree on this helmet it does sit a little high on the head but does a great job protecting your noggin. There is EPS foam on the sides and top which is key in this helmet so really covers you in most situations. The venting on this helmet is amazing and does a great job keeping your head cool on the wall. In winter time fitting a thin hat under works great. Let me know if you have any questions on this helmet or any other gear!
Justin Morgan
Good light helmet
Familiarity:

I've put it through the wringer
The Vector Helmet is a little sturdier than the Vapor Helmet, which makes this my day to day go to helmet. I like the color options and the adjustment system in the back works great and fits my head really well, and also fits great over a baseball hat or wool hat. The headlamp clips work fine. I also have found this helmet to take a pair of goggles well, if used in winter and or for skiing.

One thing to keep in mind with any of the new lightweight helmets is that they are not the good old plastic helmets and can break if you do not treat them properly. This annoys some people who want to have fairly indestructible helmet. However, the sleek design and lightweight properties of these helmets make up for the lack of durability for me.

I have occasionally caught the back adjustment when stacking coils around my head, and or putting up or down hoods. Not a huge issue but something that could be improved upon.
Diana Jenson
Sits high
Familiarity:

I returned this product before using it
The helmet did not fit my head well. It sat high and was not exactly low profile. I did not like the look and it seemed clunky. It was very light weight and comfortable though.
Jack L