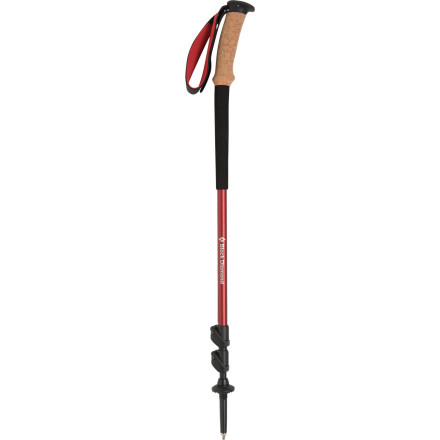 Colors
Take a load off.
Hiking can be rough on your joints whether it's your first time on steep trails or your second time hiking the AT. Black Diamond designed its Trail Ergo Cork Trekking Pole to give you the support you need to cover miles without sore knees. Its aluminum shaft makes the entire pole incredibly lightweight so you barely notice the additional weight. Its cork grip wicks moisture away from your sweaty palms, and Black Diamond set the grip at a 15° angle in order to reduce swing motion from your wrist in order to provide a more positive plant. The 360° padded webbing strap makes each pole specific to your left and right hands for easy access and extra comfort. Its FlickLock clamps let you adjust the length with ease for easy transport, and you can switch out the Tech Tips with rubber or carbide tips depending on the terrain you're trekking.
Aluminum shaft
Cork grip with 15° corrective angle
360° padded webbing strap
FlickLock adjustable clamps
Tech Tips
Start of a beautiful relationship
Familiarity:

I've used it once or twice and have initial impressions
I bought these because my knees are the WORST. i'm 25 and am training to hike Kilimanjaro next summer but unfortunately got runners knee over the summer in both knees, and if you've had this, you know it's a killer. I have used these pole once and already felt relief going down hills. I can tell they are going to be my new best friend. I will come back with updates on how they have helped my knees when I have used them more.
Lo
Going Strong at 60K'
Familiarity:

I've put it through the wringer
Have had these 3 months and I've gained over 60K feet in elevation using these poles a good chunk of the time. The locking mechanism is fantastic - doesn't unexpectedly collapse like most telescopic poles. Like the angled grip too.
Did the Cactus to Clouds trail and didn't have a single problem with these. My buddy on the other hand was constantly tightening his poles because they kept unlocking.
Paul K
I'm 6'5", will these poles work for me?
nwsound
Yes, You'll extend them close to the 140cm mark. When you get them come back to the size chart so you know what angle you're looking for.



If you have any other questions you can always chat in with our experts, or call 1-800-409-4502. I am also an Expert Gearhead so you can reach directly out to me.
Nic DeSeelhorst
Great for Winter Touring & Summer Hiking
Familiarity:

I've used it several times
Great adjustable poles for all of the sports. Lightweight and adjustable enough for a tall guy like me 6'3"
Collin Doherty
3000+ miles and counting
Familiarity:

I've put it through the wringer
These poles accompanied me on my thru-hike of the Appalachian trail in 2015, and were flawless. The locks never slipped, the straps never chaffed, and the grips were always, well, grippy. I did replace the tips once I got to New Hampshire, but more for peace of mind than out of necessity. I have used these poles for countless day hikes and short backpacking trips in New England since then, and they definitely show wear but keep on trucking. I just recently replaced the straps, because the padding was ripped but the strength of the straps was not compromised. I also use the poles in the winter for touring and they excel at that as well. The cork is a great upgrade over traditional handles, and I say that it is well worth the extra cost especially for a product that is as durable as this one.
Elliot Gorr
Cant Go Wrong With Cork
Familiarity:

I've put it through the wringer
I've put several hundred miles under these pairs of sticks and I have loved every step! The design of these poles is superb! The aluminum material ensures sturdy construction without sacrificing weight, while the cork grips absorb moisture and leave little to no chafing. The flick-lock adjustment mechanism is a must have too, for it makes adjusting poles very quick and very easy!

I would recommend this product to any hiker/backpacker who loves the feeling of walking like a quadruped with cork hands.
Alex Blackmer
Cork; Loving it!
Familiarity:

I've put it through the wringer
At first I wasn't sure what I thought about the cork grips. Being my first pair with cork the first couple longer hikes I took with them my hands were wondering if I made the right choice. After a little break in these poles and grips are money! Absolutely love them. Took them out for a 43 mile trip in Colorado and they were perfect! Only negative I can see is with the aluminum poles you compromise a little bit of durability. First trip out on them I ended up post holing to my waist and with a little pressure on one of the poles it bent pretty good. On the other hand though since they are aluminum it was pretty easy to bend back to shape and they are almost like good as new.
Kyle Laudenslager
Are rubber tips included?
Mary Susan C.
Yes they sure are. Sorry for the late reply Mary.
Nic DeSeelhorst
What I Expected and Hoped For!
Familiarity:

I've put it through the wringer
I am 61 years old, have mild arthritis in both knees and just got back into hiking last year. I had purchased a cheapo pair of poles to hike the lava flows in Volcanoes National Park in Hawaii and they saved my bacon several times on that trip. Upon return I began researching poles and found these. The ergo design, cork handles, and strong aluminum poles sold me on them. I am currently training to hike the Kalalau Trail on Kauai later this year and several others on the islands, expecting to log about 80 miles while there. Since March 1 I have logged over 110 trail miles on similar terrain averaging 9 miles and 2200' of elevation change. The poles are like an extra pair of legs, helping to stabilize me on uneven trails, creek crossings, and over rocky terrain. Where I have really noticed their help is on steep downhill slopes and trails. I was having real knee trouble but the poles have allowed my muscle groups which support knee strength to catch up and do their job better. Another thing I like is how the cork "breaths" very well. I sweat a lot and have yet to wear a blister on my hands, and most likely will not. Now it's just a habit to take my poles when I go out, even on flat land. You never know if you may need them for something else!
Dan Parker
I'm in love.
Familiarity:

I've used it once or twice and have initial impressions
Most of my (younger) life was spent with one of two homemade hiking sticks or, most often, nothing at all. I used these new sticks on a 7 mile, 2700' gain romp on an out and back on in rocky SoCal terrain. Truly the best hiking day yet on my knees. The cork handles are key to absorbing moisture and resulted in zero chafing and not blisters.
Brian C.
Mother Approved
Familiarity:

I gave it as a gift but have feedback to share
I bought these for my mom as a Christmas gift. She had wanted a set of hiking poles for the trails back east she uses to walk the dog in the winter. She has had only positive things to say. She's taken them snow shoeing and has also picked up the rubber caps for any extended walks on really hard pack/pavement when the snow melts this spring. I got her a pair of BD's because I have put my pair of poles through 1000's of miles and they have held up flawlessly. BD also makes all the accessory parts one would need for various issues like a broken tip, powder baskets etc..

Happy Trails....
George E
Can women use these poles or are they specifically for men? I cannot find any mention in the description. Thanks!
Blair K.
Hi Blair, These trekking poles are unisex. If you have any other questions, please reach out to me directly and I'll get you taken care of. - Matthew Pizza - Expert Gearhead
Matthew Pizza
Fantastic poles
Familiarity:

I've put it through the wringer
I've had my pair of Trail Ergo Cork trekking poles for over 5 years, and they haven't had a problem yet. The locks work perfectly and I haven't taken the time to care for them at all. The cork has chipped a bit in a few very tiny places but I do not notice it while using. I consider these a benchmark design.
Eric Z.
Great Poles
Familiarity:

I've used it several times
So far so good! Cork has held up really well and the poles are light weight but feel solid in hand. The flip locks also lock down really well and prevent unwanted slippage.
Craig L
Solid and Simple
Familiarity:

I've used it once or twice and have initial impressions
Similar to other reviewers, I think these poles are excellent. Standard BD quality throughout, and the fliplocks are proven reliable technology. They are easy to adjust to any length possibly needed, which I like (longer for going uphill). The cork grips are a nice touch for some comfort and the ergonomic bent is easy on the wrists. They also pair nicely with my Sierra Designs Tensegrity tent.

I expect them to be my go to trekkers for years to come.
Jason L.
Basic but basically awesome
Familiarity:

I've used it once or twice and have initial impressions
Locks that don't slip, lightweight and the cork is great! My only gripe is the adjustable wrist straps aren't removable for when they wear out. Hopefully that won't be any time soon.



Also the matte finish feels like it'll stand up to almost anything...
C Eliason
Huge fan
Familiarity:

I've used it several times
I received these as a Christmas gift from my wife, and they are sturdy, light weight, and comfortable.
JT Dick
These poles are great! Super lightwight, but they have a nice and sturdy feeling to them. The locks are easy to open to extend the poles. Also, I am happy I got the cork ones. Much better grip, and soaks up sweaty palms much better than the plastic and foam ones. Can't wait to try these out. I do wish they would sell these with the rubber tips though.
Tyler Rudolph
I'd also like to know if the price is for...
I'd also like to know if the price is for a single pole or for the pair.



Thanks!
Dave
Hey Dave,



This pole is sold per pair.
Wayne Christoffersen