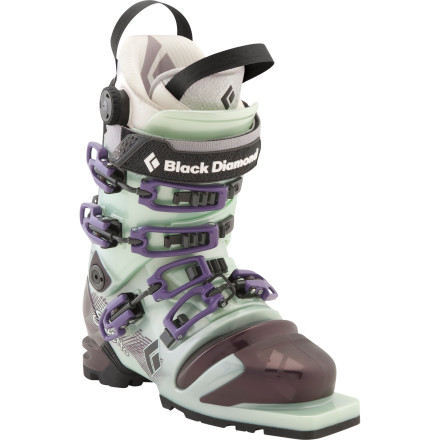 Colors
Keep those heels high and free.
Built with a host of women-specific features and rocking a buttery smooth flex, Black Diamond designed the Women's Stiletto Telemark Ski Boot to stand alone at the top of its tele boot line. Constructed with long approaches, big ascents, and technical terrain in mind, the Stiletto excels at driving both mid-fat and powder skis in bounds and out.
Part of Black Diamond's Freeride Power Series, this boot is designed to blend aggressive in-bounds performance with touring comfort
Women-specific fit features a lower-set and more voluminous cuff, an adjustable calf spoiler, increased ramp in the boot boards, and a slightly narrower Achilles zone
Triax Tele Performance frame features a forgiving forward flex for smooth power transfer and excellent tourability
A flex-rating of 100 maximizes comfort while still delivering enough stiffness for proper energy transfer and precise control
A 102-millimeter last is designed to maximize comfort and performance in the toe box while providing plenty of snugness near the heel
Medium-stiff Power Fit Light liner with Strobel base reduces weight for touring efficiency, is thermformable, and includes a Boa closure system for a precise fit and on-the-go adjustability
Mechanically integrated ski/walk mode delivers unsurpassed freedom while touring
Rubber outsole provides grip in cold conditions for added versatility over technical terrain
Black Diamond Stiletto Telemark Ski Boot
Backcountry Video
Gorgeous on the outside.....
....and just as good all the way through! I was initially impressed by the quality and solid feel. And a bit intimidated! These are my first 4-buckle tall tele boots. My first run was daunting. I was over-correcting and tense. By the second day I was relaxing and found the sweet spot. Adjusting and allowing the boots to do their job requires subtle skier input. The physics in action is really great! By the end of the second day I had a huge smile on my face and realized these will improve my skiing. I have yet to hike with them or hit a variety of terrain but I am sure they will be awesome! The new Boa system is so easy. I still need to bake them. My foot is narrow and the female-specific model conforms nicely with a narrow heel pocket. I definitely recommend these babies!
shanmtb
What is th rule of thumb for boot fit? I...
What is th rule of thumb for boot fit? I am a size 23 and tried a boot from a different company whose shells run 23-24.5 same shell. I found that my bare foot in the shell alone had more than an inch of room between the heel and the shell. It makes sense that the shell woul dbe huge given the range. Is this baefoot in the shell method effective?
Write your question here...
d1w100805150
Best Answer
Trying the bare foot in the shell method is effective to check your shell size to a certain extent- but it's also very important to check your liner size. Since the shells encompass various liner sizes, it's important to get that fit right as well. If you have a thermo-moldable liner (like the stilettos), you're going to want the liner fit to be a little bit tighter, since they will pack out- especially when you get it molded to your foot! Again, your boots probably won't be the dream comfort that you expect when you first get them, since they need a little bit of time to get accustomed to your feet
Kayla Weiser
Best boots I have ever used.
I've been on an old pair of Scarpas for the last 5+ years, with lack of funds to get a new pair of boots. I finally bit the bullet, and picked up a pair of the Stilettos this season, and I couldn't be any happier. I will say that a brand new pair of these are NOT comfortable- but it's the new boot syndrome, can't expect anything less. As soon as you get a few days in them, and get them thermomolded, the liners will fit to your foot like a glove, and give you the power and direction you've always wanted. I am a 7.5 street shoe, and the 24.5 couldn't be any more perfect.
The boa system is new for me, but I definitely like it. You get an equal pressure throughout the liner, so you're not sloshing around, and you don't have to worry about laces coming loose. The four buckle system is great as well- again, allows you to bust down the boot without making your feet go numb. Overall, I'd say these guys are the most comfortable pair of boots that I've ever had.
As for function, these are amazing. They're a 110 flex, but they definitely feel like they have all the power you could want. I ride them between a pair of Rossignol park skis with the 02, and a pair of Moment big mountain skis, also with the 02s. It was a lot to get used to at first, but once you do get used to them, these babies ski smooth! Amazing for both big mountain, as well as park skiing!
I did originally have worry that the 3rd and 4th buckle would conflict with one another while skiing- I drop very low every turn, and was afraid that the two buckles would hinder any further movement down. But I haven't had any issues with that thus far, and don't think I will in the future.
I honestly can't stress enough how much I love these boots- can't believe I went for so long without them! They look good, feel good, and drive a ski like nobody's business. BD Stiletto FTW!
Kayla Weiser
Unanswered Question
Hey, I am wondering if there is any change...
Hey, I am wondering if there is any change in the design of this year's boot versus last years (Cream/Champagne color)? Liners changed at all?
Rebecca M.
Saw that the 23.0 has 3 buckles and the...
Saw that the 23.0 has 3 buckles and the 24.0 has 4 buckles. How many buckles on the 23.5?
Sheryl S.
Usually half sizes use the same shell as the whole size, so 23 and 23.5 have the same shell, just a different inner liner and insole
Ali mohammad S.