---
Revolt Headlamp
A Black Diamond best seller, the Revolt took backcountry skiers, alpinists, and climbers by storm a few seasons back when BD redesigned it with a burlier casing constructed with storms in mind. You can rely on it when you're skiing through powder pre-dawn, rappelling off the route in the rain, or spraying ice chipped off an ice axe. Now, Black Diamond redesigned the Revolt Headlamp with more power and BD's patented PowerTap technology for easy toggling from on-and-off to any lighting you desire by a simple tap. No buttons, just a tap from your ski gloves, mittens, or chalky fingertip.
Details
Rechargeable headlamp designed for black diamonds and beyond
350 lumens ideal for climbing, touring, and trekking
PowerTap technology toggles through dimming and modes with a tap
Brightness Memory remembers how dim it was the last time it was on
Modes include proximity, distance, strobe, red light, and lock
Rechargeable batteries included; can also use AAA
Item #BLDZ95Q
Bulbs

LED

Power Source

DB 1800 recharcheable mAh lithium Ion

Batteries Included

yes

Modes

dimming, strobe, red night-vision and lock

Lumens

350

Distance

80m

Burn Time

[low] 200 hour, [high] 4 hour, [reserve] 36 hour

Strap

yes

Waterproof

IPX4

Claimed Weight

3.2oz

Manufacturer Warranty

3 years
Reviews
Q&A
Overall Rating
4 based on 100 ratings
Fits True To Size
Screen reader users: the following list provides a visual scale to illustrate the product fit. Please refer to the heading above for the fit type in text.
Runs small
True to size
Runs large
View
Selecting an option will reload the available reviews on the page
5 out of 5 stars
November 8, 2023
Great headlamp for many uses!
I own many black diamond products in which I had never a had any product fail beyond its intended use. I have used this headlamp for hiking, fishing, rock climbing, and setting up camp. I use the rechargeable battery although it accepts triple AAA batteries too. This headlamp is great for any level of user. It's also water repellent, I've used it in such conditions as in rain, thick fog, and in a snowstorm.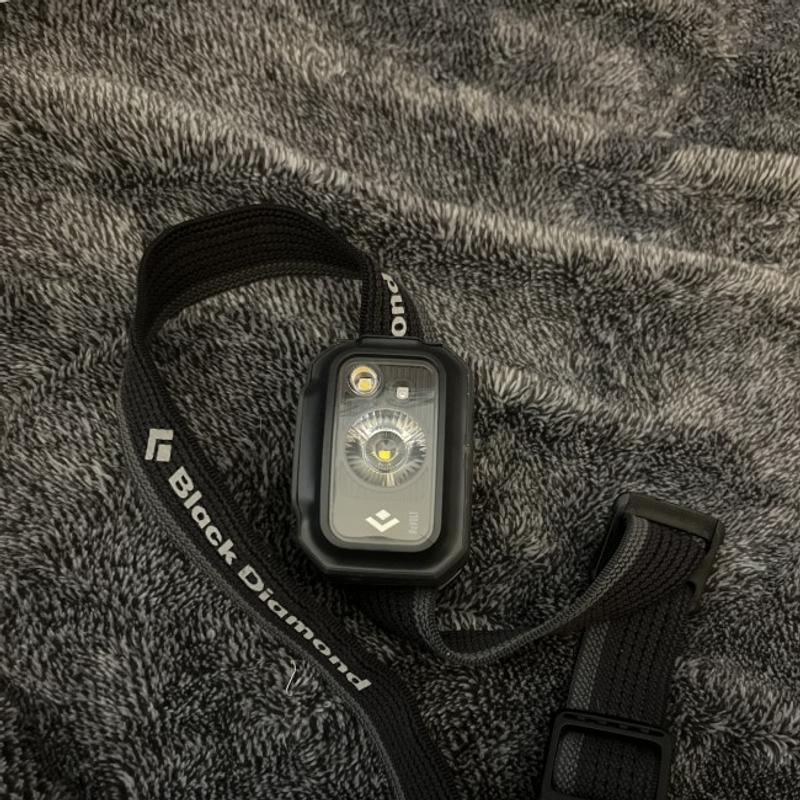 Originally reviewed on ExpertVoice.com
5 out of 5 stars
October 4, 2023
Get Lit
Rechargeable headlamps is a great option stays charged for a long time while in storage. Bright and the red light is a bonus.
Originally reviewed on ExpertVoice.com
4 out of 5 stars
May 20, 2023
rechargeable headlamps are so functional
The 2nd generation of Black Diamond's ReVolt headlamp is a nice upgrade over the original. The headlamp has a much brighter bulb and how the light broadcasts is more appropriate for ski touring dawn patrols, eating food at camp, and on rock climbing adventures. The ability to plug this thing back in when home to recharge eliminates the need to have extra batteries on-hand, significantly reducing one-time use waste. Battery waste reduction should be a good enough reason to buy this headlamp over any non-rechargeable headlamp. Period. One can use regular batteries in the ReVolt in a pinch if needed, which makes this unit cross-functional if the rechargeable batteries do get run down on longer missions. The control layout is different that the original so it takes some time to figure how to use this unit, but that is to be expected whenever changing products. The ease of finding the light adjustment controls with gloves on is not as good, either. I have not looked back from using this new unit. The old version of the ReVolt is now my back up headlamp and I use it at home or for night dog walks, the new version is my trusty friend on all adventures that go further than in-town.
Originally reviewed on ExpertVoice.com
5 out of 5 stars
April 18, 2023
My go to.
Black Diamond has always had the best headlamps. Very happy and satisfied with the product.
Originally reviewed on ExpertVoice.com
5 out of 5 stars
April 2, 2023
Good brightness and charges quickly enough. Haven't tested total battery length but lasted for over a week when not under strenuous use Takes micro USB charger
Originally reviewed on ExpertVoice.com
5 out of 5 stars
January 14, 2023
Black Diamond has Great Lamps
Love this lamp; use it everyday walking to and from work at a ski resort when its dark during the winter. Rechargeability is fantastic
Originally reviewed on ExpertVoice.com
5 out of 5 stars
December 21, 2022
great headlamp
This thing rules. I've got 2 so I can illuminate ahead of me while staying visible to those behind me. I love that I can use triple As as back-up, but also charge this thing over and over. Great options available(red/flashing etc.) and it holds up. This product will work for all outdoor skill levels as well as for regular users for around the house or even just walking your dog after dark. Blackdiamond rules.
Originally reviewed on ExpertVoice.com
1 out of 5 stars
December 13, 2022
Latch to battery compartment needs to be re-designed
The latch to the battery compartment broke on my first try of opening it. Frustrating that it's one of the few "dual fuel" headlamps on the market. Otherwise love how there's a dedicated mode cycle button which enhances usability
Originally reviewed on ExpertVoice.com
5 out of 5 stars
November 29, 2022
The best headlamps
I use these for absolutely everything and having the backup battery to charge us great, as you never dig through to find multiple batteries in the dark. Rechargeable just makes sense. Batteries are a massive waste of resources. BD headlamps work for anyone and the dimmer option is perfect to not disturb others. The soft touch button to quickly go to high power is clutch in those moments where and emergency happens or you just need more light.
Originally reviewed on ExpertVoice.com
4 out of 5 stars
November 26, 2022
It's alright
It's a solid headlamp, but it runs out of batteries quickly. I've used it in search and rescue for long hikes through the night, but I usually end up needing to either change the batteries or switch headlamps after a while. It has a good red light option, and the main light is adjustable in size and brightness. Overall not bad, but not great for sustained periods of time
Originally reviewed on ExpertVoice.com