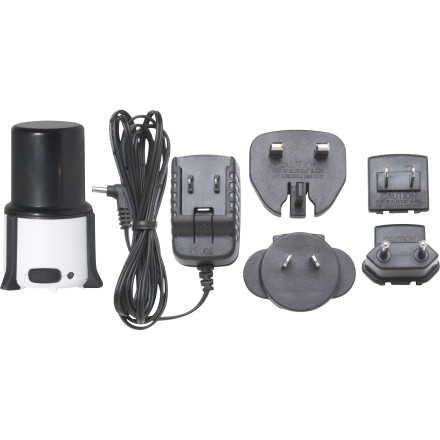 Colors
No more one and done.
The Black Diamond NRG2 Rechargeable Battery Kit is designed specifically for use with the Black Diamond Orbit Lantern (sold separately). With this compact recharging kit, there's no hassling with single-use batteries or separate battery chargers. Simply replace the base of your lantern with the rechargeable NiMH battery base, and plug the wall charger into the lantern.
A handy battery power meter indicates the charging status
Kit includes UK/Hong Kong/China/Singapore adapter, Europe adapter, Australia/New Zealand adapter, and US adapter
Note: only compatible with the Black Diamond Orbit Lantern
Very inferior to rechargeable batteries
I specifically bought this for the ability to use it at home for night reading. Mine does not light when the battery is dead, and it takes several hours to charge. And the old fashioned plug-in recharge means you can't use it with modern USD chargers (like in my car!). (They do make a car charger ($$)). However, the real reason for the 1 * is that it doesn't hold a charge for nearly as long as modern AAA batteries. I can camp for a week and get 1-2 hours of use around camp every night (I dim the light a bit when reading)with AAA batteries, but the charger pack only made it to day 4!
pkemp@sandiego.edu
Is there a rechargeable battery kit for...
Is there a rechargeable battery kit for the black diamond Apollo lantern?
James Rodericks
I dont see one for the lantern specifically, but you are working with 4 AA batteries. I would recommend the Goal Zero Guide 10. It is a charger for both AA and AAA batteries (4 at a time) that you can charge via USB, cigarette lighter socket in your car or by the Goal Zero solar panels. I use the Guide ten to keep my iphone charged, camera, flashlight and walkie talkie. Very versatile. Here is the link: http://www.backcountry.com/goal-zero-guide-10-usb-powerpack
Michael Machnicki
Hi James,



Yeah, it's the NRG, item# BLD0354. It's the only way to go, IMO.
Phil Maher
One advantage over rechargeable AAA's
after a lot of use i have found only one advantage over rechargeable AAA's. This unit is pass-through capable,meaning that with the provided plug or a USB adapter you can use the light as it charges, even from a dead battery. if you have other AAA products rechargeable AAA's might be a better option but its up to you.
Cody Z.
Back to the original question: Why not just use NiMh AAA?
No one seems to be able to answer the important question here: Spend $10 on a 4-pack of NiMh AAA that you can use with other things (and work with any NiMh recharger) or spend $30 for a proprietary pack that can be used with nothing else? If BD or anyone else can somehow demonstrate that the NRG2 doubles the lifespan of 4 NiMh rechargeable AAA then it might make a compelling argument...otherwise don't waste your money.
Andy M.
Does anyone know if this has any additional...
Does anyone know if this has any additional benefit to just buying 4 rechargeable AAA (increase runtime, decreased wieght, etc.) Also, what it the charge time?
Pat Rich
The benefit is that you don't have to keep buying AAA batteries, but there's no weight difference and I haven't noticed a difference in runtime either, so if you buy rechargeables it shouldn't make a difference.
Angus Bohanon
Nope. I just finished disassembling one and the rechargeable power source is actually just 4 AAA batteries glued together. Save your money and buy a pack of standard rechargeables.
Quinn Rohlf
what's the AC Input for this? is this...
what's the AC Input for this? is this auto-volt? (able to accept 100-240 voltages)?
Angelo J.
BD's website instructions (http://www.blackdiamondequipment.com/uploads/black-diamond/files/MM6017_B%20NRG%20IS_WEB.pdf) doesn't mention the power compatibility, but at the first glance at the picture I see interchangeable plugs for countries that provide 240VAC power through wall sockets. Without tech specs to support it, I'd feel safe plugging it into 240. Although you can always order it and read the plug itself, and return it if it doesn't support 240. Gotta love Back Country's policies for things like that.
Woodsgiant
it is a 110-240 ad/dc adapter.
Cody Z.