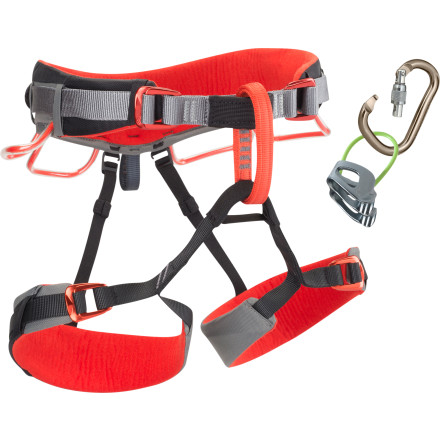 Colors
The ideal starter set for beginners.
The Black Diamond Momentum Dual Speed Combo has everything you need to start your climbing adventure whether it's in a gym or outdoors. It includes the Momentum DS harness, an ATC belay/rappel device, and a BD locking carabiner. The harness' Dual Core Construction consists of two bands of webbing that split around the waist in order to allow maximum breathability and weight reduction without any pressure points. Black Diamond also slid OpenAir EVA foam padding and an abrasion-resistant mesh panel between the nylon shell to optimize comfort and durability. Two Forged Speed Adjust buckles have raised side rails that help prevent abrasions against the webbing, upturned baseplates that allow an easier lift for loosening, and a rear kick down on the top plates that eliminates any slippage while you climb.
The Momentum also features TrakFit slide adjusters that cinch across your legs securely and simply without the need of bulky buckles. You can either adjust or release the elastic rear riser for an ideal fit and optional drop-seat use. Four pressure-molded gear loops give you plenty of space for quickdraws, cams, and whatever else your route calls for. And its haul loop is rated at 12 kN so you can tackle big walls. The ATC-XP has a rigged side that gives you a lot of friction when you're learning how to belay properly, and the BD locking carabiner has a deep basket that helps you belay comfortably.

Package includes:
Momentum DS harness with Dual Core Construction
ATC-XP belay/rappel device with high-friction mode
BD locking carabiner with deep basket
Momentum DS harness includes:
Dual Forged Speed Adjust buckles
TrakFit leg loops adjustments
Adjustable, releasable rear elastic riser
OpenAir EVA foam padding
Four pressure-molded gear loops
12 kN-rated haul loop