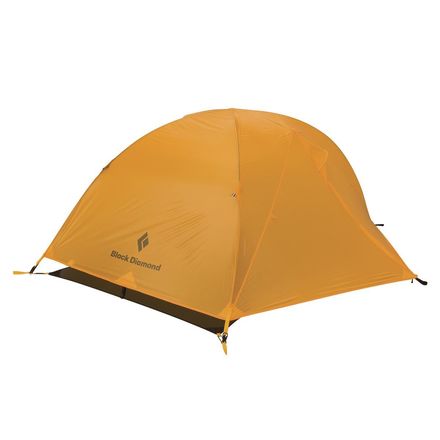 Colors

Detail Images
Where weight-savings and solid weather protection come standard.
The Black Diamond Mesa 2-Person 3-Season Tent combines the strength, weather protection, and versatility of a double-wall design with the low weight that everyone appreciates. Even though it weighs under five pounds, the Mesa is fat on luxuries like double doors for easy access and two vestibules to stash your gear out of the weather.
Freestanding, double-wall design and three-season construction ideal for trekking, climbing, and base-camp applications
Floor and fly seam sealed to prevent water from sneaking in through the fabric joints
Mesh canopy top provides panoramic views while circulating air and keeping bugs at bay
Large doors and vestibules make entry, exit, and gear storage a breeze
Fast-pitch hub and variable-diameter DAC Featherlite poles make setup easy
Fast-pitch option lets you carry just the poles, fly, and footprint for a lighter-weight rig (footprint sold separately)
Quick and Easy
Familiarity:

I've used it once or twice and have initial impressions
With a two pole set up, this tent is really easy to set up and takes very little time. It is pretty light and very durable. I just got this so I'm excited to see how it performs.
Samuel Nichols
Can only purchase the outer cover and grounding cloth?How much and weight?
vitolin
I just ordered this tent without the footprint cause i forgot. for those of you who use this in the backcountry, is the footprint really necessary for storms, Ive always hammock and don't have much experience with tents....


Tyler C.
It's not necessary, but it's a good idea to use one. Even though the tent floor may be waterproof, it will save wear and tear on the floor and it's coating. Not using it a few times is no big deal. You can also use some heavy duty vapor barrier film as a groundsheet in a pinch. Just cut it to shape, slightly smaller than the footprint.
taraskleban
Love this tent
Familiarity:

I've put it through the wringer
Sets up easily by one person in under 30 seconds if you're quick. I've even used it in winter on the snow during a snow storm.
Parker K.
Perfect Performance
Familiarity:

I've put it through the wringer
Just returned from a 2 week trip to Peru (Nov 2014) and the MesaTent was our shelter from 16,000ft down and through the jungle. It withstood and protected us against snow, wind, hail, graupel, heavy rain, heat/humidity etc. All the components functioned great. It's weight is amazing - lightweight but durable. Loved the double doors (one on each side for each person) - easy to pack - easy to set-up. Plenty of space for 2 tall people (5'8 and 6'4). Loved this tent. Also easy to dry and ventilate. Highly recommend for 3 seasons that throw the elements at you.
Kim Havell
Poor long-term quality
Familiarity:

I've used it several times
I was so excited to find this tent. It seemed perfect at first! Awesome indoor space; nearly vertical walls; 2 double-zip doors; vented fly; good pockets (no loft needed); sizable vestibules (a bit high off the ground, but not bad - helps ventilation); easy to arrange the fly half-flipped-back, which is nice if you want to view the stars but need to be able to go full-cover fast for sudden midnight rain; sturdy in wind and warm enough to handle a surprise snowfall, based on personal experience; cheerful color. A bit heavy for backpacking, yes, but I decided it was worth it, and after the first few uses I was in love.

All that said, in the long run, it's been a BIG disappointment. After 5 years and only 4 uses, ALL of the factory seam seals started cracking/peeling/leaking in a major way, and the interior PU coating got sticky and smelly, which means it's degrading. Running an iron over it to reseal the PU or using talc to mitigate the stickiness are only temporary solutions. Eventually you're going to get wet. I got a replacement Mesa cheap at an REI garage sale, hoping the first was just a lemon; while the seam seal on the newer one seems to be holding, the PU coating is still starting to degrade, and I've never even used it. This is a normal problem if you put the tent away damp, but I always dried my first one indoors for multiple days, kept it clean, didn't store it in a hot location, etc. For the PU coating to degrade this quickly on multiple well-cared-for tents makes me think it's a general problem, and a few reviewers on other sites have mentioned it as well. The 1-year warranty means that poor REI takes the hit every time. Note they've stopped carrying it. If you're totally in love with it, keep it in a cool dry place, do NOT store it in the stuff sack, and be prepared to make your own fly after a few years. Personally, if you're going to spend this much money and have to get a tent with PU coating, I'd recommend getting one with a better warranty!
Nicole J.
Me and some buddies are planning on doing...
Me and some buddies are planning on doing the JMT next summer, and I'm looking into buying a new tent. Is this one too heavy for the whole trail? Any light weight 1-2 person tent suggestions for the trail?
Caleb B.
Hey there! Thanks for your question. Personally, I do believe this tent is a little to heavy for backpacking. The trail weight on this tent is 4 lb 9 oz but this is a very nice tent. If you are looking for a super light weight tent, I would recommend the Big Agnes Seedhouse tent, there is a 1 person and a 2 person version, the amazing part is for the 2 person tent the trail weight is 2 lb 9 oz! Crazy lightweight! The seedhouse is a super easy set up and has a good amount of room. The material is thin but durable, I suggest to grab the footprint with the seedhouse to keep the floor of the tent off the ground. I left the link to the seedhouse 2 below. Hope this helps!



http://www.backcountry.com/big-agnes-seedhouse-sl2-super-light-tent-2-person-3-season
Joelle Raynes
Best Answer
Hey,



I would agree with Joelle about the weight issue, and the BA Seedhouse SL2 having that covered nicely, but as a person that's used it for years, I'm tired of the single door on the end...especially with 2 people...it's a pain in the ass to get in and out of...having to climb over your partner and gear to do it. These days, I'm much happier with the function and convenience of tents that have a side door(s). The tents I would recommend would be the North Face Mica FL2, the MSR Hubba Hubba 2, or the MSR Carbon Reflex 2.



Carbon Reflex 2- item# CAS0748

Hubba Hubba 2- item# CAS0680

Mica FL2- item# TNF8143



Hope this helps you out.
Phil Maher
Hey cmbp -- see my review above.
Nicole J.
If you need a tent for adverse weather this is the one. Condensate is the number one problem during bad weather and the Mesa nicely solves the problem with superior fly venting. Just used the tent on the Green river in rainy 28 degree weather and the tent was awesome. No wet spots and after 16 hours waiting out a storm, we were very comfortable and dry. Paired the tent up with a two person sleeping bag and with nothing to do for 16 hours we are now expecting our first child this fall! Black Diamond rocks!!
Mike C.
Should be good for solid 3-seasons
Familiarity:

I've used it once or twice and have initial impressions
Took the Mesa up to Kite Lake , about 12,000 feet, two weekends ago. Very windy, very snowy. The tent did OK, but did not shed wind as well as a 4-season tent would, but it held up to some pretty intense gusts. My one complaint, but this would apply to any NoSeeUm mesh interior, was that the wind was able to drive the blowing snow up and over the rip-stop portion of the interior of the tent and into the tent through the mesh. I'm sure it saves weight, and adds to ventillation capabilities, but rip-stop would be my preference. I'm sure the tent will perform well in 3-Season conditions, but as it get's closer to winter here in Colorado, I'll plan on packing the Bilbler. Reliable Black Diamond quality. Hope it lasts as long as my NF Bullfrog did.
A.V. S.
From what I've read about this tent the...
From what I've read about this tent the fly sits quite high from the ground. Has anyone had issues with dust and rain getting in under the fly? Examples where I would be camping..
Squamish, BC
Bishop, CA
Joes Valley, UT
Hueco Tanks, TX
Trevor E.
I use this tent on a 70kl/h (44ml/h) wind and havy rain and NO rain get in
Guy Geva
Black Diamond Mesa Review
Mark Parrett
I have used the tent every weekend for the last 5 weekends and am very happy with it.

Setup is super quick and easy with the central pole hub — no fumbling around late at night in the dark like you do with Marmot's system with their tent.

Tent is very spacious — at 5' 9" 150 I am extremely comfortable alone or with a partner, and this past weekend, even fit a third person without too much discomfort. It was cozy, but certainly doable.

Will update after some more wear and tear is put on the tent...
Brad Allenick