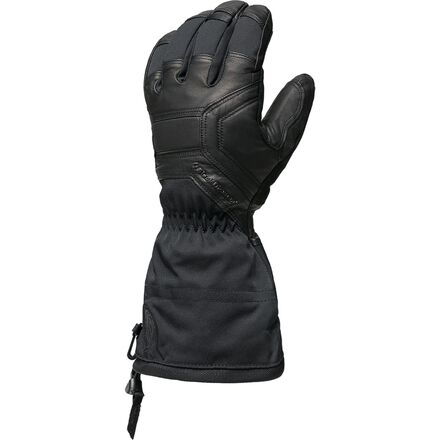 Colors

Detail Images
Built to withstand day-in and day-out winter abuse.
Backed with a Gore-Tex XCR waterproof, breathable membrane and PrimaLoft One insulation, the Black Diamond Men's Guide Glove deals with harsh conditions so they can't put a damper on your epic day in the backcountry or the resort. Plus the Guide's removable liner boosts versatility and maintains your hand dexterity throughout the stormiest winter weather while you patrol, guide, or tour.
A burly glove designed for the worst winter weather
Waterproof and breathable Gore-Tex membrane
PrimaLoft One insulation delivers reliable warmth
Leather reinforcements increase durability
Liner can be removed for convenient drying
Fantastic gloves!
Familiarity:

I've put it through the wringer
These are the best gloves that you can buy! They are awesome. Treat them right and they will keep your fingers warms for many seasons to come.
S Jones
Very warm gloves - at least mine are
Familiarity:

I've used it several times
I am currently on a ski trip to Austria. The weather has been extremely cold. These gloves have been over the top warm. I purchased these just before the trip because I was told they are very warm gloves. (I purchased black.). I had purchased the top of the line North Face gloves right before the beginning of the current season because my old Summit Series North Face Gloves had finally worn out. The new North Face gloves were a costly disappointment and my fingers were always cold in them in low temperatures. My old North Face gloves were gloves were great. Change in design is not always better.) I see that some people received a pair of gloves that were not warm. I don't know if I lucked out or whether others simply got a pair of a bad batch.
Carl A.
First the Black Diamond customer service was great. They sent me these gloves as a replacement for the model below this because that liner had half as much insulation as they were supposed to have. Got these thinking, yeah this should do the trick. Nope. They look cool and impressive, but they are not warm. And I got a size larger than normal to make sure constriction would not be an issue. Maybe if I can find a decent liner would this be warm. But for this price why should you have to?
Anonymous
Great gloves
Familiarity:

I've used it several times
I have used the gloves several times-downhill skiing in northern Vermont. Some with the liners that came with the gloves-for very cold days(approx 0F and below) and with other lighter liners-for warmer days. These are extremely durable gloves. These are tools for people that need to use their hands outdoors in the cold. They run slightly small and the stock liners limit dexterity. On the coldest days they need to be supplemented with hand warmers placed between the liner and the back of the hand. Remember they are gloves and will not be as warm as mittens on the coldest days. However, these are likely the warmest and most durable gloves you will ever own.
Brian R.
Not as good as I hoped
Familiarity:

I've used it once or twice and have initial impressions
I found these gloves a bit too stiff, even after wearing them in for awhile. They are certainly overstuffed, so I expected a bit of a break-in period, but the smoother function and flexing never came for me. They are definitely warm, but I needed more dexterity than I could get with these.
Steve S
Keep Your Digits Warm and Dry
Familiarity:

I've put it through the wringer
I've been using these all season and have been very pleased. Liner material is very plush and warm, while the leather outer material is well-treated and has so far been totally waterproof. Really no break in period to speak of. Fits true to size .
Gavin Grant
I got these for my husband, who always has cold hands, and he loves them! They are still very dexterous despite being cozy. And they hold up super well.
Emery Gaylord
The best gloves I have ever had.
These are a very good pair gloves to own. Very good in the cold will keep you warm. This pair of gloves are also very good in the wet weather.
Steven M.
Not Impressed/ frozen fingers!
Familiarity:

I've used it once or twice and have initial impressions
I have the Black Diamond "Soloist" finger mitt at half the price and, on the whole, a better bet.
The Guide glove runs WAY too small. I bought the XL which is fine using just the outer shell but when you reinsert the liner ( a royal pain, so DONT remove it), the glove is too tight.
My XL Solo mitt is much more comfortable and warmer. Just came in from a 15 minute walk.
( only 15 minutes!!). It's 10 degrees.
My feet in my Solomon Speed Cross 4 cross trainers with medium weight hiking socks: warm.
My legs in thin power stretch Fleece tights: warm.
My upper body in my Absolute Zero MH down jacket: toasty.
My fingers in these gloves: frozen!!
Maybe gloves just don't work below a certain temp. Maybe mitts are the only way to go, but I wear gloves for more dexterity, or so I thought. These gloves are stiff and cumbersome. Palms and back of hands were warm but the fingers were like ice- I was using hiking poles.
Also the Soloist had great DWP on the outer shell- leather included. The Guide glove had NONE. What's up with that?
Sure, I sprayed it with Nikwax for the nylon shell and treated the leather with the supplied cream, but it's never as good as factory DWR.
I would not buy these again and don't recommend them. Honestly, save your $$ and buy a mitt if you're looking for warmth when it's really cold and wear much less expensive gloves when it's warmer. These were a total waste of money.
Paul C.
Great gloves!
Familiarity:

I've used it several times
These are the best, most durable, and most warm gloves you can buy!
S Jones
Runs VERY Small!
Familiarity:

I returned this product before using it
I normally wear a large. These were way too small off the bat. Way snug to my hand and couldn't make a fist. Hard to believe these are sold as large. Returned them.
Peter D.
WORK GLOVES
Familiarity:

I've used it several times
These gloves are warm, built to be punished day in and day out, and cover all your needs in the dead of winter. the gaiters keep snow from getting in and the leather keeps them tough and durable. they are a little stiff to begin with but as you use them they will wear and fit very comfortably
Ben Christensen
Fit tight, not crazy warm
Familiarity:

I've used it once or twice and have initial impressions
First note that I did not keep these for very long. They were quite snug right off the bat -- and my hands are between M and L and I got size L and they were still that snug. Then, maybe because of the fit, my hands still got cold and I was just walking the dog (in Montana in 5 degrees, admittedly). So I am sending them back. The quality though seems fine, it was more the fit I felt like was the main issue.
DAT in MT
My hands tend to run somewhat cold, so I consistently need to compromise some dexterity for insulation when buying gloves. I find the guides are very.. adequately warm, but I'd be lying if I said I wasn't expecting a little more warmth from them. I recognize though, that the chill while wearing these gloves often comes early in the day on cold 0F degree days, likely before my body is warmed up and ready to regulate its temperature properly. Certainly, if you're actively exerting energy your hands will be toasty in the Guides.

Warmth aside, the removable liner is super beneficial. I found getting the liner back in place tricky at first, but it very quickly became a non issue. Being able to remove the insulated liner and instead use a lighter weight fleece liner with the outer shell creates more dexterous, less warm alternative when when you need it. With the Guides and any cheap fleece liner, you've given yourself an array of options to adapt to the day's changing needs and weather.
Brock Price
Bigger than I thought
Familiarity:

I've used it once or twice and have initial impressions
I got these gloves to keep my hands warm on colder days.
They managed to keep them warm, however the fingers are so wide I felt like I had sausage hands. Hopefully they will breakdown a bit. Got a size small which is what the chart told me and they fit as good as they can, minus the chubby finger part. They are definitely a mega glove.
Jennifer Newman
Very warm
Familiarity:

I've used it once or twice and have initial impressions
Not only do these gloves look great but they are extremely warm. They feel a little stiff but it seems that will go away with time. The black just looks good all around.
Nelson
Awesome Gloves, so Warm!
Familiarity:

I've used it once or twice and have initial impressions
I really wanted a warm pair of gloves for skiing as my hands tend to run cold. These gloves were just what I needed. They are breaking in more and more as i use them and are very comfortable. The wool liner on the insert is a nice touch. Great pair of gloves, would really recommend.
Ben
Legit
Familiarity:

I've put it through the wringer
I mainly use these gloves for snowboarding Utah's Wasatch and they have never once disappointed. They are warm, and after the initial break in, they are quite flexible. Glad they finally offer a black color. I'll be coming back for another pair as soon as these are worn out-which looks likt it may be a few seasons. These are legit.
David Tucker
Does anyone know if these gloves have safety leashes for your wrists?
Benjamin Hale
Hey Benjamin - These BD Guide Gloves do not have safety leashes. They do have a small drawcord that you could loop around your wrist but it is not ideal. Feel free to contact me directly with any additional questions.

- Kyle L. - Expert Gearhead
Kyle Livingston
Great gloves
Familiarity:

I've used it several times
My husband liked these gloves he bought a second pair at a higher price!
Lynne M.