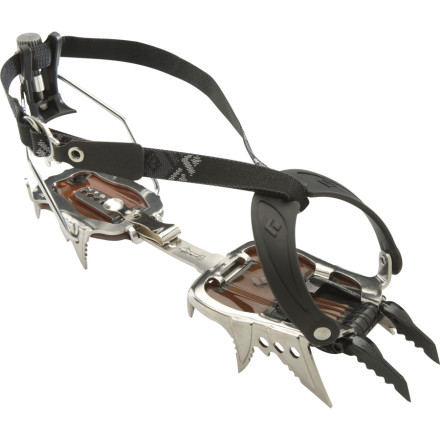 Colors
Get 'er done, on everything.
The Black Diamond Cyborg Clip Crampons' movable front points give you the versatility to handle anything from WI6 pillars to M10 roofs to three-day alpine routes. This technical crampon's adjustable, hooded front points are backed up by aggressive secondary points for added stability on steep ice. The Cyborg also features stainless steel construction for low weight, increased durability, and protection against rusting.
Front points can be set up in mono or dual mode
Hooded front points increase shear resistance in hard snow
Low-profile heel adjuster dials in the perfect fit
Anti-balling plates keep snow from sticking to the bottom
Climb or Trek
Familiarity:

I've used it several times
I use these guys with the La Sportiva Karakorum and have found they work great for glacier travel and vertical ice climbing. They are sturdy enough to not slip around as you kick in some water ice but not so stiff that you can feel them through your mountaineering boots. I have also used them for mixed climbing and found that the steel is very sturdy. I also really like that you can adjust the angle of the front points and replace them.
Wesley Eads
Good choice for mountaineering and vert
Familiarity:

I've used it once or twice and have initial impressions
Haven't had a great chance to put mine to the test, but I've used a pair like this before and Black Diamond is always a solid choice. The two front flat teeth make it a good choice for mountaineering as well as vertical climbing and the sizing adjustment is fluid and easy to change. Performs well and they're comfortable. I'd recommend them for sure!

Look at the bottom of my review for my contact info. Feel free to email or call if you have any questions about my review or this product.
Devin Peterson
My Ice Flippers
Familiarity:

I've used it several times
I've rented various types of crampons and got a good feel for what would be best for ice climbing. So, when it was time to purchase some for myself, Cyborgs were at the top of the list! There is really no better crampon on the market than these in my opinion. Kicking in is smooth and the grip is solid. These are great for mixed climbing, vertical, flat, and you can interchange the front point. Really versatile! They are also really durable and will last for years! I will include some pictures with this reveiw as soon as I can.
Valen Hunter
will these work on the ThirtyTwo MTB Jones SPlitboard snowboard boot?
James
Hi James!

Thanks for reaching out to us with your question!

Yes these will work great with snowboard boots without too much issue. Just be aware that the center bars are only long enough to accommodate up to size 12 US boots, bigger than that and you would need the extra long center bars.

Need more info/beta? Want help getting geared up for your next adventure? Feel free to reach out to me directly @ nreed@backcountry.com
asdsg
Perfect
Familiarity:

I've put it through the wringer
I've been using the same set of Cyborg clip crampons for over 2 years...from flat glacier travel to vertical ice climbing...and they've held up flawlessly and proven their versatility. Solid connection to my boot (Scarpa Charmoz), grip using any foot angle to the snow/ice, secure up/down the mountain, no slip in the buckle, light weight, beauty.
Troy
will these crampons work with La Sportiva Trango S EVO GTX Mountaineering Boot - Men's?
jimo
Best Answer
Jimo,



For the Trango S GTX boots, these will work.



Hope that helps!



Shoot me an email anytime you have questions!



Jared D.

Expert Gearhead

801.736.4336

jdowns@backcountry.com
Jared Downs
Do these work with the Hanwag Alaska...
Do these work with the Hanwag Alaska Boot?
seyoon kim
Hey Seyoon,



This crampon will not work well with the Alaska boot as the boot does not have a heel welt. For those boots it is best to use a crampon with a full strap attachment type instead of a pair like these that are a hybrid.
Wayne Christoffersen
Awesome crampons
Familiarity:

I've put it through the wringer
I've used these for three years now and they are still going strong. I have to sharpen the front points every other outing. The down points are all sharp and good. The only downside is these do not convert to mono very easily. It can be done but you have to hack saw into the anti balling place to cut a notch. Not fun or desirable. Still highly recommended.
Ryan Hamilton
Cyborgs are the Bomb
Familiarity:

I've used it once or twice and have initial impressions
I am new to ice climbing, but cant say enough about how much I loved these crampons. I used them on a 1/2 day ice climbing clinic and then on a 3 day trip to Ouray, Colorado on routes of WI2-WI4. When I was on vertical ice, I adored the way I could jam the front points into the ice. Their aggressiveness and grip helped provide me with a sense of safety and trust when I needed to make those heart palpitating moves. They stayed tight on my boot and are easy to put on and adjust. I had some reservations on the price, but that all changed ones I saw the ice walls in the canyon. Highly recommend.
estella juarez
Black Diamond Cyborgs
Familiarity:

I've put it through the wringer
The Cyborgs are the perfect middle of the road crampon. With two removable, replaceable vertical front points they are easy to maintain and have excellent grip for vertical ice. The option to use one front point is great for mixed routes. The remaining points have a sort of serrated edge that grips ice extremely well for general purpose mountaineering. More aggressive than the sabretooths but not fully rigid the cyborgs are comfortable to walk in and don't come loose when properly secured. They will fit pretty much any mountaineering boot with a rear crampon welt. I don't baby mine. I've walked over lots of exposed rock with these on and the points are still sharp and the orange paint doesn't come off easily.
J Miles
Will these fit on a pair of Sportiva Trango...
Will these fit on a pair of Sportiva Trango Prime's?
Daniel B.
Best Answer
Hey,

Yep, they will. But, having the proper front and rear welts, your Trangos will also easily accept this Cyborg in the step-in Pro version.



http://blackdiamondequipment.com/en/climbing%2Fcrampons/cyborg-crampon-BD400033_cfg.html?dwvar_BD400033__cfg_color=Stainless#start=2
Phil Maher
Daniel B.
Do these work with the Garmont Men's Dakota...
Do these work with the Garmont Men's Dakota Backpacking Boot?
ryanheck611
Yes these will work with the Dakotas. The clip on the back of the crampon will engage the welt on the heel of the boot just fine.
Arthur Debowski
I was wondering if these babies will be...
I was wondering if these babies will be ok on steep snow? The route i'm going to attempt has mixed sections with a few areas of steep snow. Will these be ok?
Nick A.
You could get by with a little less for just snow, but if your boots have the heel welt to accept the bail, they'll work just fine. You might also want to consider the Sabretooths, or, if your boots also have a front welt, the step-in Pro version of either.
Phil Maher
love the stainless. the anti ballin plate rocks. best crampon on the market
Kid Epic Wyoming
Black Diamond Cyborg Clip Crampons
I purchased these crampons primarily for vertical waterfall ice. I had previously been climbing with a pair of crampons which had horizontal front points and decided that the vertical front points would hold the ice better. I was correct in my assumption. My feet feel more secure with the Cyborgs and as a result my climbing has improved.
The reason I only gave the crampons 4 stars is that I haven't been able to get a tight, secure fit with the crampon. After a couple of climbs the "clip" on the front which is secured with the strap loosens which allows the crampon front points to become crooked. If I stop climbing and retighten the straps they seem to remain straight. Bottom line is that they don't secure as well as those with a front bail. Even given this problem I'm satisfied with their performance. I have a small foot (7.5) so I may just be inbetween secure fittings.
WingMan
These crampons are a great match with the La Sportiva Trango S EVO GTX mountain boots, and are an awesome tool for those whose footwear lacks a front welt. These fit my size 12 boots with plenty of room to spare. Easy to step into and put on, they are quick to adjust if you want to share with a friend. The anti balling plates work very well when moving between ice climbs and most importantly, these crampons kick very nicely into the ice.
James Cooper
Will the hybrid attachment type work with...
Will the hybrid attachment type work with a Norwegian Welt style boot (See photo)?
Broose Knuckle
Best Answer
You can always try, but unfortunately the boot was not designed for this. You need something like the Millet Grepon that has the binding tab built into the sole of the boot.
http://www.backcountry.com/millet-grepon-gtx-boot-mens.html?CMP_SKU=MIL0314&MER=0406&mr:trackingCode=85539AFF-0EF7-E011-87D9-001B21A69EB8&mr:referralID=NA&avad=11193_c274dbed
Matt Oliver
Unanswered Question
Do these for Crispi evo telemark boots?
Do these for Crispi evo telemark boots?
AbeLincoln