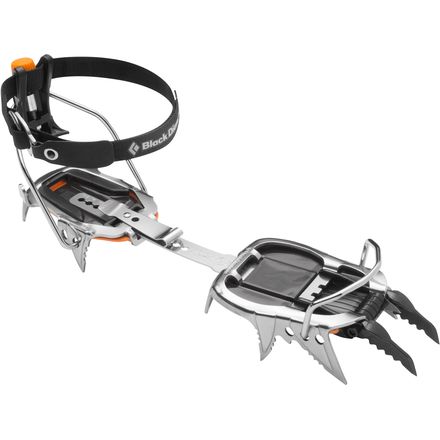 Colors
A climbing machine.
Designed for technical ice routes and steep mixed climbing, the Black Diamond Cyborg Pro Crampons feature a lightweight stainless steel design that enhances durability and protects against rusting and snowballing.
The adjustable, hooded front points bite hard in vertical water ice and provide precise edging while dry tooling
Can be set up with either dual or single points
The rear heel clip features a micro-adjustment system for a secure fit
Dual-density ABS plates keeps snow from sticking to the bottom of these crampons
Ideal for steep ice and mixed climbing
Fantastic crampons, if they stay on
The only glitch is they are hard to fit. Otherwise they are great. Oh, and downhill I dont find them to have a great grip either. Seems like they are a one trick pony, and that is steep ice.
Pushkar D.
Is the Cyborg Pro compatible with La Sportiva Spantiks?
Jonas Abdo
Turns out they are! Although you need to switch to the wide toe bails.


Jonas Abdo
Fancy Feet
Familiarity:

I've put it through the wringer
Spend enough time climbing and you learn that foot work is just as important as upper body strength. These crampons give you confidence in your feet by allowing you to adapt them to the mission from dual point to mono point. A truly do everything tool.
Corey Hetrick
They were relatively easy to set up, and did not slip a single time. They hold amazing on ice and the front toe-picks are nice and long! Super durable!
Nikki L
We are your friends
Familiarity:

I've put it through the wringer
Crampons are always a bit of a gamble. As far as I am concerned, there really is no in between a great pair and an unacceptable pair. We packed these into the Colorado rockies and all over the Wasatch range and the have held up great. No slipping, fit both hard and soft boots relatively well, and can stick to ice like white on rice. Little bit of a struggle getting them sized, but whatevs.
Conner Gordon
Unanswered Question
Does anyone have better directions or a video of how to do the dual- to mono point modification? The BD website has an illustration that isn't very clear.
Christopher W.
How do these compare to the BD Stinger and Petzl Lynx when the Cyborg's are in Mono Point setup?
Bernard
I cannot answer your question fully but Ill point something out since I use Cyborg Pros with mono and dual front points.



When they are in a monopoint configuration using either of the two middle slots for the frontpoint(the only likely slot options for monopoint), the front ABS plates cannot be used. There is a plastic housing for the securing bolt that spans the area where the front point is mounted on the middle slots. There may be a different ABS model that allows for middle mounted front points, if not then a little DIY modification might work(hacksaw time)...



This isnt a problem for steep ice climbing but if you plan on traveling in snow with a monopoint crampon then the Stingers are the better option compared to the Cyborgs(without modification).



I do not know if the Lynx model has the same issue as the cyborg in monopoint, I hope this helps!
Poonertron
Looking for a crampon to serve both AT ski needs and dedicated ice climbing. Realize these are probably overkill for approach traction, but the more aggressive front points are more attractive for true climbing than something like Sabretooths. Am I on right track or heading for trouble? TIA!
carlton
You are on the right track!



These crampons for BD are the gold standard for vertical ice climbing. The dual front points in their vertical positioning makes them ideal for steeper ice routes.



In regards to using these for technical approachs ski mountaineering with AT boots - you'll be just fine! You can't really overkill it - given these are definitely HEAVIER than ski mountaineering specific aluminum crampons - BUT - these will get the job done!
Alex Quitiquit
Reid, referencing your comment below. Will the Cyborg perform poorly on regular mountaineering routes like Rainier? Was thinking this could be an all round crampon. Thanks, Craig
C_karr273525
Craig -



While these crampons are more specifically made for vertical ice climbing - they can be used for mountaineering - that being said they are definitely heavier and clunkier than mountaineering crampons -



For more specific mountaineering crampons from BD - have a look at the Neve ! - http://www.backcountry.com/black-diamond-neve-strap-crampons
Alex Quitiquit
Hello,i need help in chosing ice crampons for Koflach artic exp boots size US 12 (uk12).
I need crampons for mountaineerimg and a litle bit for ice climbing, not tehnical routes.
My qustions is ar these crampons goma fit my boots well ???
Thanks, and sorry for my English, im not from USA
Dragisa A.
Best Answer
Hey Dragisa,

Yes the Pro version will fit your boot. From personal experience the Cyborg is way over kill for mountaineering. Its more made for technical ice climbing.

I would suggest the BD Sabretooth Pro crampon. It will weigh less and still preform very well on both vertical ice and glacier travel.


Reid Pitman
awesome!
Familiarity:

I've used it once or twice and have initial impressions
easy to fit, put on, use. Great crampons!
Barb M.
Great Crampons
Familiarity:

I've used it several times
excellent crampons. it would be neat if it didnt require cutting the base plate to switch to monopoint. its an intended use, so why not just build in the space for it when its made?
Bjornsson
Climb anything
Familiarity:

I've put it through the wringer
I use this crampon for our Beginner Ice climbing course and its an excellent choice.



The Toe Pins are so long that even the worst noob has been able to climb confidently.



The only drawback is that the Toe Bail doesn't fit larger boots like Double plastic Koflachs.




Kam
Burlier than the old ones
These newer versions of the Cyborgs are way tougher than the old ones ( I broke both heal clips and a toe bail on those) plus the heal clip on the stainless ones are designed so one can pull on the strap to release them from your boot with out breaking the plastic. These are VERY good for the price considering how many parts I had to replace on the old ones. Buy 'em up!



wait is that Ginger Snaps down there?.....
Green bean
when do you expect to get more Cyborg Pro...
when do you expect to get more Cyborg Pro in stock ?






Frederic C.
Amy S