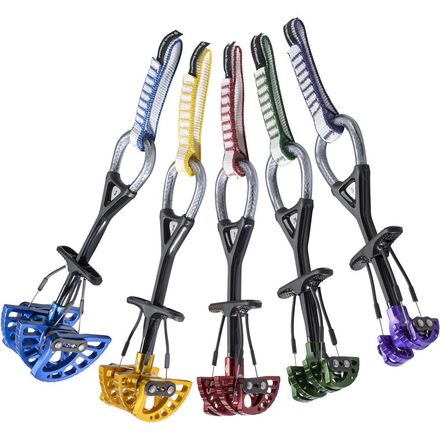 Colors

Detail Images
Superlight single rack for super long approaches.
Red Rock's Levitation 29 and Lone Peak's Triple Crown have three things in common: they're classics on every climber's multi-pitch list, they have heinously long approaches, and they require at the very least one single rack. With those three facts in mind, Black Diamond's Camalot Ultralight #0.5-3 Package is essential to every sender's arsenal.
Black Diamond shaved a quarter of the weight off its best-selling camming device to make these Camalots more appropriate for long approaches and alpine climbing. A critical glance wills how that each cam weighs a couple ounces less than its appropriately sized C4 counterpart, and although that doesn't seem like much, when you're hauling triple racks up and down miles of steep trails, these ultralight beauties really make a world of difference.
Black Diamond achieved a lighter weight than the already light C4 by replacing the stem with continuous Dyneema rope infused in plastic. Black Diamond also optimized the stem and thumb loop to enhance ergonomics while placing and cleaning. But the double-axle design for passive placements, as well as the color-coded design, Black Diamond left unchanged, because if it ain't broke, don't fix it.
Camalot Ultralight is 25% lighter than the C4
Double-axle design offers the widest range
Dyneema core stem design is strong, durable, and low-profile
14mm Dyneema tape sling
Ergonomically optimized stem and thumb loop
Color-coded anodization