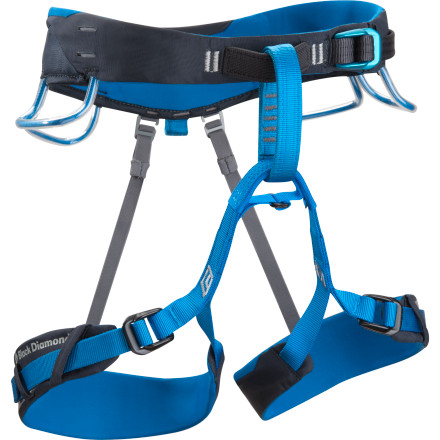 Colors
Climb year-round.
Climbing is a four-season sport. That's the philosophy behind Black Diamond's Aspect Harness. This year-round workhorse utilizes proprietary Dual Core XP Construction to keep weight down and comfort at a maximum. A bullhorn-shaped waistbelt keeps you snug and secure during hang sessions while you work a technical sequence.
Dual Core XP Construction utilizes an OpenAir waistbelt with separate bands of webbing and a supportive insert to combine breathability with pressure distribution
Pre-threaded Forged Speed Adjust waistbelt and leg loop buckles allow for quick adjustment and optimal fit
Four pressure-molded gear loops and 12 kN-rated haul loop complement four ice clipper slots to provide an array of racking options
Abrasion patches offer 20 times the durability of nylon for added longevity
Great job
Familiarity:

I've used it several times
Comfortable harness. Great for the price. I like that it doesn't take up too much space in the pack.
Anthony Webster
Great for Price
Familiarity:

I've put it through the wringer
I've owned 3 of these so far and I've loved them. They are durable, simple, light enough and comfortable enough. I'm sure you could spend more and get something that is lighter and more comfortable, but for the price you cannot beat this harness.
Tyler St.Clair
I love this harness
Familiarity:

I've used it several times
I'm a sucker for adjustable straps. Really glad that this harness isn't as bulky as I thought it would be and it's really comfortable to wear.
Danner Peter
LOVE
Familiarity:

I've put it through the wringer
comfortable, never nervous, a;ways feel super safe even when taking falls
Zack Stevens
Great Harness
Familiarity:

I've used it once or twice and have initial impressions
Great all around harness, comfortable and loops for all the accessories.
SpaceMac
Absolutely love it
Familiarity:

I've put it through the wringer
To be honest I've tried other harnesses on and I just can't get anything as comfortable and durable as this one. It's so good I now have 2! One for the gym and one for outside. It seems to have everything right for me. Good support on my back and no circulation cutoff when hanging. Have used it for 4 years so far. Will keep on using them as both haven't shown any significant wear at all. Washes well too.
WelshGuy
Stellar
Familiarity:

I've put it through the wringer
I primarily used this harness for sport climbing. I really like the fit and feel. It had just enough padding to be comfy but light enough to not really notice it while you climbed.



Unfortunately mine met an untimely death after accidentally getting clipped into a gear loop on the wall. But for the two years before that I loved this harness. I only used this harness outside and it was well loved. I will definitely be picking up another one here soon.



I am 6'2 175lbs with 33in waist I wore a M and i fit great
Wesley Eads
Even though the sizing said XS, the loops were much to big for my arms. Is there a way to adjust it?
Jonathan V.
I had the exact same problem! Try padding your arms with bubble wrap, it was pretty comfy once I found the right width.
Gunther H
Year-Round Comfort and Safety
Familiarity:

I've put it through the wringer
The Black Diamond Aspect Harness was and is everything I was looking for in a harness. Light, durable, and I don't mind spending the entire day in it. Fits small.
Clay Puglisi
Clutch double back built in. I've spent all day in it and don't feel bad afterwards. Takes falls well.
Jonathan G.
I have used this harness for two days now ice climbing and so far it has been great. My one complaint and I am sure I figure it out is that it can be tough to get the waist belt to release when removing the harness. However the leg straps feel very substantial as does the rest of the harness.
johngchrist
Great harness. Light, useful and feet's great.
Oleksiy N.
gets you to all aspects
Familiarity:

I've used it several times
This harness is amazing. I am just getting into climbing and needed a harness that could help me climb in both summer and winter. I really like the comfort of this harness and how lightweight it is. The mechanism to tighten this harness can be a little difficult to figure out how it works but once adjusted it is perfect. I got a medium originally and exchanged it for a large. I would recommend sizing up in this if you plan on using this in the winter.
Justin Morgan
Fantastic
Familiarity:

I've put it through the wringer
Very comfortable as long as you have the straps tightened correctly. Every once in a while I will have the leg loops too loose or too tight and I will feel pressure on my hamstrings during falls. Other than that it is very convenient to get in and out of, you can just loosen the loops and just step out of the harness rather than undoing the loops altogether. This just makes putting it on and taking it off faster.

I was in between the medium and large sizes, right on the upper limit of medium, but just on the lower limit of large. I ended up getting the large after trying the medium, and the fit is great.

I have been using this harness about 4-5 days per week for the last 5 months and it is still in good shape. No wrinkles or loose threads, or kinks in the stitching.
Mike Y.
Comfortable Fit. This harness is very comfortable. I let a first time climber try this one out first. they said they had a difficult time adjusting the leg straps to fit snugly around their thighs. Once they figured out the tightening mechanism they still felt they could not get it tight enough. All in all we were able to get it to a safe tightness and they felt safe, secure and comfortable climbing for their first time
Jason Zavala
Great harness for ice and alpine routes.
Familiarity:

I've put it through the wringer
Have use the BD Aspect on ice and snow routes in Colorado and in the Cordillera Blanca, as well as rock routes in the North Cascades. The fit is great and the harness is very comfortable. Works great with Petzl Caritool Ice Carabiners. A good all around alpine harness, but not something I would use regularly in a gym setting. It would work, but I'd opted for something with more padding.

I'm 6', 175lbs, and have a 32" waist. Purchased a large.
J.D.
Fits small
Familiarity:

I've used it several times
I bought a size small, my waist size is 29, and it was too small. I'm going to exchange it for a medium. Other than the sizing issue, what a great one-quiver harness. It can do it all! Comfy enough for multi-pitch routes and light enough for alpine ascents and sending hard sport routes. Overall a great harness by black diamond and look forward to trying the larger size.
Justin T
Runs small
Familiarity:

I've used it once or twice and have initial impressions
Because of how the gear loops are positioned on the harness, you need to be at the bottom end of the size range for it to properly fit (i.e M = 30 in waist; L = 33 in waist). I wear 32 x 32 jeans and needed to buy the large.
Brandon B.
Not for the tall and slim
Familiarity:

I've put it through the wringer
So, I originally got this harness for myself but ended up letting my little brother use it. The seat was unbalanced for me to feel comfortable sitting back in. The harness itself was very well built for the price and has plenty of room for your gear. If you are tall and slim I would recommend going up to a medium.
Dillon Ryder