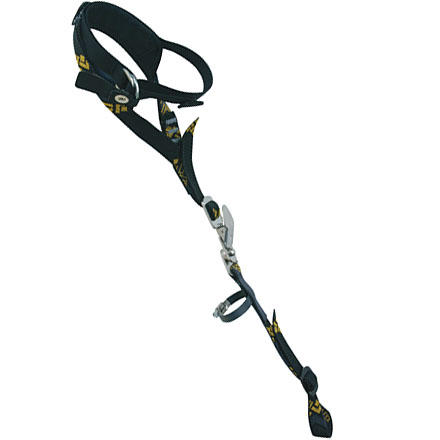 Colors
Take on any winter terrain with the excellent support and quick release of the Black Diamond Android Leash.
The Black Diamond Android Leash's ability to work with any technical ice tool and its efficient quick-release attachment has made it a favorite of ice climbers everywhere. This versatile leash is seen on tools doing everything from sending WI6 to M12 to burly alpine routes throughout the world. The Android Leash attaches to the head of your ice tool and has another shaft attachment that allows you to adjust the hang point for steeper routes of alpine climbing. Black Diamond's quick-release system allows you to quickly free the wrist loop from the shaft for gear placements, tool-free moves, and de-pumping.
For (Almost) leashless climbing
Familiarity:

I've put it through the wringer
If you are like me and desperately want to do some leashless climbing, but are still weak like a little girl (no offense ladies...) then these are for you. I used to use the type of leash that would snug around your wrist and tie in to the head of your tool. Every time you wanted to put in a tool you would either have to have it dangling around your waist, flopping around as you try desperately to put in a screw, OR, you would have to sink your tool really well ( or put it over your shoulder) and slide your big fat gloves out of your leash before getting a screw in. That was all just honestly annoying, time consuming, and silly. My friend got a new set vipers and I tried them out once and was like, "what the junk am I doing with these dumb old leashes? Androids are bomber!" So I bought these and have never been happier with my leashes. Easy on, easy off, these things work just like you want them to. It is almost as if you were climbing leashless, but you aren't so you are still a weakling...
Amadeus DeKastle
Black Diamond Android Leash
I just got these leashes for an old pair of BD Rage. They are great and easy to get in and out of. They will fit any axe with a whole at the top. These are not sold as a pair. Highly recommend them over the BD Slider leashes.
Chris
i got the impression that the android...
i got the impression that the android leashes were modified when BD updated the design of the viper ice tools. will these fit the new vipers?
B-Ville
Looks like they thread through the head and tie around the shaft, so I think they fit any tool.
Evan Stevens
Yes these are not the android leashes specially designed for the vipers. The have a webbing piece that attaches to the head of your tool and is then clamped down on the shaft (like where the androids for the vipers get screwed onto the shaft). Another words, these work with all tools, not just vipers.
Amadeus DeKastle
Hello Can you give me the pros and cons...
Hello Can you give me the pros and cons to the Andoids leashes with and without the portion that attaches to the head?J
John R
If you are going to use a leash, these are the ones. Easy on and off, comfy, and with the non-bd tool attachement they still work okay, just tape or hose clamp them on even more so that they are still easy to get on and off.
Evan Stevens
Pros: They adjust well on your wrist, stay tight when you need them to, and loosen up quickly if needed as well. You can unclip super fast to put in a screw or mess around with all the sharp junk hanging from your harness. Clipping back on is super easy. They are very strong and you technically could (although I don't recommend this) hang by just these leashes.



Cons: Umm...not cheap enough? No, but honestly, after using regular leashes and android leashes, I have nothing bad to say about these.
Amadeus DeKastle