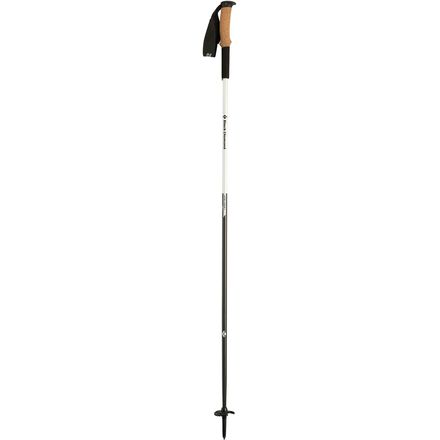 Not your Grandpa's walking stick.
You could whittle a cumbersome, non-collapsible walking stick from local hardwood, or you could just grab the Black Diamond Alpine Carbon Z Trekking Pole. Made from 100% carbon fiber, this collapsible trekking pole weighs in at a featherlight 17oz—that's per PAIR—and has a collapsible shaft for easy storage and travel. Easily interchangeable trekking and powder baskets make it easy to handle summertime hikes and winter trailbreaking, while the Flex Tech Tips let you use rubber for warm-weather missions and carbide for grip on snowy and icy surfaces. Somehow, Black Diamond also managed to work in a natural cork grip with an EVA foam extension and a breathable and moisture-wicking strap, all while making sure the Alpine Z weighed about as much as your beard.

Carbon fiber construction
Three-section collapsible shaft
Cork grip with EVA foam mini-grip extension
Breathable and moisture-wicking strap
Flex Tech Tips
Trekking and powder baskets included
4 years, many expeditions , still strong
Familiarity:

I've put it through the wringer
I came here to buy another pair of these, in a shorter length than the ones I have had for the last 4 years and saw all of these not so great reviews -- I had to write my own as I have had an opposite experience -- ive put these to the test on 3 of the 7 summits ( Kilimanjaro, Elbrus and Aconcagua), multiple long treks including Everest base camp, a multi-week glacial expedition in Alaska and probably 50+ other days of hiking. They have not come apart, and I honestly love them. They are ridiculously light to the point that others on every expedition have envied them and wanted some of their own . Every once in a while, yes, they will come apart while hiking if stuck int he snow.... but its rare enough that its not that big of a deal given the other perks to these poles. I'm psyched i have them, and will be bringing them up Denali with me in a couple weeks :)
Kahunapie
Black Diamond told me to glue them!
Familiarity:

I've used it several times
This is a followup video to my other review. Never buying Black Diamond poles again!
KC
BUYER BEWARE!
Familiarity:

I've used it several times
The metal connecting pieces WILL come loose on you causing the poles to fail. When you contact Black Diamond within the warranty period they will blow you off saying its a simple fix, just glue them. Yeah, so simple that they can't seem to manage fixing this problem at the production level. I've tried gluing them. Doesn't last more than one hike. Its a shame because IF these poles stayed together they would be my favorite choice on the market but when they fall apart they are not only useless but it takes its toll on my body for the duration of the hike in which they fail. I've used my current pair for 2-3 months. I can no longer trust them and Black Diamond won't back me up. So SAD!
KC
Check out this video to see how these poles collapse and extend!
Logan Hastings
Unanswered Question
Is the price per pair, or for a single pole?
John H.
Very light, decently stiff
Look, the key benefit of these poles is how insanely compact and lightweight they are without sacrificing stiffness.

Are they super durable when folded? No.
Are they adjustable? No.
Do they have fancy leki-style ergonomic grips? No.

But when you strap these to your pack and notice almost no difference in the weight, you'll be glad you have them. They also perform extremely well while hiking.

If you're the kind of person that destroys gear easily don't buy these. Otherwise, you'll quite like them.
Alfredo
Took these poles on a 7 day backpacking trip in Brook Range, AK. They helped with river crossings, carrying a heavy load and up steep climbs. I've been using them for awhile on small hikes around Anchorage but realized their worth backpacking this summer. They were also stepped on accidentally and no harm was done.
Jennifer G.
A Solid Purchase
Familiarity:

I've used it several times
I really like these poles. I'm by no means a trekking pole expert and these are only my second pair of poles, but I really love how light these are combined with their ability to fold up really small. The biggest problem I've had with these is trying to get them to fold up. After collapsing, they tend to be tricky to get enough of the wire through to fold the pole in thirds. Overall, not a big deal and I'm pretty satisfied with the purchase.
David Tucker
A little disappointed
Familiarity:

I've used it several times
Let me start with the good. These poles are light and they fold up small - definitely great components to a trekking pole. However, I am disappointed at their ability to stay connected while in use. Whenever I use them in snow or mud, the shafts separate, creating one wobbly stick. It's pretty frustrating to have to "reassemble" these poles hundreds of times while out on a day trip.
Alex H.
Used Item, missing components!!
I got a deal of $142.46 for this hiking pole from Backcountry's online store. I was never told it is a used item by careless former customers with scratches all around and dirt on the tips. The cork handle is greenish moldy (may due to poor storage) and made me sneezing. The "included rubber tips" are actually NOT included. My immediate reaction is to return this item! Later, my REI friend stopped by and did a through inspection and I sanitized the cork handle. We found the poles are fit and still usable. I have to buy the rubber tips from another source. I eventually decided not to return it as we do have a $47.49 price difference. However, Backcountry is still responsible to let customers know they are actually buying used items!
Xu Li
Great poles
Familiarity:

I've put it through the wringer
I haven't been a big pole user until I tried these! They are really light and comfortable and offer some extra support when coming down steep terrain. I plan on taking to Nepal for a 12 day trek and was surprised at how small they fold down too.
Jennifer G.