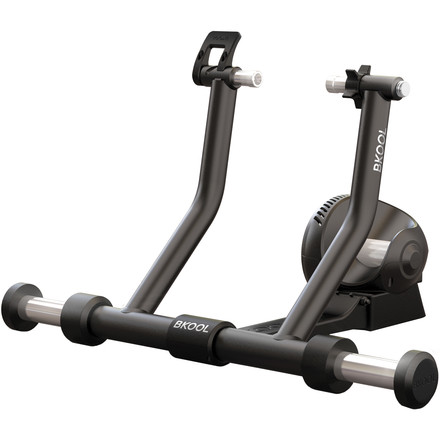 Colors
Ride alone with everyone else.
There's no point in denying it: training inside is a bummer. It's boring, lonely, boring, and boring, which means making it through the winter in cold climes can really take a toll on your fitness or sanity (or both). Happily, though, BKOOL's Electronic Training System Premium Trainer can translate real rides into virtual ones, let you interact with competitors and teammates, and generally make your indoor ride feel like a real-life outdoor one, so you stay motivated and engaged during the frigid times of year.
We should say up front that most of these features, which are in our opinion what set the trainer apart, are a part of the optional 3D World subscription. With 3D World, you can compete against up to 100 other cyclists at once in a peloton, league, or challenge, choose from over 500,000 routes, upload a video of your favorite ride for some real-life scenery, or translate GPS files into custom routes. Perhaps the coolest feature, though, is that when you're riding one of the pre-loaded routes, you can actually "encounter" other real-life riders who are in the middle of the same ride, and even use the voice-chat feature to have a conversation with any rider within 50m of your virtual position, like you would on the real tarmac.
Don't worry, though, the trainer itself hasn't been forgotten. It can serve up 1200 watts of resistance, which is the equivalent of a 20+ degree grade, and it moves smoothly through resistance changes so you don't findyourself going from flat to Alpe d'Huez in no time flat. It also comes with an ANT+ USB that can record your data to the cloud, a quick-release rear skewer, and a quiet design that only generates 64 decibels of sounds, so you won't drive family members, coworkers, or neighbors crazy when you go for a spin.
Aluminum construction
1200-watt resistance
Simulates gradients over 20%
ANT+ USB stick for data upload
Power adapter
Front-wheel support stand and quick-release rear skewer
Foldable
Optional 3D World subscription includes group rides, voice chat, and real route uploads
Unanswered Question
Can I use this with Zwift, or just with the BKOOL app?
Anonymous
It's a Solid Trainer
Familiarity:

I've put it through the wringer
I'm updating this review, which was initially really critical of the product. Essentially, the smart features did not typically work. This was extremely annoying, and my review reflected my annoyance. At some point in the spring of 2017, Bkool updated the system. After this update, I have had no complaints, and now recommend it to friends.

Also, for what it is worth, I prefer using the Bkool simulators than Zwift. Are the gradients entirely accurate? No. But it feels like you are climbing--and with the video routes, it looks like you are climbing. I really enjoy scaling famous climbs they have available on their website.
Chris G.
Maybe I got a lemon...
Familiarity:

I've used it several times
I was really hopeful that this smart trainer would make indoor season more interesting. I had been considering this one or the Kickr Snap, but opted for the Bkool since CC had a discount code for it. However, when it arrived I was sorely disappointed. The Bkool software is very clunky. Despite what the marketing materials suggest, you CANNOT instantly ride any of the many worldwide routes that are available. You have to go to their website and schedule a session that Bkool will host at a later date, usually within 24 hours. I never encountered another human rider on the course when doing this. The graphical experience is pretty poor compared with Zwift. All this would could be overlooked if the power readings were accurate, however, here too the Bkool failed me. I have been using a Stages power meter for years and it has always compared favorably with Computrainer power readings, within 2-3%. However, the Bkool trainer readings were off by 50-100%! On a flat virtual terrain, at 280 Watts the Bkool would read over 400 Watts! Either my right leg belongs to Chris Froome, or there is a serious problem with the trainer! Unfortunately, unlike a Computrainer, there is no way to calibrate the Bkool. Finally, I often find myself spun out in the 52/11 pedaling at 90 RPM at 280 Watts on flat terrain. Contacting Bkool tech support was no help either since their diagnostic software only works for PCs and they have no ability to help users who have Mac computers. After two weeks of giving it a chance and working with tech support, I've had enough and am going to exchange it for a different brand. Maybe I got a lemon or maybe it was damaged when I received it, but I wanted to share my experience.
Stephen H.
Do you need some type of power meter to use this effectively?
Chris Prince
There is a built in power sensor on the trainer.
RIchard H.
got a second one for my girlfriend too.
Familiarity:

I've put it through the wringer
The trainer itself is very good, and adequately stable. The front wheel block should be higher. While not always perfect, the diversity of experiences between 3D and video modes, plus the live and recorded competition, keeps it entertaining. Uploading your own video and gps data adds another dimension. Last year I enjoyed that my lap in Central Park was popular in the network, even if I quickly lost my KOM. Ride gpx files are also exportable for upload to Strava, so friends will think you are a world traveler/ nuts when you "ride" l'alpe d'huez in January. Apparently, it is also now compatible with zwift, if you want to go that way instead/ as well.
SANFORD B.
Makes indoor cycling much more bearable!
Familiarity:

I've used it several times
I received my BKOOL Pro about 3 weeks ago and have used it a dozen times. First, it was very easy to set up. All you do is plug the supplied ANT dongle into a spare USB port, download the BKOOL software, enter your specifics, set up the trainer, plug it in, pick a course, and start pedaling. Presto, everything worked perfectly.



It has a map mode, a HD actual video mode, and a 3D simulator ride. You can ride solo or versus others. The map mode is dull (to me) but the video mode is as if you are actually riding a stage in the Vuelta (with spectators) or others of many, many available video courses. The 3D simulator mode I tried was a throw down hard core race versus very strong actual riders. I wonder if I happened on TEAM Spain on a training ride.



I ordered the premium subscription for $12 per month but in the beginning, everything is available free.



I have been using an indoor trainer with every conceivable TV video option for a number of years but the BKOOL rides were the first time I actually felt that riding indoors was actually fun.
James C.