Billabong

Salty Jane Springsuit - Women's
from
$54.97
$109.95
50%
off
Item #BIL01ML
Billabong
Wetsuits
Men's

S

MS
M
MT
LS
L
LT
XLS
XL
XXL
Height

5ft 6in - 5ft 8in

(167.6 - 173cm)

5ft 6in - 5ft 9in

(167.6 - 175cm)

5ft 9in - 5ft 11in

(175 - 180cm)

5ft 11in - 6ft 1in

(180 - 185cm)

5ft 7in - 5ft 9in

(170 - 175cm)

5ft 11in - 6ft 1in

(180 - 185cm)

6ft 1in - 6ft 5in

(185 - 195.6cm)

5ft 8in - 5ft 10in

(173 - 178cm)

6ft - 6ft 5in

(183 - 195.6cm)

6ft 1in - 6ft 4in

(180 - 193cm)

Weight

135 - 150lb

(61.1 - 67.9kg)

145 - 160lb

(65.7 - 72.5kg)

155 - 170lb

(70.2 - 77kg)

165 - 180lb

(74.7 - 81.5kg)

175 - 190lb

(79.3 - 86.1kg)

185 - 200lb

(83.8 - 90.6kg)

175 - 190lb

(79.3 - 86.1kg)

190 - 205lb

(86.1 - 92.9kg)

205 - 220lb

(92.9 - 99.7kg)

Chest

36 - 38in

(91.4 - 96.5cm)

38 - 40in

(96.5 - 101.6cm)

39 - 40in

(99.1 - 101.6cm)

41 - 43in

(104.1 - 109.2cm)

43 - 44in

(109.2 - 111.8cm)

44 - 46in

(111.8 - 116.8cm)

Waist

29 - 31in

(73.7 - 78.7cm)

30 - 32in

(76.2 - 81.3cm)

31 - 33in

(78.7 - 83.8cm)

33 - 35in

(83.8 - 88.9cm)

36 - 38in

(91.4 - 96.5cm)

38 - 40in

(96.5 - 101.6cm)

Women's
0
2
4
6
8
10
12
Height

4ft 10in - 5ft 1in

(150 - 155cm)

5ft 1in - 5ft 3in

(150 - 155cm)

5ft 3in - 5ft 5in

(160 - 165cm)

5ft 4in - 5ft 6in

(163 - 168cm)

5ft 5in - 5ft 7in

(165 - 170cm)

5ft 6in - 5ft 8in

(168 - 173cm)

5ft 7in - 5ft 9in

(170 - 175cm)

Weight

80 - 95lb

(36.2 - 43kg)

90 - 105lb

(40.8 - 47.6kg)

100 - 115lb

(45.3 - 52.1kg)

110 - 125lb

(49.8 - 56.6kg)

120 - 135lb

(54.4 - 61.1kg)

130 - 150lb

(58.9 - 67.9kg)

140 - 160lb

(63.4 - 72.5kg)

Chest

27.5 - 29.5in

(70 - 75cm)

29.5 - 31.5in

(75 - 80cm)

30.5 - 32.5in

(77 - 83cm)

31.5 - 33.5in

(80 - 85cm)

32.5 - 34.5in

(83 - 88cm)

34 - 36in

(86 - 91cm)

35.5 - 37.5in

(90 - 95cm)

Waist

21 - 23in

(52 - 58cm)

23 - 25in

(58 - 63cm)

24 - 26in

(60 - 66cm)

25 - 27in

(63 - 68cm)

26 - 28in

(66 - 71cm)

27 - 29in

(68 - 73cm)

29 - 31in

(73 - 78cm)

Hoods
XS
S
M
L
XL
XXL
Neck

14.5in

(37cm)

14.75in

(37cm)

15in

(38cm)

15.5in

(39cm)

16in

(41cm)

16.5in

(42cm)

Head

20.5in

(52.1cm)

21.5in

(54.6cm)

22.5in

(57.1cm)

23.5in

(59.7cm)

24.5in

(62.2cm)

25in

(63.5cm)

Boots
S
M
L
XL
US Shoe Size
6 - 7
7 - 8
9 - 10
11 - 12
Gloves
S
M
L
XL
Hand Circumference

5.5 - 6in

(14 - 15.2cm)

6.5 - 7in

(16.5 - 17.8cm)

7.5 - 8in

(19 - 20.3cm)

8.5in+

(21.6cm+)
How to Measure:

For best results, take measurements over your underwear.

Chest:

Measure under your arms, around the fullest part of your chest.

Waist:

Measure around your natural waistline, keeping the tape a bit loose.

Neck:

Measure around the thickest part of your neck, holding tape loosely.

Head:

Measure around the largest part of your head.
Select style & size:
Select options
Select options

Mulberrry, 4

Sale:$64.32

Mulberrry, 6

Sale:$64.32

Mulberrry, 10

Sale:$64.32

Black Sands, 6

Sale:$54.97
Tech Specs
Material:
90% neoprene, 10% nylon
Manufacturer Warranty:
1 year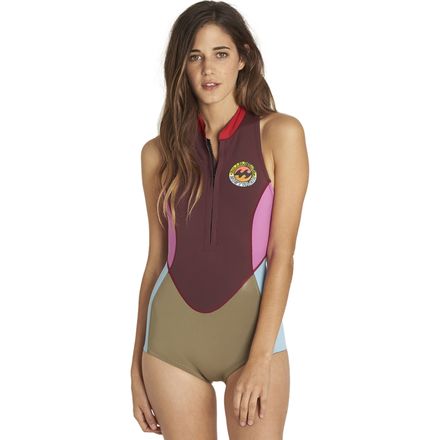 Colors

Detail Images
See Jane surf.
Mild water, hot sun, and salt getting your knickers in a twist? Not with the Billabong Salty Jane Women's Springsuit, which is made of lightweight neoprene and nylon to keep you comfortable on those mellow spring and fall days. It has a simple step-in design and back cut-outs to add a little bit of style.

Glide Skin Neoprene
Pull-on fit
Crisscross straps at back
Frequently purchased together