Billabong

3mm Furnace Carbon Ultra Split Toe Boot - Men's
Item #BIL02TZ
Billabong
Wetsuits
Men's

S

MS
M
MT
LS
L
LT
XLS
XL
XXL
Height

5ft 6in - 5ft 8in

(167.6 - 173cm)

5ft 6in - 5ft 9in

(167.6 - 175cm)

5ft 9in - 5ft 11in

(175 - 180cm)

5ft 11in - 6ft 1in

(180 - 185cm)

5ft 7in - 5ft 9in

(170 - 175cm)

5ft 11in - 6ft 1in

(180 - 185cm)

6ft 1in - 6ft 5in

(185 - 195.6cm)

5ft 8in - 5ft 10in

(173 - 178cm)

6ft - 6ft 5in

(183 - 195.6cm)

6ft 1in - 6ft 4in

(180 - 193cm)

Weight

135 - 150lb

(61.1 - 67.9kg)

145 - 160lb

(65.7 - 72.5kg)

155 - 170lb

(70.2 - 77kg)

165 - 180lb

(74.7 - 81.5kg)

175 - 190lb

(79.3 - 86.1kg)

185 - 200lb

(83.8 - 90.6kg)

175 - 190lb

(79.3 - 86.1kg)

190 - 205lb

(86.1 - 92.9kg)

205 - 220lb

(92.9 - 99.7kg)

Chest

36 - 38in

(91.4 - 96.5cm)

38 - 40in

(96.5 - 101.6cm)

39 - 40in

(99.1 - 101.6cm)

41 - 43in

(104.1 - 109.2cm)

43 - 44in

(109.2 - 111.8cm)

44 - 46in

(111.8 - 116.8cm)

Waist

29 - 31in

(73.7 - 78.7cm)

30 - 32in

(76.2 - 81.3cm)

31 - 33in

(78.7 - 83.8cm)

33 - 35in

(83.8 - 88.9cm)

36 - 38in

(91.4 - 96.5cm)

38 - 40in

(96.5 - 101.6cm)

Women's
0
2
4
6
8
10
12
Height

4ft 10in - 5ft 1in

(150 - 155cm)

5ft 1in - 5ft 3in

(150 - 155cm)

5ft 3in - 5ft 5in

(160 - 165cm)

5ft 4in - 5ft 6in

(163 - 168cm)

5ft 5in - 5ft 7in

(165 - 170cm)

5ft 6in - 5ft 8in

(168 - 173cm)

5ft 7in - 5ft 9in

(170 - 175cm)

Weight

80 - 95lb

(36.2 - 43kg)

90 - 105lb

(40.8 - 47.6kg)

100 - 115lb

(45.3 - 52.1kg)

110 - 125lb

(49.8 - 56.6kg)

120 - 135lb

(54.4 - 61.1kg)

130 - 150lb

(58.9 - 67.9kg)

140 - 160lb

(63.4 - 72.5kg)

Chest

27.5 - 29.5in

(70 - 75cm)

29.5 - 31.5in

(75 - 80cm)

30.5 - 32.5in

(77 - 83cm)

31.5 - 33.5in

(80 - 85cm)

32.5 - 34.5in

(83 - 88cm)

34 - 36in

(86 - 91cm)

35.5 - 37.5in

(90 - 95cm)

Waist

21 - 23in

(52 - 58cm)

23 - 25in

(58 - 63cm)

24 - 26in

(60 - 66cm)

25 - 27in

(63 - 68cm)

26 - 28in

(66 - 71cm)

27 - 29in

(68 - 73cm)

29 - 31in

(73 - 78cm)

Hoods
XS
S
M
L
XL
XXL
Neck

14.5in

(37cm)

14.75in

(37cm)

15in

(38cm)

15.5in

(39cm)

16in

(41cm)

16.5in

(42cm)

Head

20.5in

(52.1cm)

21.5in

(54.6cm)

22.5in

(57.1cm)

23.5in

(59.7cm)

24.5in

(62.2cm)

25in

(63.5cm)

Boots
S
M
L
XL
US Shoe Size
6 - 7
7 - 8
9 - 10
11 - 12
Gloves
S
M
L
XL
Hand Circumference

5.5 - 6in

(14 - 15.2cm)

6.5 - 7in

(16.5 - 17.8cm)

7.5 - 8in

(19 - 20.3cm)

8.5in+

(21.6cm+)
How to Measure:

For best results, take measurements over your underwear.

Chest:

Measure under your arms, around the fullest part of your chest.

Waist:

Measure around your natural waistline, keeping the tape a bit loose.

Neck:

Measure around the thickest part of your neck, holding tape loosely.

Head:

Measure around the largest part of your head.
Select style & size:
Select options
Cancel

Select options

Black, 8

Sale:$48.71

Black, 10

Sale:$48.71

Black, 12

Sale:$48.71
3mm Furnace Carbon Ultra Split Toe Boot
Surf boots for warmth and performance
3mm thickness maintains great board feel
Quick Dry lining soaks up less water and dries quickly
Split toe design for a natural feel
Hook-and-loop closure for easy on and off
Tech Specs
Material:
[face fabric] No-Soak stretch jersey, [core] I-Light foam, [lining] carbon fiber Furnace Quick Dry
Manufacturer Warranty:
3 months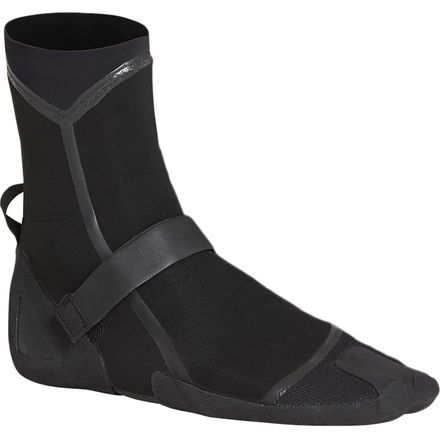 Colors

Detail Images
3mm Furnace Carbon Ultra Split Toe Boot
Surf boots for warmth and performance
3mm thickness maintains great board feel
Quick Dry lining soaks up less water and dries quickly
Split toe design for a natural feel
Hook-and-loop closure for easy on and off