Billabong

Die Cut Polo - Men's
Item #BIL02RL
Billabong
Men's Apparel
Top Size
XS
S
M
L
XL
XXL
Bottom Size
28
29
30
31
32
33
34
35
36
38
40
Neck

13.5 - 15in

(34 - 38cm)

14 - 15.5in

(36 - 39cm)

14.5 - 16in

(37 - 41cm)

15 - 16.5in

(38 - 42cm)

15.5 - 17in

(39 - 43cm)

16 - 17.5in

(41 - 44cm)

Chest

36 - 38in

(91 - 96.5cm)

38 - 40in

(97 - 102cm)

40 - 42in

(102 - 107cm)

42 - 44in

(107 - 112cm)

44 - 46in

(112 - 117cm)

46 - 48in

(117 - 122cm)

Sleeve

32 - 33.5in

(81 - 85cm)

33 - 34.5in

(84 - 88cm)

34 - 35.5in

(86 - 90cm)

35 - 36.5in

(89 - 93cm)

36 - 37.5in

(91 - 95cm)

37 - 38.5in

(94 - 98cm)

Waist

27.5 - 28.5in

(70 - 72cm)

28.5 - 29.5in

(72 - 75cm)

29.5 - 30.5in

(75 - 77.5cm)

30.5 - 31.5in

(77.5 - 80cm)

31.5 - 32.5in

(80 - 82.5cm)

32.5 - 33.5in

(82.5 - 85cm)

33.5 - 34.5in

(85 - 88cm)

34.5 - 35.5in

(88 - 90cm)

35.5 - 36.5in

(90 - 93cm)

37.5 - 38.5in

(93 - 98cm)

39.5 - 40.5in

(100 - 103cm)

Hip

36 - 37in

(91 - 94cm)

37 - 38in

(94 - 96.5cm)

38 - 39in

(96.5 - 99cm)

39 - 40in

(99 - 102cm)

40 - 41in

(102 - 104cm)

41 - 42in

(104 - 107cm)

42 - 43in

(107 - 109cm)

43 - 44in

(109 - 112cm)

44 - 45in

(112 - 114cm)

46 - 47in

(114 - 119cm)

48 - 49in

(122 - 124.5cm)
How to Measure:

For best results, take measurements over your underwear.

Chest:

Measure under your arms, around the fullest part of your chest.

Waist:

Measure around your natural waistline, keeping the tape a bit loose.

Neck:

Measure around the base of the neck.

Sleeve:

Measure from the center of your back to your wrist with arms held out.
Select style & size:
Select options
Cancel

Select options

Mustard, M

Sale:$15.98

Salt, S

Sale:$17.98
A casual shirt for everyday wear
Breathable cotton, with added stretch
Classic fit is comfortable and nonrestrictive
Classic polo styling make this shirt a favorite
Tech Specs
Material:
60% cotton, 40% polyester
Manufacturer Warranty:
limited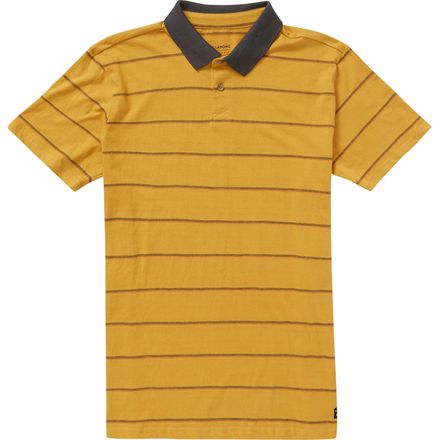 Colors
A casual shirt for everyday wear
Breathable cotton, with added stretch
Classic fit is comfortable and nonrestrictive
Classic polo styling make this shirt a favorite