Billabong

Carter Short - Boys'
Item #BIL01EA
Billabong
Boys' Apparel
Boys 8 - 14+ Years Old
Top Size
S
M
L
XL
Bottom Size

22

8Slim

23

10Slim

24

8Reg

25

10Reg

26

12Reg

27

14Reg

28

16Reg

29

18Reg

30

20Reg

~Age
8 - 9
9 - 10
8 - 9
9 - 10
11 - 12
13 - 14
14+
Chest

25 - 27.5in

(63.5 - 69.8cm)

28 - 30.5in

(71.1 - 77.5cm)

31 - 33.5in

(78.7 - 85.1cm)

34 - 36.5in

(86.4 - 92.7cm)

Waist

22 - 24in

(55.9 - 61cm)

25 - 26in

(63.5 - 66cm)

27 - 28in

(68.6 - 71.1cm)

29 - 30in

(73.7 - 76.2cm)

Height

49 - 54in

(124.5 - 137.2cm)

52 - 60.5in

(132.1 - 153.7cm)

60 - 65in

(152.4 - 165.1cm)

65 - 68in

(165.1 - 172.7cm)

Weight

50 - 65lb

(22.7 - 29.5kg)

63 - 95lb

(28.6 - 43.1kg)

90 - 122lb

(40.8 - 55.3kg)

110 - 140lb

(49.9 - 63.5kg)

Boys 2 - 7 Years Old
Size
2T
3T
4 / S
5 / M
6 / L
7 / XL
~Age
2
3
4
5
6
7
Chest

20 - 21in

(50.8 - 53.3cm)

22 - 23in

(55.9 - 58.4cm)

22 - 23in

(55.9 - 58.4cm)

23 - 24in

(58.4 - 61cm)

24 - 25in

(61 - 63.5cm)

25 - 26in

(63.5 - 66cm)

Waist

19 - 19.5in

(48.3 - 49.5cm)

20 - 20.5in

(50.8 - 52.1cm)

21 - 21.5in

(53.3 - 54.6cm)

21.5 - 22in

(54.6 - 55.9cm)

22.5 - 23in

(57.1 - 58.4cm)

23.5 - 24in

(59.7 - 61cm)

Height

33 - 35.5in

(83.8 - 90.2cm)

36 - 38.5in

(91.4 - 97.8cm)

39 - 41.5in

(99.1 - 105.4cm)

42 - 44.5in

(106.7 - 113cm)

45 - 46.5in

(114.3 - 118.1cm)

47 - 48.5in

(119.4 - 123.2cm)

Weight

26 - 29lb

(11.8 - 13.2kg)

30 - 33lb

(13.6 - 15kg)

33 - 37lb

(15 - 16.8kg)

37 - 43lb

(16.8 - 19.5kg)

44 - 49lb

(20 - 22.2kg)

47 - 55lb

(21.3 - 24.9kg)
How to Measure:

For best results, take measurements over your underwear.

Waist:

Measure around your natural waistline, keeping the tape a bit loose.

Chest:

Measure around the fullest part of your chest.
Select style & size:
Select options
Select options

Black, 25

Sale:$19.22

Black, 23

Sale:$19.22

Black, 27

Sale:$19.22
Tech Specs
Material:
65% polyester, 35% cotton
Pockets:
2 hand, 2 buttoned back, 1 coin
Waist:
button with belt loops
Manufacturer Warranty:
limited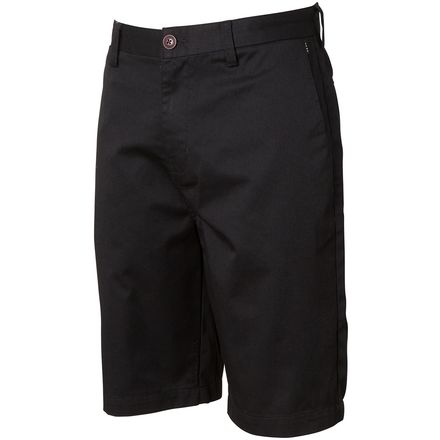 Colors
Start his surf bum style early with the clean-cut and comfortably smooth Billabong Boys' Carter Short.

Light cotton blend
Core relaxed fit
Five-pocket styling