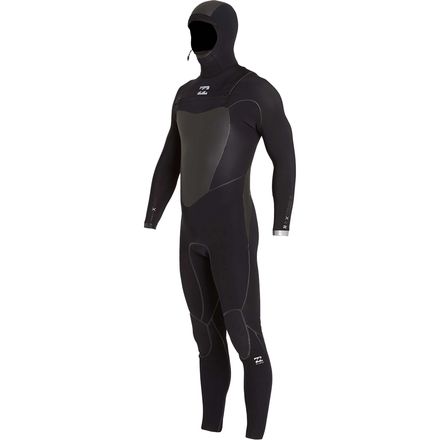 Colors
Turn up the heat.
From Ireland's frigid waves to the uncrowded chilly breaks of Vancouver Island, the Billabong 5/4 Furnace Carbon X Hooded Chest Zip Wetsuit traps precious body heat from escaping, so you can catch more waves without succumbing to bone-chilling water and whipping winds. It's designed for the dedicated surfer seeking out the best waves of the year when the water is frigid and the crowds are almost non-existent.
It's surprisingly flexible for a 5/4 wetsuit, thanks to its lightweight engineered stretch and anatomic performance panels. This heightened flexibility translates to total freedom in the water while you're paddling and surfing. These anatomic panels employ stitchless welded seams that are water tight, so cold water doesn't pour inside the wetsuit and chill your body to the bone.
Billabong's highest quality AX1 Premium Superflex Neoprene provides an optimal balance between thermal retention, flexibility, and longevity, so you'll stay comfortable in the water for many surf sessions to come. Furnace Carbon lining maximizes heat retention while the Drymax chest zip prevents frigid water from seeping inside. To speed up drying time, the quick-dry top layer holds 60 percent less water, meaning it dries to the touch in mere seconds.
Stay in the lineup longer in the harshest of surf conditions
5/4 thickness excels for surfing at cold water destinations
AX1 Premium Superflex Neoprene for heat retention and flexibility
Furnace Carbon lining retains heat from escaping in cold water
Quick-dry top layer retains 60% less water, drying in seconds
Anatomic performance panels for natural movement in the water
Drymax chest zip provides a tight seal from waves and water
Stitchless welded seams prevent cold water from coming inside