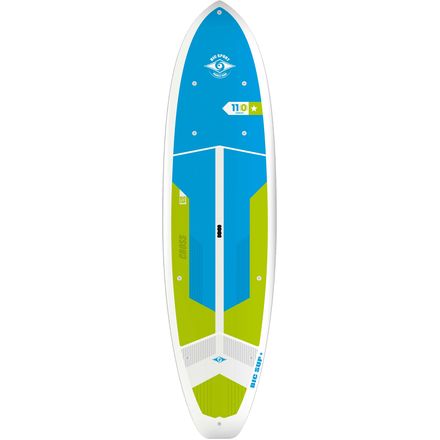 Colors
Versatile, durable, and lightweight.
Arguably the most user-friendly SUP that BIC has to offer, the Ace-Tec Cross Adventure Stand-Up Paddleboard accommodates paddlers of all abilities and riders that weigh up to 285 pounds. Perfect for exploring calm bays and harbors, the keeled nose enhances tracking and increases gliding, while the full rail-to-rail volume evenly distributes weight to provide an extra stable ride throughout the entire deck. That means you'll have firm footing for yoga, fishing, or all-around family use.
The Cross Adventure's deck is equipped with a grippy, comfortable wave groove pad and ten attachment points to easily secure and transport seats, coolers, and any other gear you might bring along. Meanwhile, the nine-inch thruster fin configuration is versatile for both surf and flat water conditions, and the rigid stand-up paddleboard has a custom re-curved ErgoGrip handle that makes loading and unloading a breeze.
An all-around stable board for paddlers of all kinds
Hybrid design lends adaptability and performance
Keeled nose provides enhanced tracking and glide
Rail-to-rail volume offers stability and ample storage
Multiple attachment points makes securing gear easy
Thruster fin configuration ensures smooth paddling
Flat deck and deck pad maximizes versatility and comfort