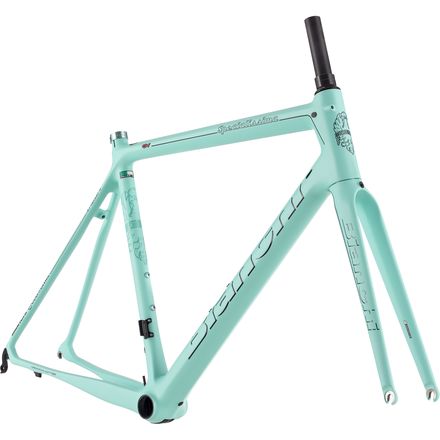 Colors

Detail Images
Light as a feather.
Bianchi's celeste green holds a special place in the hearts of many a cyclist since its hue is splashed across decades of classic Italian bicycles found in everything from local tweed rides to the high mountains of the grand tours. This year, Bianchi adds a modern featherweight to its line with the all-new 2017 Specialissima Road Frameset. It's built to climb like a mountain goat and descend gracefully through the twistiest of roads with a flash of classy Bianchi style. Made from super light and stiff carbon fiber, the Specialissima brings together a perfect balance of lightweight responsiveness, stiff power transfer, and impeccable handling to deftly navigate any road at speed.
Bianchi borrows the Countervail integrated vibration cancelling system found in its endurance-focused Infinito CV, infusing the Specialissima with exceptional vibration damping abilities to soften energy-zapping road noise. Bianchi owns the patent on Countervail, which involves a viscoelastic carbon material inserted between carbon layers for a claimed 80% reduction in road vibration feel. This makes the frame superbly comfortable over the miles while ensuring that all of your power goes straight into the rear wheel.
For an extra dose of stiffness, Bianchi opts for a beefy PressFit BB86 shell that solidly transfers every bit of power to the drivetrain without any watt-sucking lateral movement. While this frame isn't billed as specifically aerodynamic, Bianchi does take cues from its Aqulia CV time trial bike in creating the Specialissima's front end, importing the integrated head tube and fork for a smooth transition that slices through the air with ease. You'll enjoy some aerodynamic benefits over frames without the integrated headtube and fork comb; and cleaner looking lines.
Bianchi caps off the 2017 Specialissima Road Frameset with internal cable routing compatible with both mechanical and electronic shifting systems for clean lines and a bit of extra aerodynamic advantage regardless of your component choice. Its carbon dropouts feature alloy inserts to protect them from errant skewer scratches and increase the durability of the frame.
A racing bike with the heritage of celeste
Race-ready geometry snaps to attention
Super light carbon construction drops grams
Countervail technology soaks up road noise
Internal cable routing provides clean lines
Alloy inserts on the dropouts protect from skewer scratches
Shocked how good the Countervail works
Familiarity:

I've put it through the wringer
Picked up this frame a couple of months ago and have about 2K miles on it.

Stiff, light and fun to ride.

Have a couple of other road bikes of equal level and they are all collecting dust. The most surprising thing is for pretty much of a race bike it really does eat up the road noise. There is a 70 mile ride that I do that is beautiful but is pretty ruff chip seal. Usually take my 7 TI bike on that ride and just thought that I would try the Bianchi. I cannot say the Bianchi is as compliant as the TI bike but MUCH better than other Carbon bikes I have ridden on that corse.
mkmac
Bianchi vs. Specialized sizing:

I ride a 52cm Specialized Allez and the 53cm Specialissima specs are almost identical - see attached photo. I am now only 5'5" due to my more advanced age (isn't that a drag?) and the 52cm Allez reportedly is designed to fit riders 5'3" to 5'6" whereas the 53cm Specialissima is designed to fit riders 5'7" to 5'8" and the 50cm Specialissima designed to fit riders 5'5" to 5'7".

I feel quite comfortable on my 52cm Allez, and because the specs are near-identical to the 53cm Specialissima, I believe I should go for the 53cm and not 50cm Specislissima, or am I missing any vital information or considerations here?

Thanks for your feedback and opinions.
Herb S.
Hi Herb,



A few factors will depend on what works best. Please feel free to contact me so we can go over the options.



Scott- Account Manager- Bike

sgartman@backcountry.com

801-204-4588
Scott Gartman
This bike recently was honored for bike of the year through Bike Radar and a few other cycling publications. The reviews speak for themselves. The kit calculator may not show all available options for a custom build and can be a bit tricky in configuring but if we have it on the site we can build it. Often times we have items not listed on the site as well. If you need help in configuring this bike feel free to contact me direct. I'm always happy to oblige!

Wes- Account Manager-Bike
wbranham@competitivecyclist.com
801-204-4542
WesB
It will make a roadie out of me.
Familiarity:

I've used it several times
I'm a Cat1 MTB racer and part-time roadie. This bike fit like a glove compared to my 15 S-Works Roubiax. I'm 5'9 and with the 55cm and 100mm stem.

My roubaix never fit right. I have taken it to a few bike fitters and it just feels wrong. I got this bike after reading about a million reviews and set it up per the fit measurements and man what a difference. The ride quality with Corsa Evo tires, Enve 3.4 wheels and latex tubes are incredible. I went with Di2, I'm not sure I could ever go back to manual shift.

There is nothing I would change about the bike, It is as good or even better than the reviews claim. The ride quality is superior to my Roubaix which is the only thing I liked about that bike. The fit is amazing, it is hard to describe but I feel "at home" on it and it climbs like crazy. Mine came out to about 15lbs w/ MTB pedals(OMG right), cages and garmin mount.
Twisty B.
Super Italian machine
Familiarity:

I've used it several times
Bianchi is a super traditional and recognized brand in cycling, and unfortunately we don't see many Bianchi bikes on the road in the US. I have a Cannonade SuperSix Evo 2013 with Ultegra Di2 and I was looking for a lighter bike, but with no compromise on stiffness and responsiveness.



I did a lot of research on the possible contenders and some of them are not available in the US like the Merida Sculptura, I did a few test drives and I just loved the Speciallissima, I built this bike component by component with the help of the folks from Competitive Cyclist. I am riding it for a few weeks now and I can't say how amazing this bike is, super fast on the flats and responsive on climbs. You can really feel the difference that the Countervail material makes on absorbing frame vibration from the road.



I was going to get the black version, but after reading more and more about Bianchi, I decided to go with the Celeste Green, and the bike really stands out on the road, you won't find another bike in that color in your rides for sure. Another thing that I think sets the Specialissima apart is that it is super clean, not a lot of logos and decals (actually the bike has zero decals, more on that later) quite different than the recent Bianchis where you have a lot of stuff going on and it ends up almost like a moving advertising bike. This bike is super clean and the logos are actually painted on the frame, they are not decals, amazing attention to detail.



To complete the bike I put some Zipp 404s on it and I decided to go with the Ultegra Di2 groupset. I totally recommend this bike over other Italian and top brand bikes.
Antonio S.