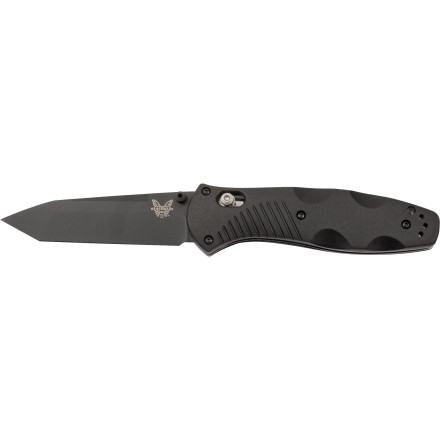 Essential outback gear.
Sailors, rafting guides, and rescue personnel, among others, consider a dependable assisted-opening knife like the Benchmark Barrage Knife essential equipment. The Barrage features a strong Axis-Assist opening mechanism that deploys quickly and locks down with the Axis Lock mechanism. Ambidextrous thumb studs and a reversible pocket clip mean the Barrage is suitable for carrying in either your right or left hand. Comes in plain-edge and partially-serrated (combo) models.
Best Gift to Give
Familiarity:

I gave it as a gift but have feedback to share
My brother was so happy that I gave him this knife for his birthday. He really enjoyed the full and comfort of the handle, and the weight of the blade.
William Kelty
Fantastic
Familiarity:

I've used it several times
Knife comes extremely sharp out of the box. Very strong and well made, perfect size and love the design.
Mason S.
SOLID!
Familiarity:

I've put it through the wringer
I have always loved Benchmade. I carry this knife every day as a first responder; this is a pretty fast opening knife, the blade has no play, feels natural in your hand, it holds quite the edge and has never failed me whether I'm cutting seat belts or fishing line.
Eric
Very quick to open, slightly difficult to close with just one hand though. But super solid, and looks pretty cool too!
Alex Laugeman
Great Knife... GREAT CUSTOMER SERVICE
My review of this product has a little bit more to do with the customer service I received from Backcountry.com. First the knife... It's everything you would come to expect from a company like Benchmade. Solid feel, smooth operation and sharp edge. Love the assisted opening. I've owned Benchmade knives in the past and they never disappoint. By the way, you're gonna be hard pressed to find a better price on this knife anywhere online.



Now to the customer service. I shopped and procrastinated in buying this knife right up to the point of my trip. So, by the time I ordered it I received it the Friday before I left on a Sunday afternoon. When I got the knife I was sad to see that the wrong model had been sent. I immediately called Backcountry's customer service and the girl that answered the phone (Kayla R.) was very apologetic and worked fast to remedy the problem. She was quick to send me a UPS pre-paid shipping label to return the wrong knife and promised she would have the right knife sent out immediately. When I explained how I was leaving sunday on a trip she put me on hold and worked out having the replacement sent out that day for saturday overnight delivery. All the way through the process she never acted put out or unprofessional in any way. In my opinion Kayla is exactly what all customer service reps should be. She even called me later that night to let me know that the knife made it onto the UPS truck, so I wouldn't worry about it. Great product... Awesome price... Exceptional customer service.
LookOutDJ
picked this up a couple weeks ago. Love the knife and the Axis-assist opening (why I bought the knife). The full size barrage is definitely a little big for an everyday carry, if you're looking for an EDC go with the Mini.
Travis Tzioumis
Very Nice Assisted Open and Lock!
Familiarity:

I've used it once or twice and have initial impressions
This is one of the best Assisted Open knives I have played with. It opens easily and quickly without the big kick that will throw it out of your hand. Because it is Assisted Open it is a little more difficult to close, just in case you haven't ever played with one before. I think I like the Mini Barrage better than the Barrage because it is easier to close, lighter, and more suited for everyday use.



The lock on the back of the knife is pretty nice! Simply put your thumb on it, push in and slide it back to unlock and forward to lock.



Pros:

- Solid, easy open without to much kick.

- Feels good in your hand.

- Looks great.

- Spring assisted opening is fun to play with.

- Easy in, easy out of pocket.

- Black clip.

- Handle doesn't feel to plasticy and cheap. only slightly...



Cons:

- A little difficult to close one handed due to the spring wanting to keep the knife open. The mini is easier to close.



I would recommend this knife to anyone who wants a spring assisted blade and a quality knife for everyday use or just showing off.
Jeff Guest
When you think of something that you "pay for what you get", this is a perfect example! A knife is one of the tools that you do not want to go cheap on. So a little spendy but well worth it!
WONKA
well built, holds an edge
This has a really nice action, and plenty solid in the open position.
Bucket
love it!! super smooth spring assitance, perfectly weighted, beautiful polished blade, and a great lock. Does amazing as an every day carry knife opening boxes, cutting cord, and cutting up meat if they forget to give you a knife at you're favorite bbq join. It also surpassed my expectations cleaning fish, cleaning pheasant, chopping veggies, and all other camping/hunting duties.

It does have two minor problems. One being you cant be lazy and let the knife be dirty or wet for a long time (this can cause rust and damage to the spring assist), two is closing the knife one handed you have to use your pant leg so be very careful not to stab yourself
Jase A.