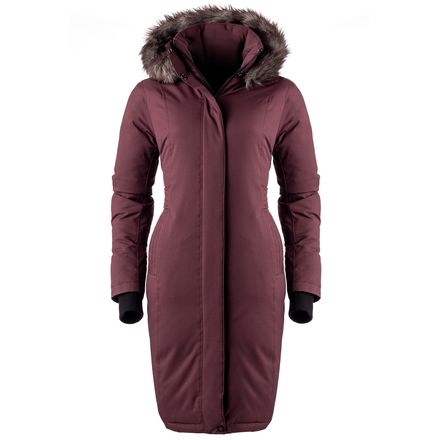 Colors

Detail Images

Community Images
For the down days.
There's a time and place for your super techy outerwear, but you don't necessarily want to look like you're about to make a summit bid on Denali when you're just going out for drinks. Fortunately, the Basin and Range Women's Skyline Down Jacket is here to tackle your more casual endeavors with all the style and warmth you need. Its two-layer shell and responsibly sourced 550-fill down insulation should appease the gear geek inside of you, while its detachable fur trim and svelte shape should please your inner fashion side. Two hand-warmer pockets give your digits a place to stay cozy when you're strolling through town, and the adjustable hood protects your face from the wind during windy city adventures.
Two-layer twill shell
Responsibly sourced 550-fill down insulation
Regular fit
Adjustable hood with removable fur trim
Hand-warmer pockets
Flattering, but bring your lint roller!
Familiarity:

I've put it through the wringer

Fit:

True to size

Size Bought:

Large
This coat is comfortable, flattering, and fairly warm. HOWEVER, the coat sheds tiny feathers nonstop. I thought washing and tumbling in the dryer might help, but it actually made it worse. Its a great coat if you never wear a dark colored garment under it.
Leah M.
Height:
5'8"
Weight:
190lbs
Dianne a Dianne from Australia
Fit:

True to size

Size Bought:

xl
Thank you recieved my coat today
@1430 VERY happy with service my coat arrived 2 days earlier than predicted that was a nice surprise at the fit is really good now I just have to wait for my trip to Scandinavian in January 2017 to feel how it performs ad we are coming into spring here and with temperatures in the low 20's Celsius so here's hoping this lovely coat will do what I hope it will with all the layers that I will be wearing first time I have bought anything on line
I was wondering if it would be OK and all I can say is that I am very impressed.
thank you again backcountry team (it is a shame that the marmot coats could not be sent to Australia as well )😊
dianne G.
Height:
5'6"
Weight:
160lbs
Beautiful coat
Familiarity:

I've used it once or twice and have initial impressions

Fit:

True to size

Size Bought:

Medium
I have never bought a coat online before and certainly not from another country, so I read all of the reviews several times and found them to be quite useful although the sizes people bought were confusing as they didn't match the sizing guide. After a live chat discussion with a Back Country representative, I was able to pick the perfect size. This was a big plus as the postage to Australia is AUD$100 and returning for another size was not an option.

My coat arrived in Australia a week after I ordered it and it is the most magnificent coat I have every bought. The 55% discount on this item meant that it was very affordable for me down under. I was blown away by the quality and workmanship of this coat, it is seriously the best coat that I have ever bought; light weight, warm, a lovely taylored look unlike many of the long down coats, gorgeous colour, excellent detailling (ribbed cuffs are very practical, hood adjustment most necessary and adjusts to the perfect size, pockets are just as advertised - brilliant hand warmers, inside pocket a great asset secured by the zip, double opening zip down the front is a real winner for this taylored streamline coat).

I am really looking forward to wearing it when I travel to Europe in the next few weeks. Thank-you Back Country for a very satisfying retail therapy experience.
Mary-Anne A.
Height:
5'4"
Weight:
116lbs
Beautiful Coat!
Familiarity:

I've used it once or twice and have initial impressions

Fit:

True to size

Size Bought:

M
Ok, I checked 'used it once or twice/initial impression'....that being said, I've tried it on, haha. We're in the middle of a stifling Pa summer here and I am buying winter coats as a preemptive strike. I also chose 'true to size', but the jacket does run the TINIEST bit small. I wear a 4-6 on top & 6-8 bottoms (depending on brand, for pants). I'm petite, but muscular legs with an Oakland booty, LOL & I like a jacket a bit large to layer underneath.... for those chilly (and sometimes downright frigid) Pa winters! This jacket will take a hoodie or sweater underneath, but I'd have liked just a pinch more room. That's just me & ultimately the fit is fine. I could've ordered a small & it would've fit well without layers underneath. Although, I'm not sure I'll need to layer with this bad boy. I ordered the flannel color.....a pretty slate gray. Will go with everything!
I noted some people are complaining about pocket size. The outer pockets are exactly what they say they are--handwarmers. They are shallow, but this doesn't concern me, as I rarely use outer coat pockets for anything but my hands. I'm able to fit an iPhone 6 with a slim case in the inner security pocket, which does have a zipper. I could also fit some cards & cash along with the phone. For me, this is fine.
I'm looking forward to wearing this coat this winter & will post an update after really using it, but I don't anticipate issues. Size M on me is almost knee length in the front & a few inches longer in the back. Like a cozy down mullet.
One final note, none of the down is leaking from mine. Idk if this is an issue that was resolved or what? Also the inner lining is a pretty teal & black feather pattern. Not something I'd choose as an outside for a coat, but nice on the inside.
Stephanie G.
Height:
5'4"
Love love love
Familiarity:

I've used it several times

Fit:

Runs small

Size Bought:

Large
This coat is perfect! I was looking for something stylish yet warm and functional and I found it in this coat! The fit is great and it keeps me VERY warm during New England winters. So glad I found it. And Backcountry reps are AWESOME!
ABBY M.
Height:
5'6"
Weight:
143lbs
Wanted to keep this coat, but...
Familiarity:

I returned this product before using it

Fit:

True to size

Size Bought:

Medium
Of three brands of coats I ordered only basin + range brand was a good fit well for my size and shape. Both the Skyline and the Evergreen styles of range + basin fit me well in Medium size. I wear size medium (8/10) in most clothing, 36B bra and 30 jeans (just a little pear shaped). In both Pantagonia Downtowner and Marmot Montreaux the medium was too snug and the large was way too big.

The raisen color I ordered in both styles is fine, I'm looking for an alternative to black. I like the longer knit cuffs. The hood on the Skyline has an adjustment at the back to keep the hood from flopping down over face in the front - a feature usually only found on more expensive parkas. The faux fur trim lies flat, which is fine, but the gray color is dull for my complexion and age (I have my own gray thank you). The coat is nice enough I might have kept it and worn it without the hood trim.

BUT there is a big problem. The outside pockets are way too shallow (for light gloves, keys, phone, etc.) especially without zippers to keep items from falling out. There is an inside zipped breast pocket, but its also very small.

Since the coat does fit me I might have kept it with the inadequate pockets, except when I tried to adjust the front of the hood the very small rubber adjuster or stay (maybe its not supposed to be adjusted) broke on one side. Those two rubber piece are very small and fragile. Also the smaller snaps down the front of coat are stiff to operate, the larger ones at the neck are much more user friendly (though the placket stays flat without snapping the smaller snaps so not a deal breaker by itself).

Zipper works well and hemline snaps at front and back are nice details. The longer length in back also a nice feature usually only featured on more expensive parkas is another sweet detail. The lining seems solid, tried on with a black sweater, and unlike the Evergreen style basin + range coat, no sign of down escaping (maybe its just a problem in the teal with the print lining?).

Bottom line, love the sizing, and much of the "attention to detail" in styling and the quality, but pockets and hardware on a winter coat MUST be ready for the job. This parka style coat is plenty well insulated without being too heavy, and hit just at the top of my knee in the front. I'm keeping my eye on this new brand, maybe practice will make perfect. In the meantime I'm still searching for a functional and stylish cold climate knee length winter coat that fits and won't break the bank. Suggestions anyone?
Darlynne L.
Height:
5'6"
Weight:
150lbs
Fantastic coat!
Familiarity:

I've used it several times

Fit:

True to size

Size Bought:

Large
I tried several coats before settling on this one. I LOVE the style and the warmth this coat affords. I am 5'6 and about 150 and the large fits me fine. (I don't like tight fitting coats and this has plenty of room). It's warm enough for New England weather and works well in rain too. This is my first Basin and Range coat and I'm sure it won't be my last! And Backcountry customer service is the best out there! Thanks Backcountry!
ABBY M.
Height:
5'6"
Weight:
150lbs
Best coat I've ever owned
Familiarity:

I've used it several times

Fit:

True to size

Size Bought:

medium
I didn't realize how cold I've been (in my Patagonia Downtown Loft Parka) until I put on the Basin & Range Skyline Down coat! Snug as a bug in there! The wind resistance makes me giddy with delight. When it rains, the droplets pearl up and roll off without soaking through. This coat has amazing details: Sleeve cuffs, a sassy satin lining, great quality hardware and WHAT A HOOD! The bottom up zipper is the bomb and I really appreciate the hearty, easy to use snaps which close the front flap over the zipper. I've actually never seen snaps like these, they're exceptional. I also appreciate that this coat is cut on the bias, so the back of my legs stay extra warm. It fits just right. Now, about that terrific hood -- The fur snaps off and the trim on the hood snaps back upon to itself for a clean folded-back finish. When the fur is on, you can fold the fur back or you can roll it out for a true snorkel hood effect. Love this feature for the snow!
One very major drawback which, despite my rave reviews still has me deciding whether to return the coat --- I am COVERED in down when I take the coat off.
Ridiculous amounts of white fuzz e.v.e.r.y.w.h.e.r.e!!
I'd love for Basin and Range to address this very major issue :(
Dinneen V.
Height:
5'5"
Weight:
145lbs
Very Warm
Familiarity:

I've put it through the wringer

Fit:

True to size

Size Bought:

small
I usually wear this jacket when it is below 40. Even then I don't have to layer up, just a shirt or sweatshirt and its perfect. I wear it in the city and after snowboarding. I've gotten a lot of compliments with the Raisin color. Feathers come out every now and then but its down so its expected. When washing it you can hang dry or throw it in the dryer. I would suggest the dryer since the drip dry takes forever and it comes out looking new from the dryer, no damage.
Leticia V.
Height:
5'5"
Weight:
120lbs
Leaks feathers
Familiarity:

I've put it through the wringer

Fit:

True to size

Size Bought:

small
Editing my review - the feather leaking on this coat is actually a dealbreaker for me. I've now spent hours of my life tweezing feathers out of sweaters, and I'm tired of going into business meetings with feathers all over my blazer. I will be donating this coat. I can only hope that Backcountry has fixed this design issue. It's a shame since it's a very warm coat.

ORIGINAL REVIEW:

The biggest problem for me is the feather leaking. It's absolutely awful - I've arrived to work completely covered in white feathers and have had some clothing ruined by this coat, since feathers are just so difficult to remove. These get embedded and need to basically be tweezed out.

There are only 3 pockets and they are very shallow (don't fit a phone).

Aside from that - this coat is really very cute on (I'm curvy, so it's nicely fitted for me). It's very well-designed with lots of nice details - the print lining is very cute, the double-zipper is nice, and I love the color.


Joelle S.
Height:
5'6"
Weight:
130lbs
Hands down, the best!
Familiarity:

I've used it once or twice and have initial impressions

Fit:

True to size

Size Bought:

Small
I have bought ALOT of coats and jackets this year, and returned them all, except 2, my Marmot lightweight jacket and this one. Everything about this oat is perfect. I originally wanted the Flannel but after I read another reviewers stmt about the leave print on the inside, I went with the raisin. I'm 5"7.5" 129 lbs. and the small fits me perfectly. I have long arms, and the sleeve length is perfect. It has a slight hi-Lo style that is so flattering. It does fit me most like the picture, rather than the gray picture where it looks long and lean-the raisin has a little of a stranger type style where it seems slightly heavier towards the hips and down. But it doesn't bug me enough to return it. The only con is that it just turned warmer today and I can't where it out yet. Boo! Thrilled! But you can't beat Backcountrys priority 2 day delivery!! Thank you!
Kristine P.
Height:
5'8"
Weight:
129lbs
Very happy!
Familiarity:

I've used it several times

Fit:

True to size

Size Bought:

medium
I really like the coat, especially the fact that it's waterproof. It really keeps the rain out! I am a bit on the curvy side(I wear 4/6 on top, 8 on bottom), so I feel like the coat makes me look a little bigger than what actually am, BUT considering its a down coat i'm not complaining! I purchased the raisin color and loved it, leans towards a maroon color.

The coat is very warm, but also breathes well, so I have been able to use it in sub-freezing weather, and well into the 30's. Also the hood is insulated which is super awesome when it's windy outside.

Would certainly purchase it again or recommend it to a friend!
Raquel B.
Height:
5'4"
Weight:
140lbs
Too bad they don't have extra small...
Familiarity:

I've used it several times

Fit:

True to size

Size Bought:

small
First of the coat itself is warm and well worth the money I purchased it for. For my short frame (5"), I was a little worried it was going to drown me but because of it's feminine shape, I didn't look like a cast from star wars in their brown robes. Unfortunately, the coat didn't come in a smaller size, so it was a little big on me and didn't fit as good as it does in the picture but that was ok since it gave me room to layer and move around. The color (gray) almost with a matte finish was great with my casual outfits but also went well with a little dressier clothes. I really like the sleeves. I'm glad the fur trim on the hood was detachable, gray on gray really didn't look well together. All in all, I love my coat. Well worth it.
Dana may S.
Height:
5'0"
Weight:
120lbs
Almost perfect
Familiarity:

I've put it through the wringer

Fit:

True to size

Size Bought:

S
I have had this coat for a little over a month now and have worn it almost every day.
LOVE:
The look - flannel color is unique (it is a cross between the Army green and steel gray everyone seems to be wearing this year); tapered bottom makes a shorty like me look, well, not so short in a long coat; coat is form fitting (which unfortunately means that I can't wear it to shovel snow); pattern on the lining is very pretty.
Windproof and seems waterproof - was cozy standing at bus stop with 30+MPH cold winds whipping around. I haven't worn it in rain, sleet or wet snow but my son spilled his cup and the water beaded up and rolled right off.
Warmth - coat covers my knees; has a high collar; has a hood that is roomy, but not huge, and is somewhat adjustable; has long ribbed cuffs that slide out over hands for a little extra coverage. It's warm enough that I don't need to wear my suit jackets under this coat (also to keep the feathers off my jackets-see note below) even in freezing temp.

NEEDS TWEAKING:
Hood ruff - attached with snaps that keep popping open if I have the hood up and carry a bag on my shoulder.
Feathers - after over a month of almost daily wear, I am still covered in feathers. Given the price point and overall quality of this coat, I did not expect this to be an issue.
Zipper - it seems a little too delicate for a coat of this heft. It would be great if there were a little flap on the underside to keep the zipper from catching onto clothes and scarves. I love that it can unzip from the bottom so I can sit comfortably or cool down.
Pockets - the 3 pockets could be deeper and bigger (maybe even add a 4th pocket?). The inside chest pocket has a zipper and can hold a couple of credit cards and folded bills that do spill out if you unzip too quickly. The two outside hip pockets do not have any kind of closure, and each can fit either your mobile device or your hand, but not both comfortably or securely either standing or sitting. I have both a Samsung Note and a BlackBerry Bold: the Note sticks out of the pocket and the Bold just fits. This is a small point but it really makes a difference in comfort and fit when the hip pockets are set behind the down layer, closer to the body.
Chia K.
Height:
5'2"
Weight:
135lbs
Best Coat Purchase I've Ever Made!
Familiarity:

I've put it through the wringer

Fit:

True to size

Size Bought:

Large
I've been looking for a flattering down coat for 3 years. Most either make you look like the Michelin Man or cost too much. This coat is INCREDIBLY warm, fits beautifully, love the Flannel color, flattering cut at waist, I love wearing it!
My only correction is that the center back waist is not 49" (which would be to my ankles) - Large is 38" (just below the knee). Perfect!
Leanne J.
Height:
5'9"
Weight:
150lbs
Warm Jacket!
Familiarity:

I've used it several times

Fit:

True to size

Size Bought:

medium
I really like this jacket. The first thing I noticed is that it's really warm! Especially for the bitter cold days in Chicago. I am about 5'11 so I really needed a long jacket with long sleeves (since so many coats are always too short for us long-limbed people). I was pleasantly surprised that this jacket was long enough in sleeves and general length. I also love that the hood is HUGE and comes up over your face to keep out wind and rain. I guess you can take the fur off and on but I leave it on. I think the only complaint I have is the down feathers do come out and get on my clothes from time to time. I read that on previous reviews so I know I'm not the only one with this. I've decided it's not a big deal though because I don't have time in life to worry about little things like that....and I like this jacket too much.
Emilee K.
You will get compliments if you wear it
Familiarity:

I've used it once or twice and have initial impressions

Fit:

Runs large

Size Bought:

small
Having a long coat goes a long way in keeping you warm in the winter, especially if you are just standing around outside or need to sit down on a cold/rainy/snowy seat. So far, this coat has been very comfortable and plenty warm, at least in temperatures near or just below freezing. Based on reviews, I got the size small. I most often wear medium in shirts/jackets. It's a tiny bit snug around the shoulders and a tiny bit short on my arms, but otherwise fits well and I didn't want to go up a size and have it too baggy in the waist or hips. I think this coat looks better if it's slimmer fitting. Most of my clothes are ski or climbing related, so it's nice to have a feminine coat for a change. (Also cheaper than the Patagonia and Arcteryx parkas I was looking at)
Lindsey R
Height:
5'9"
Weight:
140lbs
LOVE IT!!
Familiarity:

I've put it through the wringer

Fit:

True to size

Size Bought:

Small
This coat is so warm and comfy, yet at the same time very stylish! I had this coat for the Blizzard Jonah and it kept me so warm! It's a great thickness and waterproof. I would highly recommend this coat to anyone! I receive compliments on it daily. It runs true to size, I am 5'7 and 130 lbs and got the small size and love it. A worth it purchase!
Shelby L.
Height:
5'7"
Weight:
130lbs
Warm, Waterproof and Stylish
Familiarity:

I've put it through the wringer

Fit:

True to size

Size Bought:

Small
Just returned from a trip to Iceland where this coat helped keep me warm and comfortable while hiking glaciers, climbing waterfalls and hunting the Northern Lights. The hood is excellent at keeping your face protected from the wind, and the sleeve cuff helps keep cold air from creeping up the arm. On top of being very stylish and comfortable (I've received many compliments about it), it also held up well in a rainstorm. I was caught in a torrential downpour and came away completely dry. I am so happy I picked this coat over some of the pricier competitors.
Milea V.
Height:
5'8"
Weight:
130lbs
My coat has been leaking feathers since I got. I've only worn it twice, but the small feathers are flying everywhere. Will this stop eventually or do I have a dud?
Joanne R.
Hi Joanne,



Pretty much all down jackets are going to leak a little down from time to time. If it is really excessive you might have a hole in the jacket somewhere.



If you have any other questions, feel free to reach out to me directly.



Thanks,
Matthew Pizza